**This is a sponsored post in collaboration with Land O'Lakes.
Fire up the grill because you are going to love this fast and easy dinner recipe. This Grilled Chicken Pesto Sub comes together in minutes.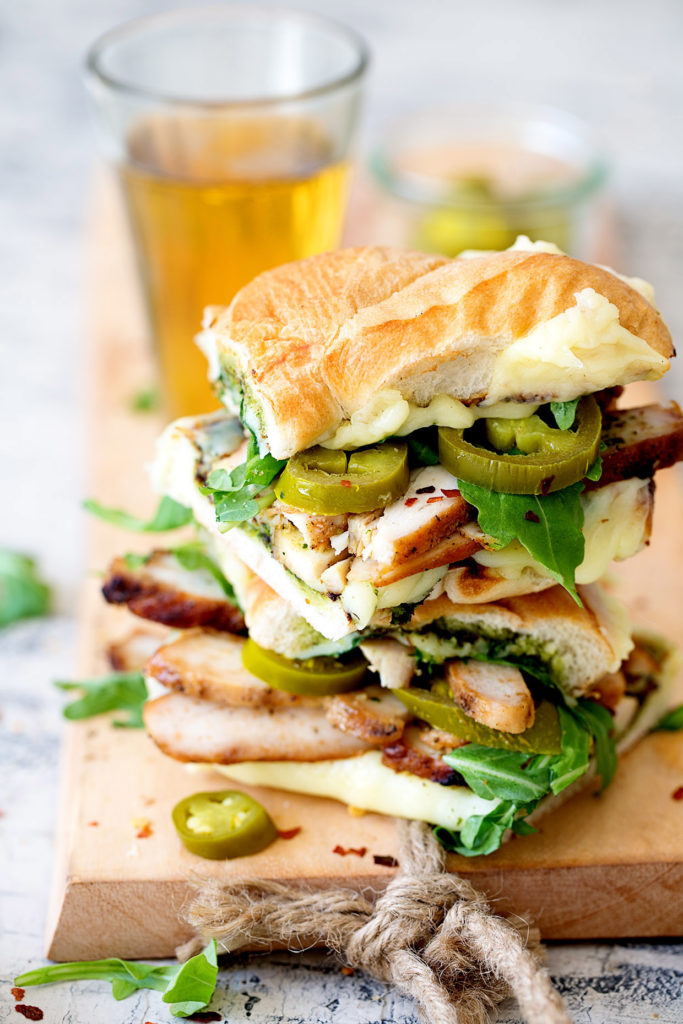 I'm all about grilling outside on hot summer days to avoid heating up the house with stovetop cooking. Aside from that, grilling keeps me in the mix with the fam. My boys will run around in the background while I grill, and Naomi is nearby chatting it up and mixing her and I drinks.
Can't beat that. In fact, the only thing that makes it better is eating outside. Are you seeing a theme here? I like being outside, so anytime I can make a meal on the grill—it's happening.
To keep things tasty, I usually go for simple recipes like this one here. A few things to keep in mind when you are making this: (1) Use the best chicken you can find, then pound it to ½ inch thickness so it cooks evenly (2) Toast the bread. It makes a huge difference and adds to the overall texture of the ensemble (3) Use the best pesto you can get your hands on – homemade or store-bought (4) And of course, 4 words: Land O Lakes® Deli American. This one is non-negotiable. It just tastes better and melts better than most cheese for this recipe.
Now that you have the notes, fire up the grill and get the kids outdoors and do this!
Yield: Makes 4 sandwiches
Grilled Chicken Pesto Sub
Ingredients
4 chicken breast
vegetable oil
salt and pepper, to taste
4 hoagie subs
1 cup pesto
8 slices of Land O Lakes® Deli American
jalapenos
crushed red peppers
arugula
Instructions
Preparation: Heat grill on high with lid closed for 15 minutes, then turn heat down to medium and leave grill open for another 15 minutes. In the meantime, pound chicken breast to ½ inch thickness. Brush each breast with oil and sprinkle with salt and pepper on each side of chicken and place on a cooling rack, so air circulates over and under each piece.
To grill chicken: Spray grates with non-stick spray. Place chicken on grates and grill for 5-7 minutes on each side or until instant read thermometer reads 165 degree F. Remove from grill and set aside to cool for 5 minutes before slicing.
Slice hoagies in half and place cut side down on the grill to toast. Remove from grill and place sliced hoagie cut side up on a baking sheet. Later each piece with two slices of Deli American, cutting it as needed to fit bread. Place baking sheet with bread onto grill and close grill lid. Let cook for 1-2 minutes or until cheese melts.
Layer bottom side of hoagie, cheese side up with chicken, jalapeno, red pepper and arugula. Finish by placing topside of hoagie on top. Repeat with remaining ingredients.