It's salad season, you know that means meals like this Grilled Chicken and Veggie Orzo Salad with Toasted Walnuts are making a regular appearance around here, so go ahead and bookmark this now. Not only is it full of flavor, but this walnut-rich recipe could be the start to better gut health.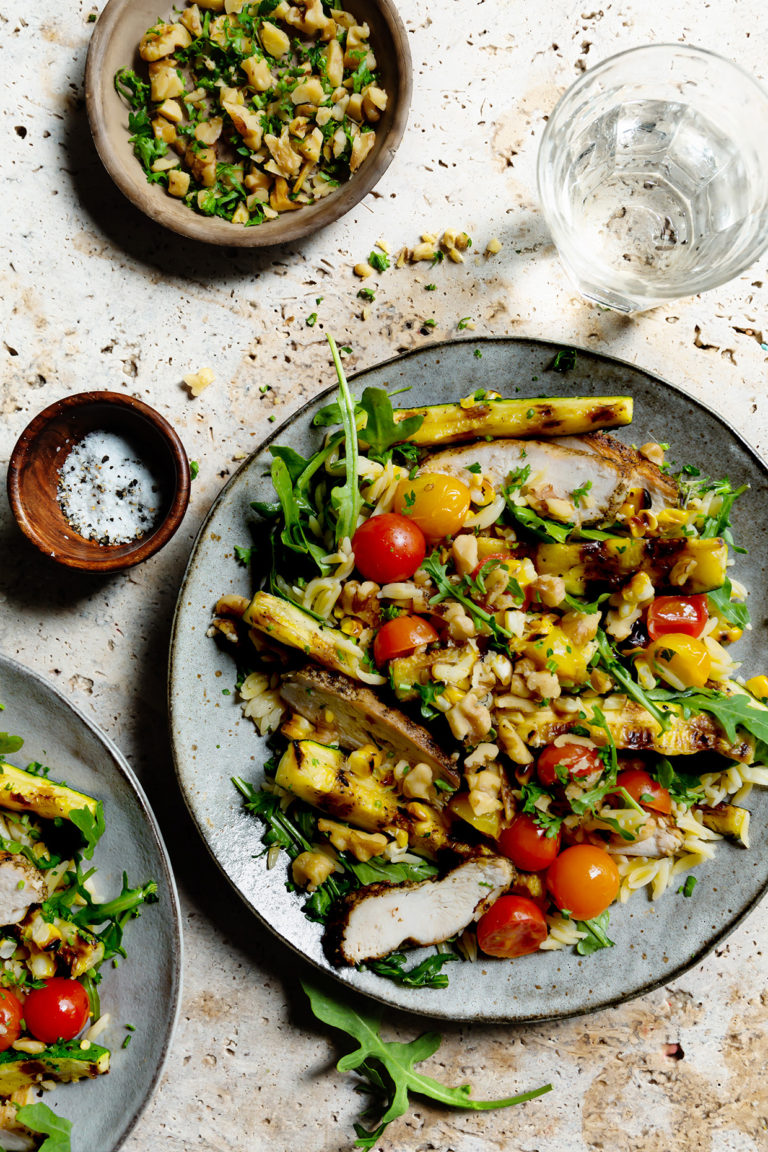 If you know me, then you know my stomach ping-pongs back and forth between good to not so great. I've had a sensitive gut for what seems like forever. But through the years, I've learned to manage it with diet. That means finding foods and a diet that can positively impact my digestive system, foods like walnuts. One study found that eating a walnut-enriched diet (about 1.5 ounces per day) may have a positive impact on the gut microbiome by increasing good probiotic and butyric acid-producing bacteria. Butyric acid? It's thought that this is beneficial for digestive health by helping to maintain the health of the colon.
And I just found out that in another recent study, healthy adults who ate 1.5 ounces of walnuts each day for three weeks experienced changes in their gut microbiome that are thought to provide benefits such as improved colon health, reduced inflammation, and reduced risk for gastrointestinal diseases. I'm loading up.
Do you see where I'm going with this? Not only are walnuts a power food for gut health, as suggested by research, but they're also great tasting and add all the crunch and texture to any dish. They're also the only tree nut that is rich in omega-3 ALA – they have 2.5g per a one- ounce handful. Yay to more food finds like this—load up, eat up and enjoy the benefits!
Lucky for me, the boys and Naomi consume walnuts like other people eat chocolate—by the pound. We add them in wherever we can—granola for crunchy bites, smoothies for added thickness, salads for taste and texture, baked goods for flavor and crunch, and to savory dishes for added nuttiness and extra bite.
Yield: Serves 4
Grilled Chicken and Veggie Orzo Salad with Toasted Walnuts
Ingredients
* 4 chicken breast, flattened to 3/4-inch thick
* 2 large zucchini, quartered length wise and then cut in half
* 2 ears corn
* 1 tablespoons extra-virgin olive oil
* 2 tablespoons unsalted butter
* 3 garlic cloves minced
* 1 cup orzo
* 1/3 cup dry white wine
* 2 cups boiling water
* 1 cup cherry tomatoes (about 6 ounces), halved
* 1 cup walnuts, coarsely chopped
¾ cup freshly grated Parmesan (about 2 ounces)
* 2 teaspoons chopped fresh tarragon
* 1 teaspoon lemon zest
* 3 cups arugula
Instructions
Prepare grill: To heat a gas grill, turn all burners to high and close lid for 10 minutes. Open lid and turn heat to medium and let stand for 2 minutes. (For gas grill, heat coals until ashed over and the temperature is medium (you should be able to hold your hand 5 inches above the coals for 5 to 7 seconds.)
Lightly brush chicken breast with olive oil, sprinkle with Cajun seasoning, salt and pepper to taste.Add the chicken and corn to the grill. Grill chicken for 3-4 minutes on each side, or until lightly browned. Remove the chicken from the grill and set aside. Close the lid and continue to grill the corn for another 7-10 minutes or until kernels are tender when pierced with a paring knife. Remove from the grill and set aside.
Brush zucchini with olive oil, lightly sprinkle on salt and pepper. Add all the zucchini to the grill, turning often until tender and lightly charred in spots, about 3-4 minutes. Remove from the grill and set aside.
In a medium skillet, add the butter, the olive oil and garlic, and heat over medium. When the butter starts to foam, add the orzo and 1/2 teaspoon salt. Cook and stir often until the orzo is toasted, about 2 minutes. Adjust the heat as needed to prevent the garlic from burning. Slowly and carefully add the wine and stir until absorbed, about 1 minute. Stir in the water, reduce heat to low, cover, and cook until the orzo is al dente, about 12 minutes.
Remove from heat and let sit, covered, 2 minutes. Remove cover and sprinkle and stir in Parmesan, tarragon and lemon zest. Toss with chicken, zucchini, corn, walnuts and tomatoes; season to taste with salt and pepper and serve immediately.