I'm all about lazy days of summer. There are those days when I just don't want to step into the kitchen and cook. The idea of prepping, cooking and cleaning becomes overwhelming. It's just easier to grab take-out. And sometimes I do. Other times, I do it like this—15 minute prep, max—then it all goes on the grill.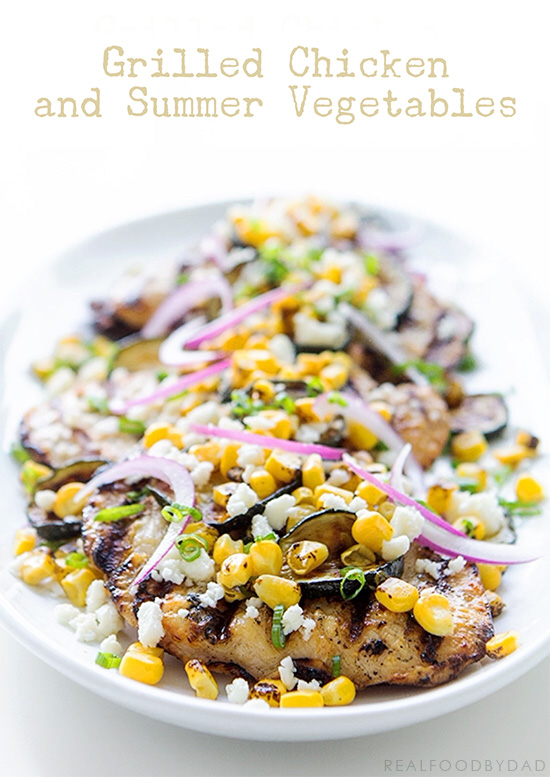 Easy cooking and even easier clean-up, especially if you serve this on paper plates.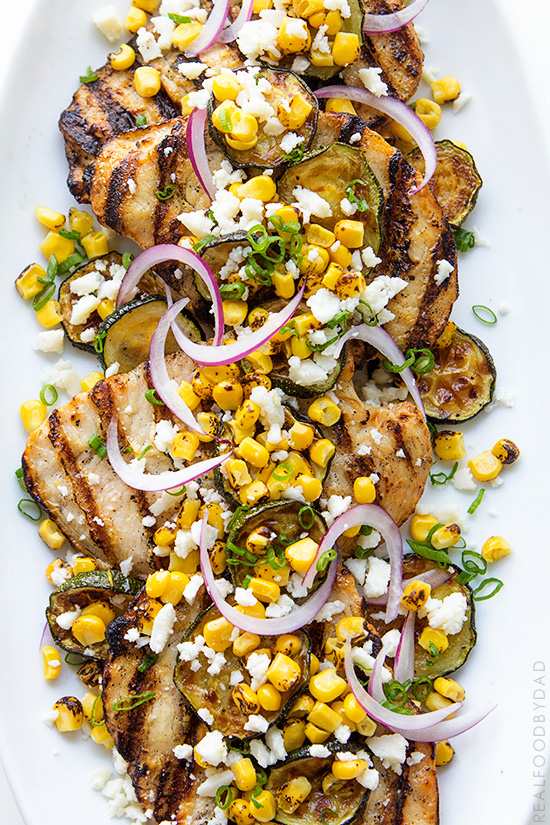 Fast clean-up is a must when you have boys tugging at you for a night time swim—a regular occurrence during these longer days. Never mind that they may have had baseball and I coached it, then I had to work and the only break between coaching and work was an epic game of pool time dodge ball. I know it's sounds like I'm complaining, but I'm grateful for these times. As the saying goes, "The days are long, but the years are short".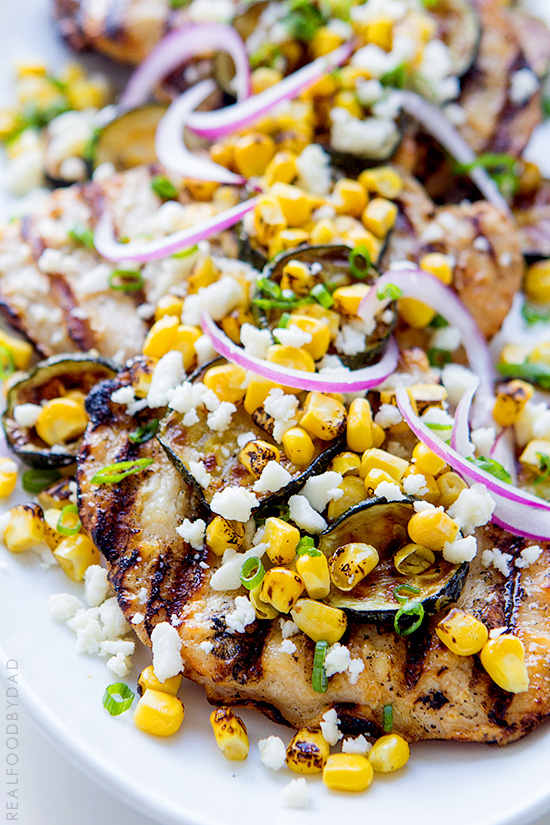 I'm embracing every moment and rarely say no, despite how tired I may be. Because in the end, I love the good times. So fast and easy recipes like this are a must. If you have a favorite fast and easy recipe, please share it in the comment section. I know I can't be the only one who would rather be outside playing than in the kitchen cooking on these long summer nights.

Yield: Serves 4
Grilled Chicken and Summer Vegetables
Ingredients
4 skinless boneless chicken breast halves, pounded to 1/2 inch thickness
1 tablespoon olive oil
1/2 teaspoon cumin
1/2 teaspoon kosher salt
1/4 teaspoon fresh cracked pepper
2 ears of corn, shucked
2 zucchini sliced to 1/4-inch thickness
1 tablespoon chopped thyme
1/4 cup thinly sliced red onions
2 tablespoons green onions
1/4 cup Cojeta Cheese
salt and pepper to taste
Instructions
In a large pot of boiling water, cook the corn for 3 minutes. Remove corn and place corn in a large bowl of ice water to stop the cooking. When the corn is cooled, cut the kernels off the cob. Toss with zucchini and thyme in grilling basket; set aside.
Drizzle and rub olive oil onto chicken breasts. Combine cumin, salt and pepper and rub mixture onto chicken breast. Spray grill with cooking spray. Heat to medium high heat. Grill for 4-5 minutes, on each side. Remove from heat; set aside. Place vegetable basket on top and grill for 5-8 minutes tossing occasionally. Remove from heat.
Assemble chicken on a platter. Layer with succotash. Finish with red onions, chives and Cojeta cheese. Serve immediately.