Grilled Cajun Chicken and Veggie Bowl ~ Your weeknight meal handled in less than 30 minutes.  A must when you have 3 kids in baseball, one in multiple sports, another who's begging to do multiple sports and a third coaching baseball and graduating high school in less than 5 weeks.
All this madness has me craving summer so that we can dial it back a few notches. You know–no school, no early morning alarms, no homework, no rushing from school to sports and from one field to the next. And of course summer means more grilling sessions to turn out meals like this.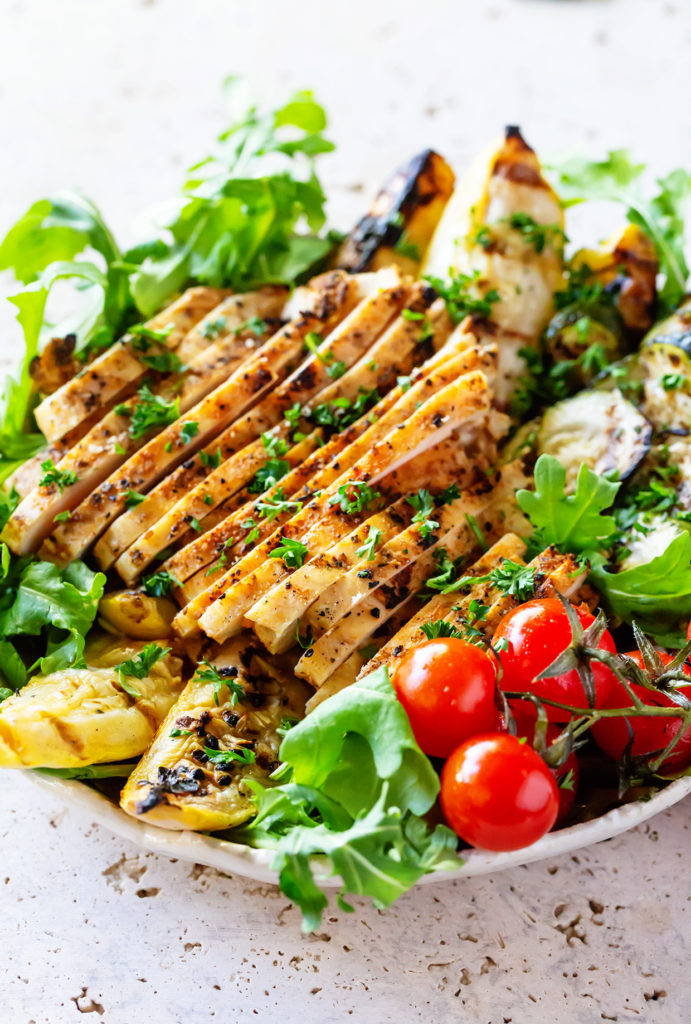 Naturally, I'm grilling fan, so the more I can cook outside the better, and if your kids are anything like mine, getting them to eat grilled veggies over raw or even sauteed ones is like giving them candy. Now if I can only get the little guy to eat more greens in bowls like this rather than pick through them.


Yield: Makes 4 servings
Grilled Cajun Chicken and Veggie Bowl
Ingredients
1/4 cup olive oil
4 grilled chicken breast, flattened to 3/4 inch thickness
2 tablespoons cajun seasoning (I like McCormick's)
salt and pepper
2 large zucchinis
3-4 yellow squash
8-10 asparagus spears
2 lemons, halved
2 cherry tomato vines
4 cups of your preferred grains, cooked accordingly
4 cups of your preferred greens
Instructions
Prepare grill: To heat a gas grill, turn all burners to high and close lid for 10 minutes. Open lid and turn heat to medium and let stand for 2 minutes before placing romaine on top. (For gas grill, heat coals until ashed over and the temperature is medium (you should be able to hold your hand 5 inches above the coals for 5 to 7 seconds.)
Lightly brush chicken breast with olive oil, sprinkle with Cajun seasoning, salt and pepper to taste. Grill chicken for 3-4 minutes on each side, or until lightly browned. Remove from grill and set aside.
Brush vegetables with olive oil, lightly sprinkle on salt and pepper. Add all the vegetables to the grill, turning often occassionally until tender and lightly charred in spots, about 4-6 minutes for the the yellow squash and asparagus, 3-4 minutes for the zucchini and lemons, 2 minutes for the cherry tomatoes.
Evenly divide the grains, the greens, the grilled chicken and vegetables among four bowls and serve immediately.