Who is with me on this Fried Chicken and Gravy Poutine? Talk about a new found addiction.
Admittedly, poutine is a newer discovery for me and one that has my head filled with a dozen-plus riffs. How many ways can you skin fries and cheese curds – a lot. The first one is what  you see here. 
For this recipe I bought the fries. I hate cutting fries – with or with out a mandolin, so if you are like me, buy it from your favorite restaurant. But for the chicken and gravy, I'm going to say, roll up your sleeves and let's get deep frying. It's actually not hard or messy and goes pretty fast.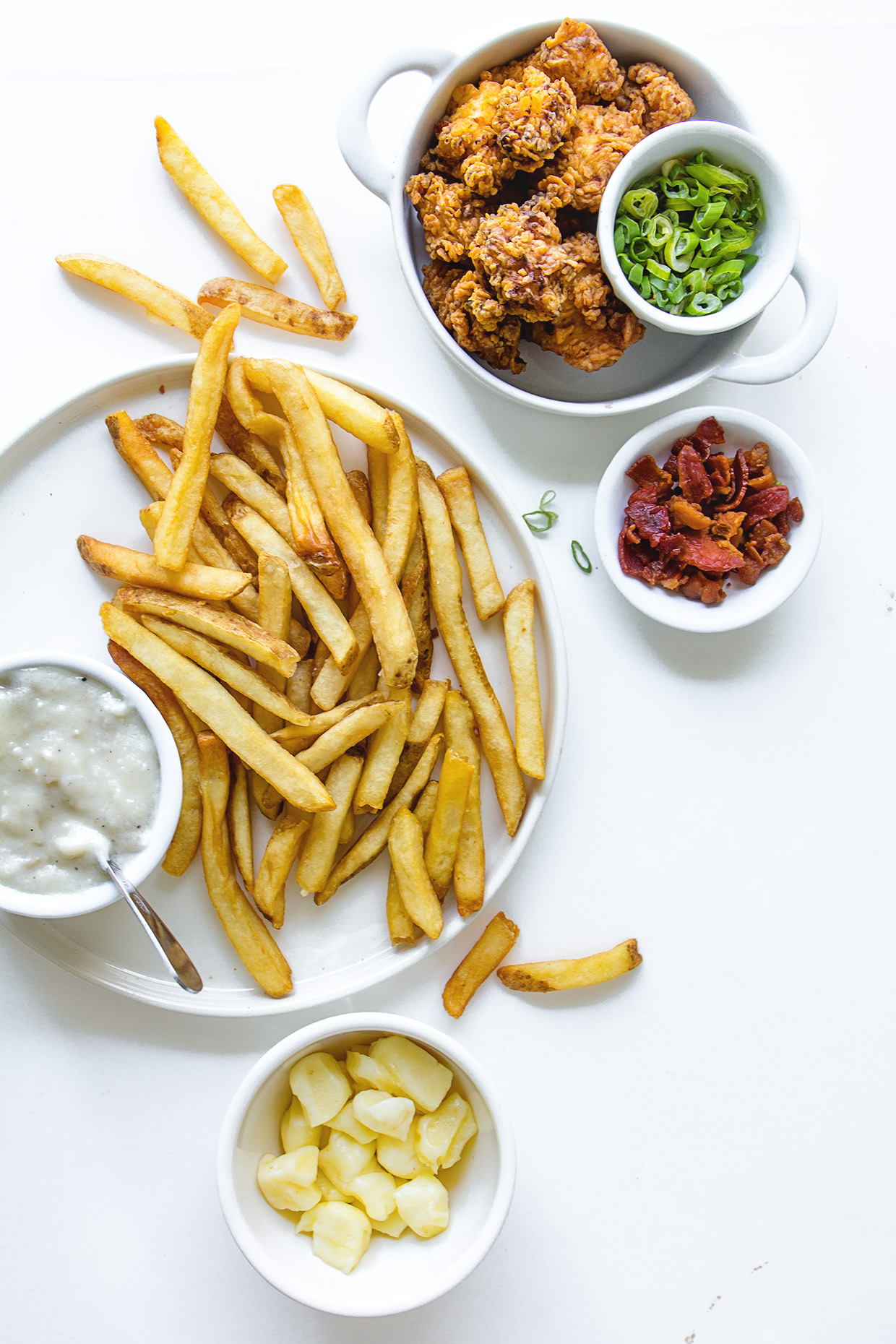 Here's the key to a mess-free, easy fry job for any recipe—have the right tools on hand. Here's what you need: a deep fry thermometer and spider spatula or any wire skimmer. Let's start with the thermometer. It's tough to deep fry without one, despite the many sources on the internet that will tell you otherwise. All you need is a basic deep fry thermometer. It's a $10 dollar investment that you will use often. The one I use and love is here. Next up you need the spatula to gently lower and lift your food out of the oil without anything slipping and sliding around to cause burning splashes. The one I use is this spider spatula, again, less to than $10. I especially like it for the wide slots and it grips food well as you move from oil to paper towel.
Lastly, of course make the gravy! Do not buy any jarred stuff. There you go, make it and stay tuned, because I have few more poutines, coming your way!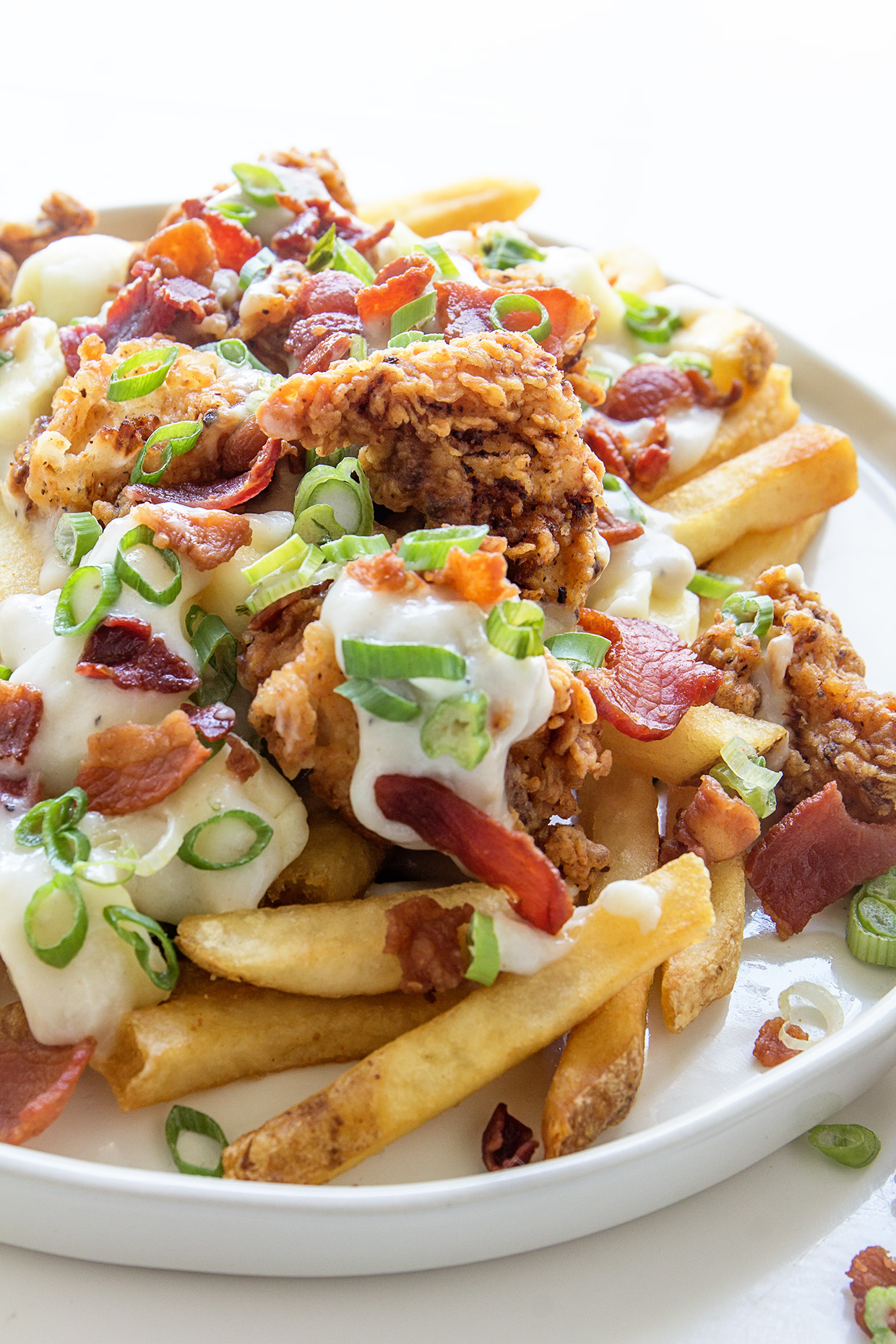 Yield: Serves 4
Fried Chicken and Gravy Poutine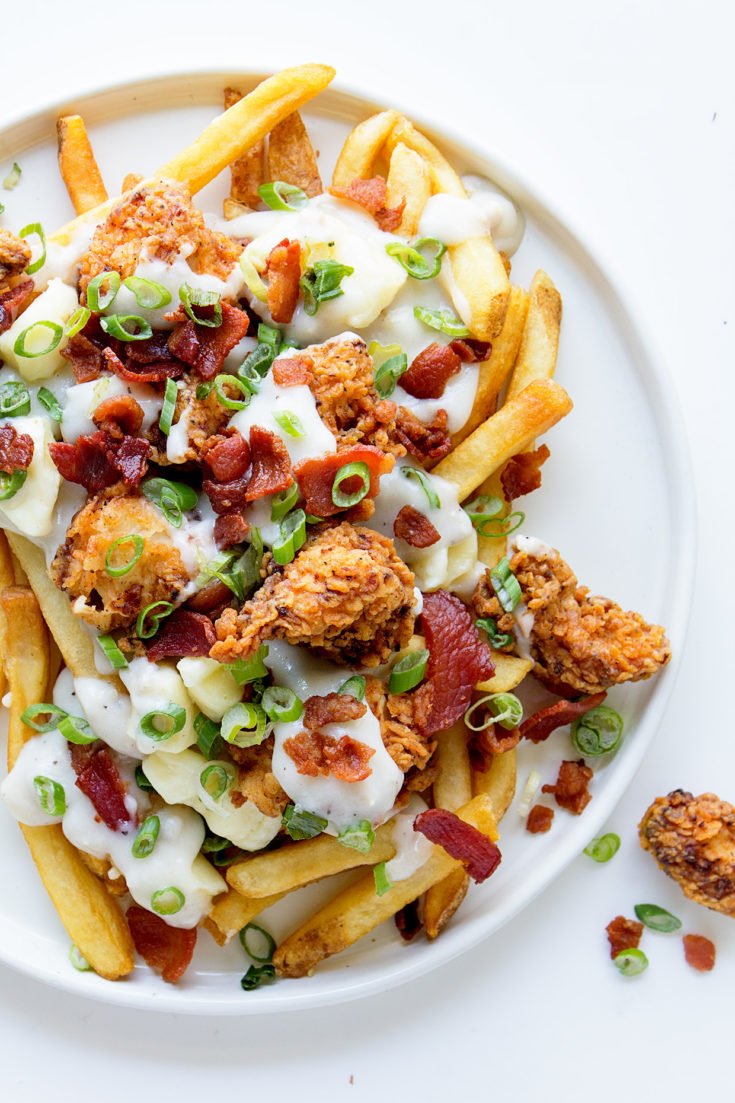 Ingredients
FRIED CHICKEN
2 lbs. boneless chicken, cut into 2 inch pieces
1 1/2 cups all-purpose flour
2 tablespoons freshly ground black pepper
2 tablespoons sea salt
1 1/2 teaspoon baking powder
1 1/2 teaspoons paprika
1/2 teaspoon cayenne pepper
1 cup buttermilk
GRAVY
2 tablespoons from deep fry oil
2 tablespoon chopped shallots
1/2 cup chopped fresh mushrooms
3 tablespoons butter, melted
2 tablespoons of the leftover flour seasoned for chicken preparation
1 cup milk
1 1/2 teaspoon chicken bouillon cube
FOR ASSEMBLY
4 cups fries
2 cups cheese curds
1/2 cup bacon crumbs
1/4 green onions
Instructions
To make fried chicken: Heat canola oil to 350 F. Line a bake sheet with paper towel;set aside.
Line a second bake sheet with a wire rack. Pour buttermilk into a bowl; set aside. In a second large bowl, combine and whisk together flour, black pepper, salt, baking powder, paprika and cayenne pepper.
Add chicken pieces to flour mixture and toss to coat. Transfer dusted chicken pieces to wire rack in one even layer. Working in batches. Dip chicken pieces in buttermilk and lower into hot oil, being careful not to over crowd the pan. Fry the chicken, turning the pieces occasionally, until golden brown and cooked through, about 5 minutes. Remove from oil and transfer to paper towel-lined bake sheet.
To make gravy (gravy recipe adapted from Epicurious): Sauté the shallots and mushrooms in the deep fry oil over medium high heat, until soft. Whisk together flour and milk until lumps disappear. Whisk milk mixture into sautéing shallots and mushrooms. Whisk in chicken bouillon. Boil until thickened to preferred consistency.
Assembly: Layer fries, with cheese curds, gravy and fried chicken. Finish with bacon crumbs and green onions. Serve immediately.