This post is written in collaboration with California Walnuts. All thoughts and opinions are my own.
Walnut Dukkah Chicken and Broccoli Salad – this is the kind of meal you'll want to make sure to bookmark! It comes together quickly and easily, and the only thing you really have to plan for is making the walnut dukkah ahead of time.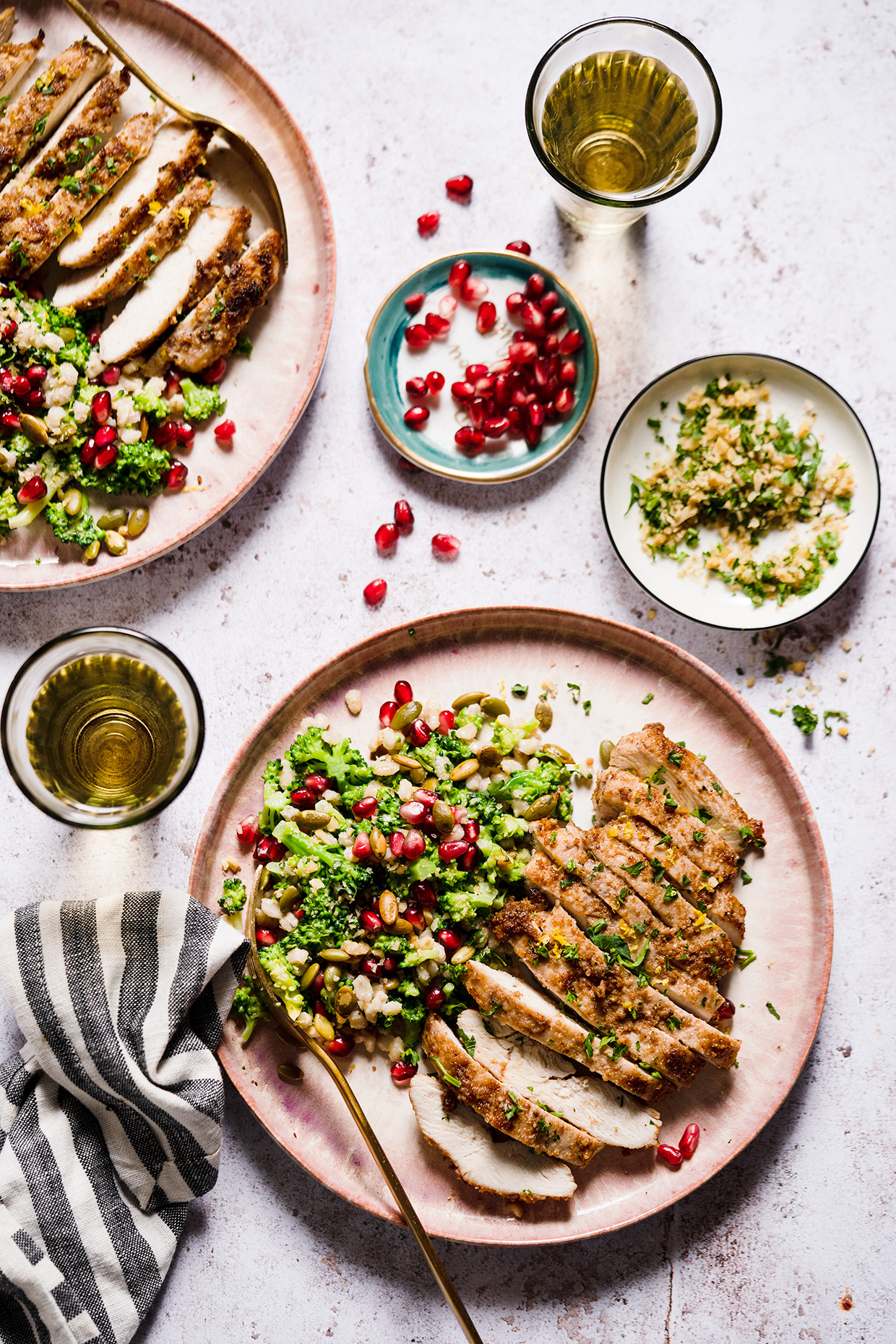 Here is the key to dukkah – make it from scratch! It's not hard to do and it keeps for six months in the refrigerator (be sure to use an airtight container). The other key component to dukkah is—if you can—make sure to use coriander and cumin seeds and skip the ground version. Starting with the seeds allows you to toast them to extract maximum flavor. Most times you can find coriander and cumin seeds in the spice aisle next to their ground version.
Now that I've convinced you that this walnut dukkah needs to be in your repertoire, get excited, because not only am I dialing you in with this must-make meal, but this walnut-centric recipe is the way to eat smart for American Heart Month.
Walnuts are a simple but powerful ingredient that can enhance any meal or snack. They contain more plant-based omega-3 alpha-linolenic acid, or ALA, (2.5 grams/ounce) than any other tree nut. Omega-3 ALA has been associated with benefits for heart health*, brain health and inflammation! Walnuts are also a powerhouse for nutrients – containing 4g of protein, 2g of fiber and 45g of magnesium per one-ounce serving.
To keep walnuts fresh, make sure to store them properly. Here are a few tips for proper storage: (1) walnuts should be stored in the refrigerator if you are planning to use them right away (2) store walnuts in the freezer if you are planning to store them for a month or longer.
With proper storage now on your radar, grab some walnuts to make this dish! You can find shelled walnuts sold in bags in the produce or baking aisle.
*California walnuts are certified by the American Heart Association. Heart-Check certification does not apply to recipes, research or information unless expressly stated. Supportive but not conclusive research shows that eating 1.5 ounces of walnuts per day, as part of a low saturated fat and low cholesterol diet and not resulting in increased caloric intake, may reduce the risk of coronary heart disease. One ounce of walnuts offers 18g of total fat, 2.5g of monounsaturated fat, 13g of polyunsaturated fat including 2.5g of alpha-linolenic acid – the plant-based omega-3.
Yield: Serves 4
Dukkah Chicken and Broccoli Salad with Toasted Walnuts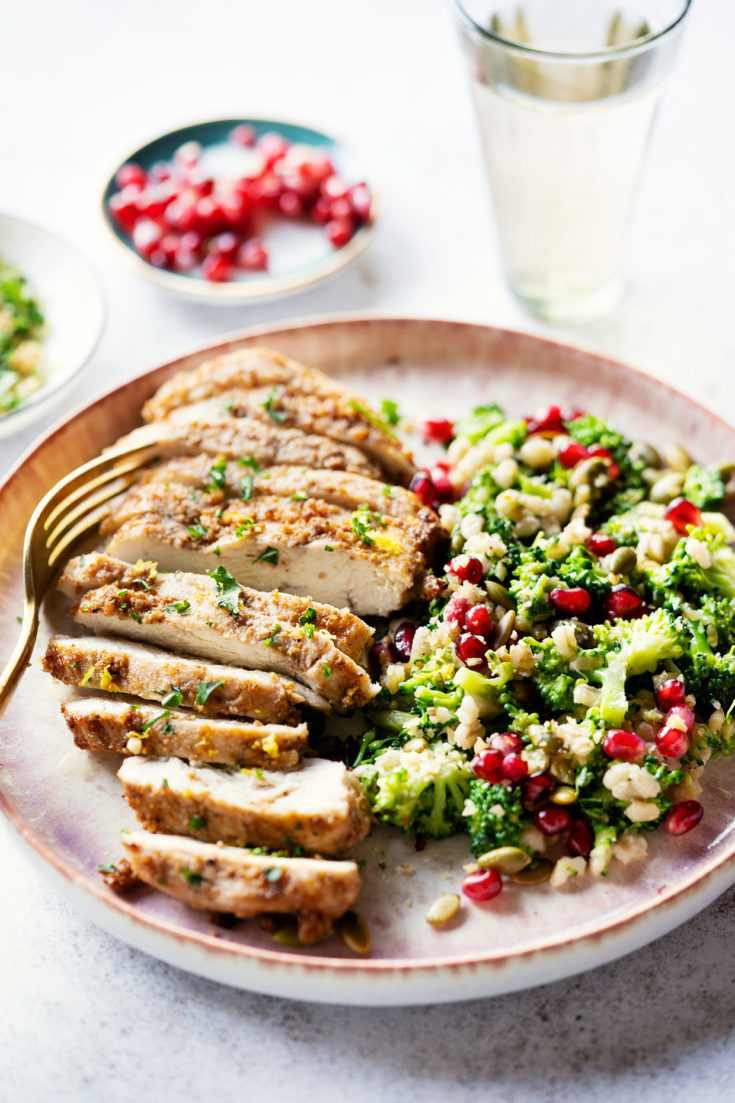 Ingredients
Dukkah Chicken
4 tablespoons olive oil
¼ cup walnut dukkah
4 chicken breasts
Broccoli and Toasted Walnut Salad
12 oz. broccoli
8 tablespoons olive oil, divided use
2 tablespoons lemon juice
1 tablespoon Dijon mustard
1 tablespoon mayonnaise
1 tablespoon sugar
salt and pepper to taste
1 cup cooked barley
½ cup finely chopped walnuts
3 tablespoons pomegranate seeds
Instructions
To make the chicken: In a large bowl, whisk together olive oil and walnut Dukkah*. Place chicken breasts in a plastic bag, using a meat pounder pound chicken to an even 3/4-inch thickness. This will allow for more even roasting. Add the chicken and toss to coat. Transfer chicken to the refrigerator to marinate for 30 minutes.

Remove marinated chicken from the refrigerator and bring to room temperature for 20 minutes. Heat oven to 400F. Place chicken on a baking sheet and transfer to the oven. Roast for 10 minutes on each side, or until chicken is nicely browned.

In the meantime, steam or boil the broccoli until preferred tenderness. Time will vary according to thickness of spears.

To make the dressing: Bring together remaining 4 tablespoons olive oil, lemon zest, lemon juice, Dijon mustard, mayonnaise and sugar in a jar and place lid on top; vigorously shake until well blended. Alternately whisk ingredients in a bowl. Pour dressing over broccoli, mix in the barley and top with toasted walnuts and pomegranate seeds.

*Walnut Dukkah: Heat oven to 300F. Place 1 ½ cup walnuts on a baking sheet. Spread 1 ¼ cup sesame seeds, 1 tablespoon coriander seeds and 1 tablespoon cumin seeds onto a second baking sheet. Transfer both sheets to the oven and toast for 15 minutes. Remove the walnuts and transfer to a wire rack. Check the sesame seeds to make sure seeds are slightly browned, if not return pan to the oven and toast for another 2-4 minutes or until slightly browned. Remove once browned and cool alongside the walnuts. Place completely cooled walnuts in a food processor and pulse until walnuts resemble coarse breadcrumbs. Place sesame seed mixture into a coffee grinder and process to a coarse powder crumb. Alternately, a mortar and pestle can be used for the sesame seed mixture. To finish, whisk together walnut and sesame seed mixture. Dukkah can be stored in an airtight container in the refrigerator for up to six months in a cool, dry place.