Smashed Potato Pizza Bombs! You are going to love this crispy smashed potato recipe. And I have all the best tips for making this easy recipe a success.
Let's start with basics: (1) Choose the right potato. Sure you can make this recipe with russets, but for easy handling you want smaller ones like new potatoes. If you can find Baby Dutch Potatoes, use them — they are my favorite for this recipe. They're small, buttery and just starchy enough to hold their shape. (2) Boil them until fork tender. If you go too far, they'll end up a mushy mess (3) Don't be overzealous with the smash part. you want it to have some shape and form, especially if you turn it into finger food as I've done here. (4) Skip the parchment and and spray your pan with olive oil for extra crisp.
Alright, now let's talk toppings. Of course you can go any which way you want, but my first thoughts always turns to pizza. Naturally because that's always the boy's favorite and it's one of mine too. It's also a big hit as a gameday eats–another reason to make it finger food.
But as you can imagine, these bite-sized smashed potatoes are a great canvas for just about any topping. Stay tuned because I'll have some fun flavor combos and fusions coming up.


Yield: Serves 4-6
Crispy Smashed Potato Pizza Bombs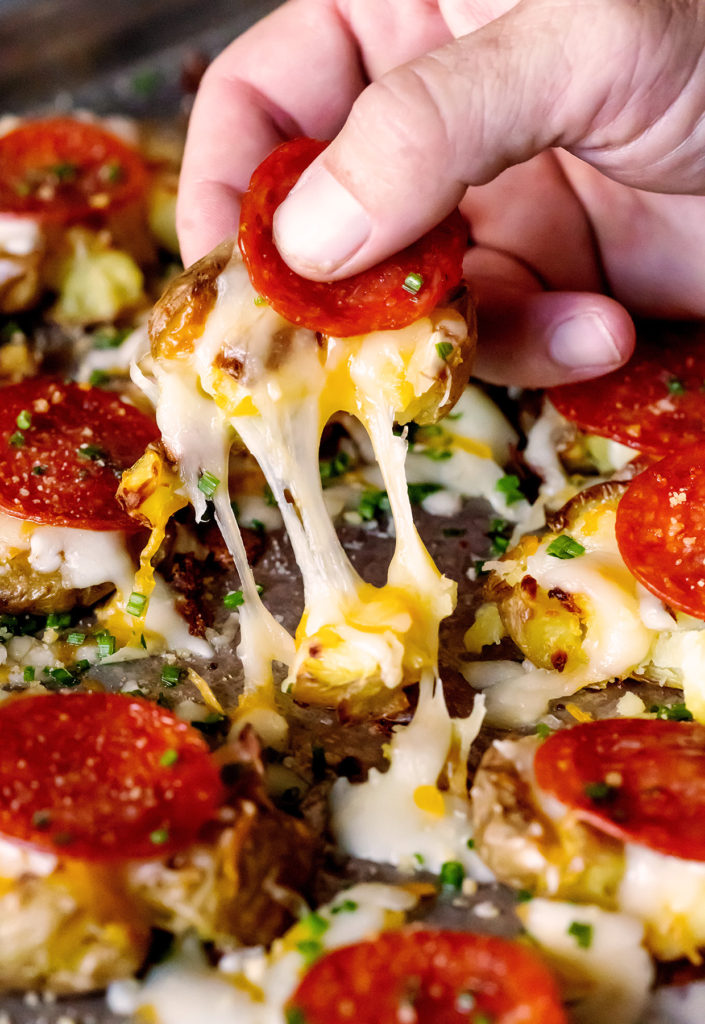 Ingredients
2lbs. baby potatoes (preferably Baby Dutch Potatoes)
2 tablespoons kosher salt, divided (one tablespoon is for the water)
1 teaspoon garlic powder
1 teaspoon onion powder
1 1/2 cups mozzarella cheese
1 cup cheddar cheese
2-3 oz. sliced pepperoni
2 tablespoons chives
2 tablespoons red pepper
Instructions
Clean and scrub potatoes. Place the potatoes in a pot with a large pinch of kosher salt. Cover the potatoes with water and bring a boil. Cook until potatoes are fork tender, about 15 minutes. Remove from heat and drain. Set potatoes aside until cool enough to handle.
Heat oven to 450°F. Spray and cover two baking sheets with a thin coat of olive oil. Evenly divide and place potatoes in a single layer on each sheet. Use a potato masher and press down until potatoes are about an 1/2-inch thick. Spray tops of smashed potatoes with olive and sprinkle with 1 tablespoons kosher salt, garlic powder and onion powder.
Transfer potato-filled baking sheets to oven. Bake until potatoes are nicely browned on the edges, about 20 minutes. Remove from oven and top the browned potatoes with both cheeses and pepperoni. Return the baking sheets to the oven once more and let bake until cheese is melted, about 3-5 minutes more.
Remove from the oven and top with chives and red pepper. Serve immediately.