There are a lot of Christmas morning casseroles, make-ahead quiches, and sweets you can serve Christmas morning, but this is the one to make when you want something sweet and extra special. It's a crowd-pleaser that you can assemble the day before and bake the morning of.
To simplify things, I use Rubbermaid DuraLite™ Bakeware. It can go from oven to table and is also microwave, dishwasher, and freezer safe. It's my all-around workhorse for bakeware, especially since it is designed for high heat tolerance and durability—it's oven and broiler-safe up to 550⁰F. And since it's more durable and lighter when compared to other ceramic bakeware, I don't have to worry about breaks or chips. That makes it especially handy on Christmas morning when things get chaotic and rushed.
That being said, here's a timeline to help you along when you go to make this:
Plan ahead and make the dough the night before up to step ?? You can make it all in one day, but proof time varies, so it's more important to watch when the dough doubles in size rather than relying solely on time.
Day of serving: Remove pan from the refrigerator and place in a draft-free area 2-4 hours ahead. Time will vary according to how warm or cool your home is. My favorite draft-free area is the microwave.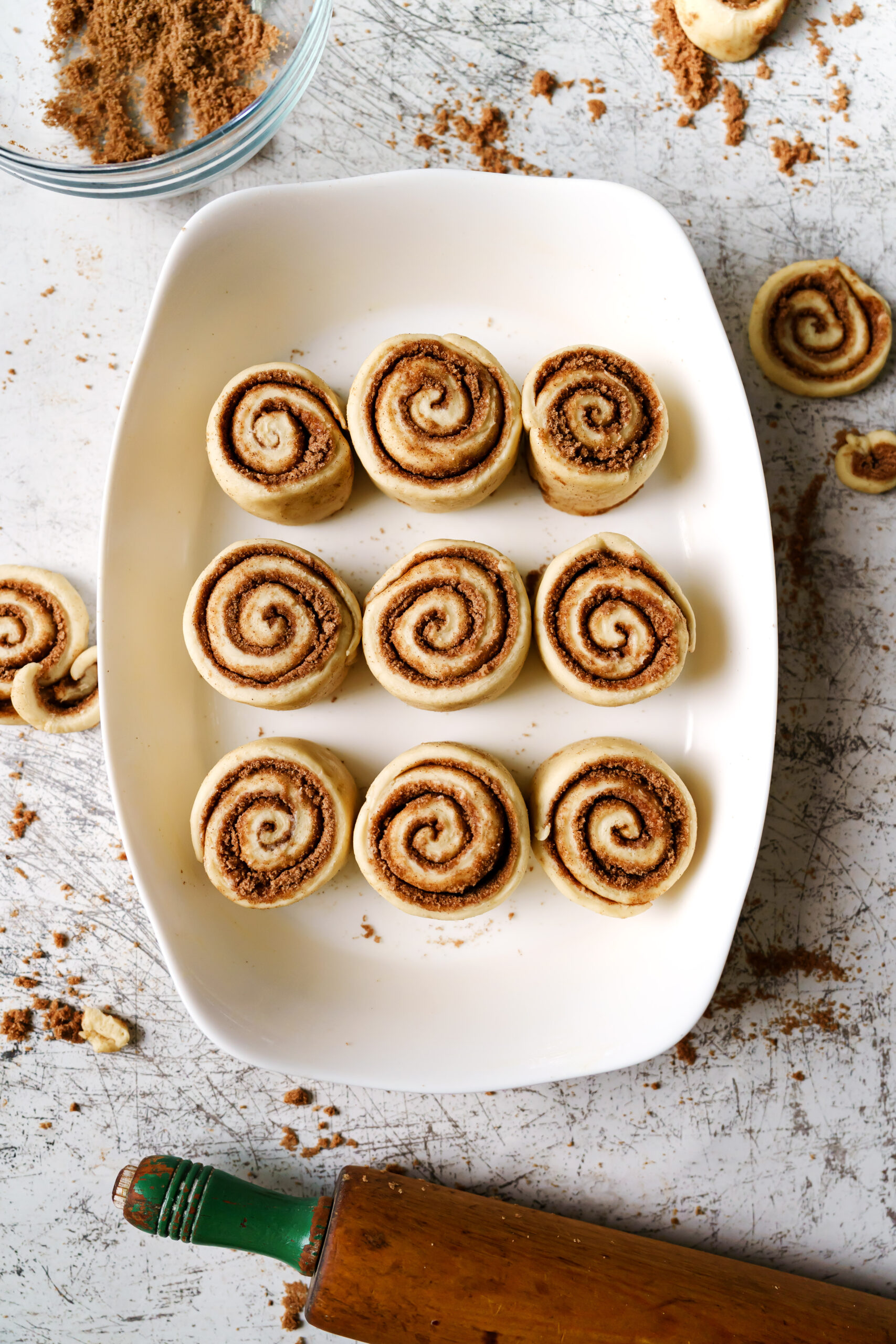 A few notes when making this recipe:
If you have a stand mixer use it—it'll save you some time. If you don't, that's okay too—you'll just have to put some muscle into the kneading stage.
Use a thermometer when measuring the temperature of the milk. This is paramount. If the milk is too hot, it will kill the yeast; if it's under temperature, the yeast won't bloom.
I know a few of you will question if the heavy cream pour at the end is necessary. Yes, it absolutely is. It tenderizes the dough and keeps it moist while giving the filling that extra gooeyness.
Click here to shop Rubbermaid DuraLite™ Bakeware collection.
Yield: 9 rolls
Cinnamon Rolls
Ingredients
Dough
1 cup whole milk
1/4 cup plus 2 tablespoons sugar, divided use
2¼ teaspoons/7 grams active dry yeast (¼-ounce envelope)
4 cups all purpose, plus more for dusting
1½ teaspoons baking powder
1¼ teaspoons kosher salt
1 large egg, lightly beaten
8 tablespoons butter, softened
Nonstick spray for the bowl

Filling
1 1/2 cupsight brown sugar
2 tablespoons ground cinnamon
¼ teaspoon kosher salt

Glaze
3 cups powdered sugar
5 tablespoons whole milk
1/2 teaspoon vanilla extract
Instructions
To make the dough: In a small saucepan, heat the milk to 110 degrees Fand promptly remove from heat. Stir in 2 tablespoons of sugar and the yeast.Set aside until yeast is foamy and bubbles appear about 5 minutes. If 5 minuteshave passed and there is no reaction, the yeast might be dead.
In a stand mixer bowl fitted with the paddle attachment, on low, mix the flour, baking powder, and kosher salt until combined. If mixing by hand, use a wooden spoon or sturdy spatula. Add the milk and yeast mixture, followed by the egg, and mix until combined (make sure to scrape the bottom of the bowl to catch any dry spots). Add the melted butter and continue to stir until the dough is shaggy, scraping the bowl as needed.
Turn off the mixer and swap out the paddle attachment for the dough hook. If kneading by hand, turn the dough out onto a lightly floured work surface. Knead dough until it's smooth and elastic, about 4 minutes. If the dough is sticky, give a light dusting with flour.
Tightly cover a large bowl with non-stick spray. Transfer the dough to the bowl. Tightly cover with plastic wrap and place in a warm, draft-free area to proof (the oven or microwave works great). Let the dough sit until it's doubled in size, about 1 1/2 to 3 hours. Time will vary according to how cool or warm your home is.
Once doubled, punch down the dough to release any air. Tightly cover with plastic wrap and transfer to the refrigerator for an hour.
In the meantime, make the filling by adding all the ingredients into a medium size bowl and whisk to combine.
To fill and shape the rolls: Remove the chilled doughand turn it out onto a lightly floured work surface. Roll dough into an 18 x10-inch rectangle.Spread softened butter onto the dough, leaving a 1/2-inch
border on the long side furthest from you. Sprinkle the brown sugar mixture in
an even layer and gently press it down into the butter.
Starting at the end closest to you (the long side), roll the dough into a tight spiral, pressing lightly as you go to prevent gaps.
Cut the log into 9 pieces, 2 inches thick. Lightly cover a 9x13-inch pan with non-stick spray. Arrange rolls in three even rows, leaving room between each piece. Cover pan tightly with plastic wrap and set aside for the second proof. Buns are ready when they have doubled in size, about 2 hours.
Alternatively, you can refrigerate them overnight at this point. If you refrigerated the buns overnight, remove them from the refrigerator and set in a warm draft-free area for a second proof. Buns are ready for baking when they have doubled in size.
To bake: Heat oven to 350 degreesF. Remove plastic wrap and pour heavy cream evenly over the top. Don't worry ifit pools at the bottom of the pan. It will be absorbed during baking. Place panon middle rack. Bake until golden brown and the filling starts to bubble, about30-35 minutes.
In the meantime, make the glaze by adding all the ingredients into a medium size bowl and whisk to combine. The glaze should be thick, as it will thin out once it's drizzled on the hot buns.
Remove the pan from the oven and set it on a wire rack. Drizzle with glaze and let cool for 5 minutes before serving.