Queso Fundido with Chorizo – A melted cheese dip that's a perfect party appetizer or as a hot dip recipe for you next game day gathering.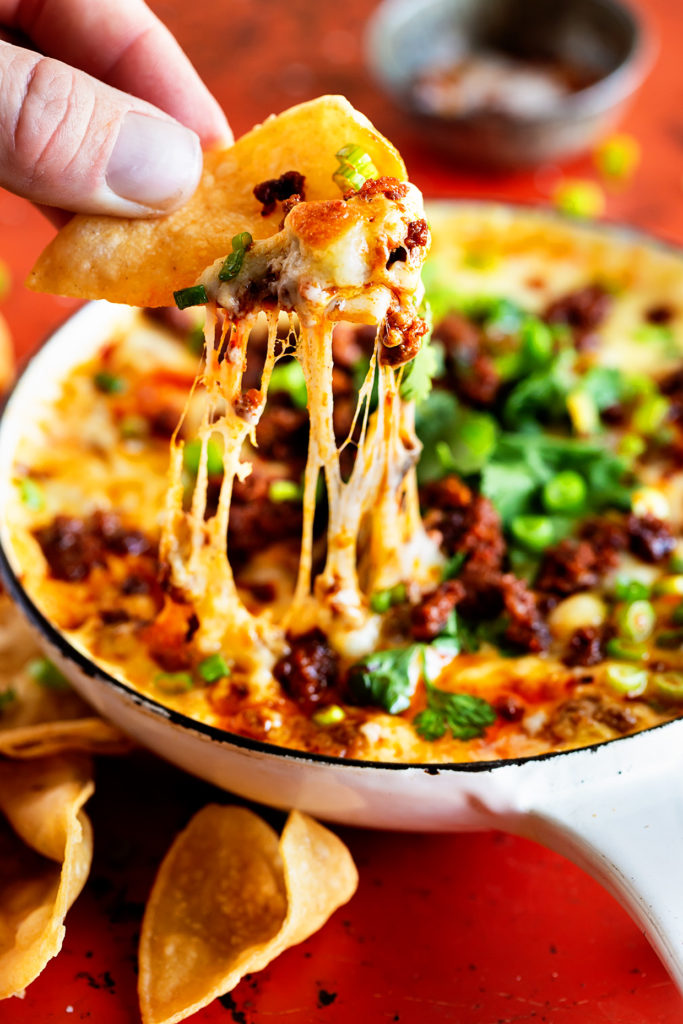 It's March Madness, which means bring on all the game day eats. Here's a crowd-pleasing dip that you can prep in less than 15 minutes. For this version, I'm throwing in a little bit of green chiles. They're a fast and easy addition that will cut through the richness of the cheese and chorizo, but if you have a few more minutes to spare, try roasting two poblanos, then peel and chop them up for a fresh-roasted flavor.
Whatever you do, make two if you are serving a large crowd—its's always the first to go.
Yield: Serves 8
Chorizo Queso Fundido
Ingredients
1 cup Queso Oaxaca cheese
1 cup Pepper Jack Cheese
1 cup Mozzarella cheese
1 lb. chorizo
1 cup chopped onions
1 clove garlic, minced
1 4oz can of diced Green Chilies
cilantro
green onions
Instructions
Heat oven to 450 degrees F.
In a large bowl, mix together all the cheeses.
In an oven-proof, 10-inch skillet, over medium heat, add the chorizo. Stir and cook until chorizo is crisp and fully cooked, about 8-10 minutes. using a slotted spoon, transfer chorizo to a large bowl.
Add the onion to the pan and cook until soft and translucent, about 3- 4 minutes. Add the garlic and cook for 30-seconds. Remove the pan and scrape the mixture into the bowl with the chorizo. Scoop out a 1/4 cup of the mixture and reserve. Add the green chilies to the remaining chorizo and mixture and stir to combine.
Sprinkle half the cheese into the bottom of the pan. Layer with the chorizo mixture. Then spread the remaining cheese on top.
Bake until cheese is melted and bubbly, about 20 minutes. Remove from the oven. Sprinkle reserved chorizo on top along with the chopped cilantro and green onions.