Yes, this chili cheese fries pizza is a thing. At least it is in my home. We can't get enough of it. But more so, because it seems to give us a legit reason to eat chili cheese fries as dinner. Agree?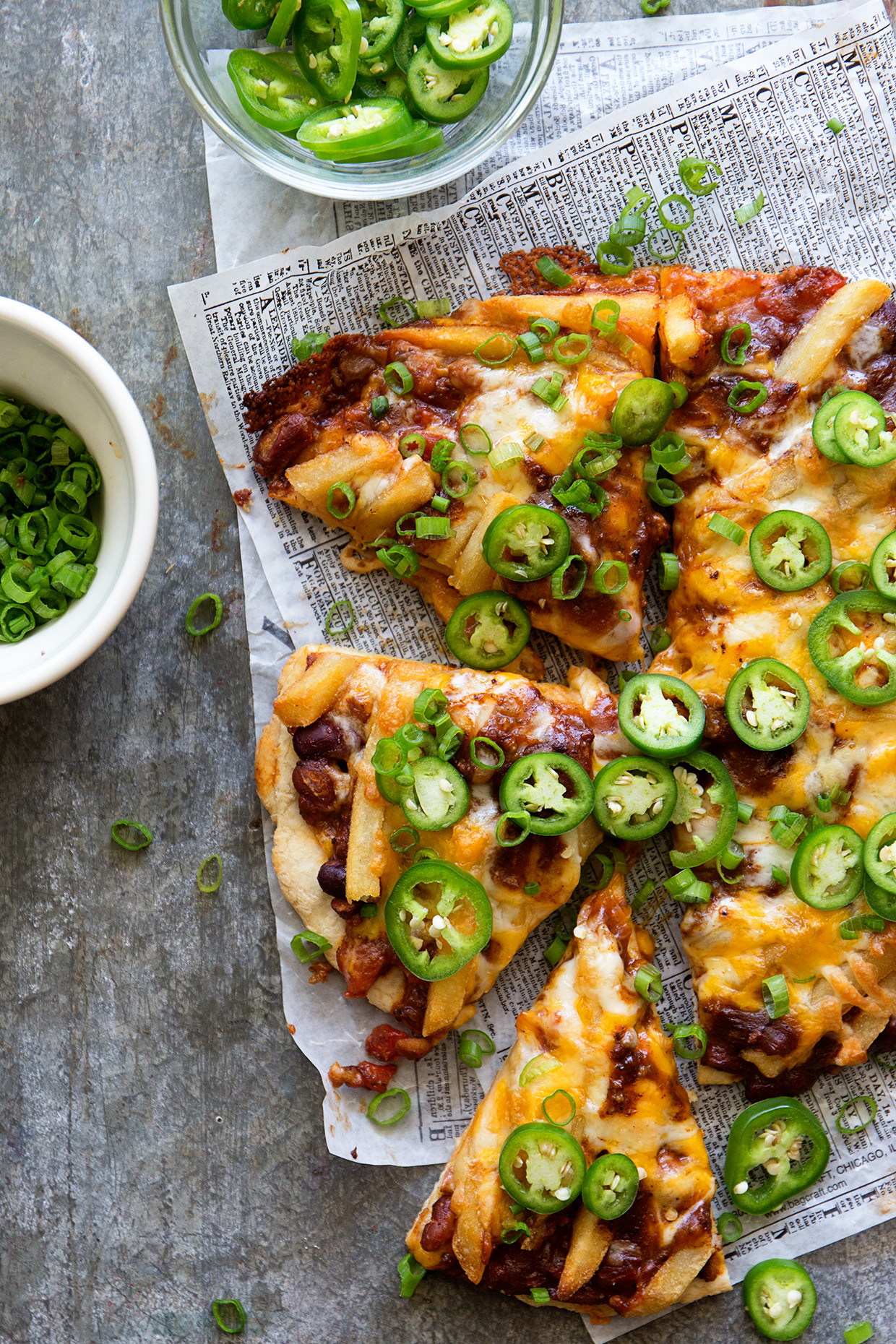 Along with that, it's always a challenge to see who in the house can up with the best mash-ups, fusions and just plain crazy food. It's a neck-and-neck tie right now. Every time I think I've edged Naomi out to win the title she comes back and gets me.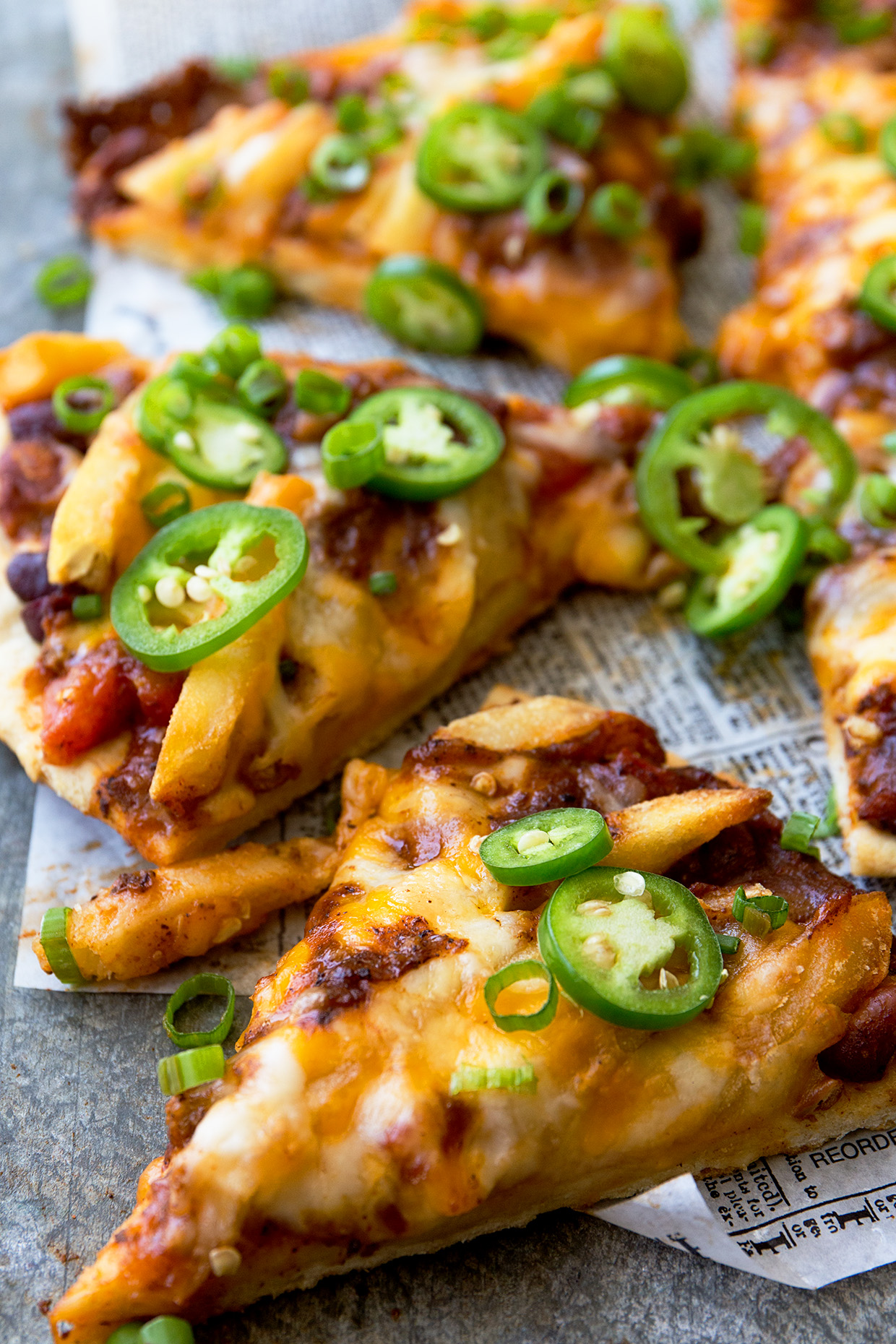 Although right now, I've got her beat according to our little man, Cole, who is like the Chopped judge in the house. So like any good parent, I rewarded him with my winning dish by repeating it two nights back-to back.
Yay me!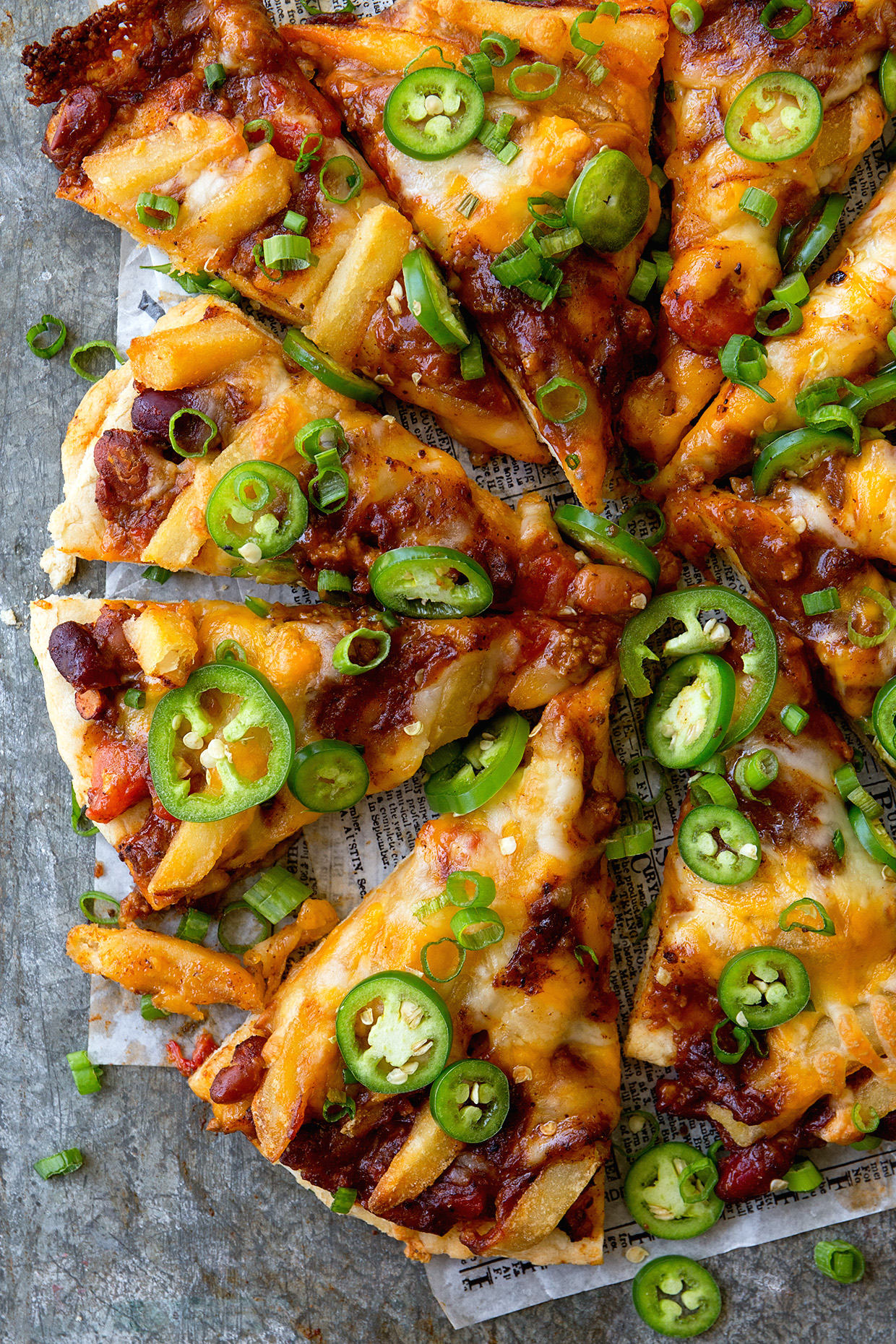 Yield: Serves 6-8
Chili Cheese Fries Pizza
Ingredients
Pizza crust:
¾ cup warm water (about 102-105 degrees F)
1 teaspoon active dry yeast
2 cups flour
1 tablespoon kosher salt
Toppings:
2 cups chili
3 cups French Fries
1 cup mozzarella
1 cup cheddar cheese
1 cup Frito chips
1/4 cup green onions
Instructions
Preparation: Place pizza stone in oven. Heat oven to 500 degrees F. Lightly cover a mixing bowl with olive oil; set aside.
To make pizza crust: Mix and combine water and yeast until looks like miso soup. Add mixture to flour, using a fork, stir mixture around until it becomes shaggy. Dump mixture out onto counter and knead until dough comes together and moist and slightly tacky. If dough is too wet and sticky, add 1 tablespoon of flour at a time. Transfer dough to a lightly oil mixing bowl. Cover loosely with a kitchen towel. Set dough aside for 15 minutes.
Remove dough ball and place it between two pieces of lightly oiled parchment paper and roll it to ⅛inch thickness. Remove parchment paper from top. Mix and combine cheeses; set aside. Spread 1 cup of chili on pizza crust layer with French fries, remaining 1 cup of chili and cheese. Use a pizza peel or the backside of baking sheet and transfer it to heated pizza stone. Bake for 5 minutes and then carefully remove parchment from underneath the pizza with a pair tongs. Bake pizza for another 3 minutes. Remove pizza from oven and sprinkle Fritos and green onions.