**This post is made in collaboration with Nature's Intent Apple Cider Vinegar. All content, ideas, and words are my own.**
This is definitely one of those dishes that you want to make as a big batch. It's full of flavor: a little bit salty, sweet and tangy from the apple cider vinegar. It's one I make often around here and when I do, the recipe is always doubled. The flavors get better overnight and my kids always fight over the last serving.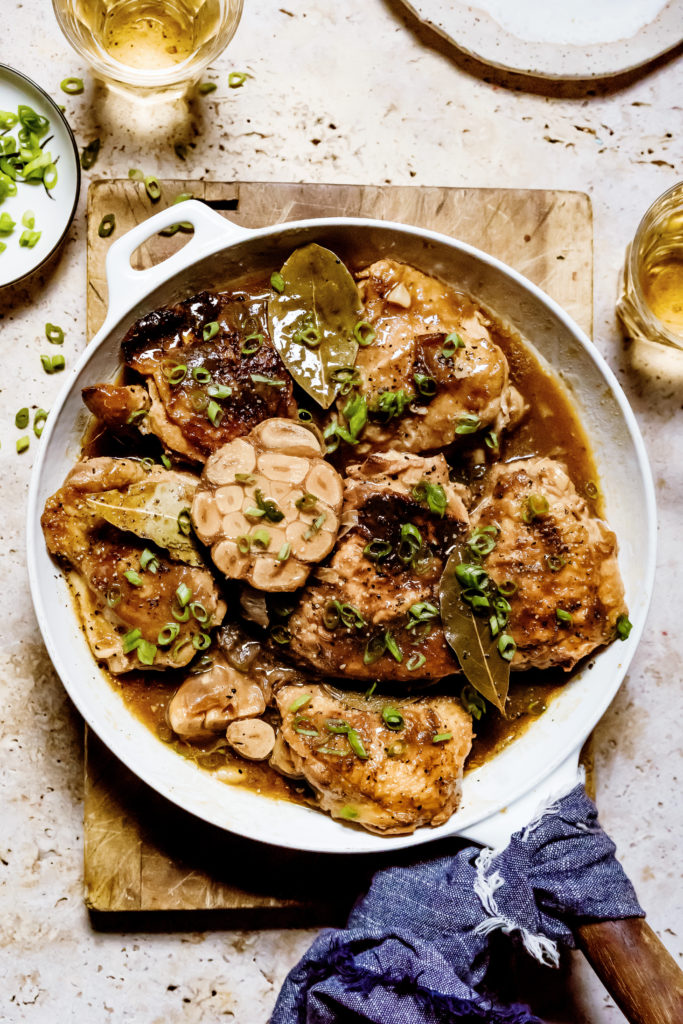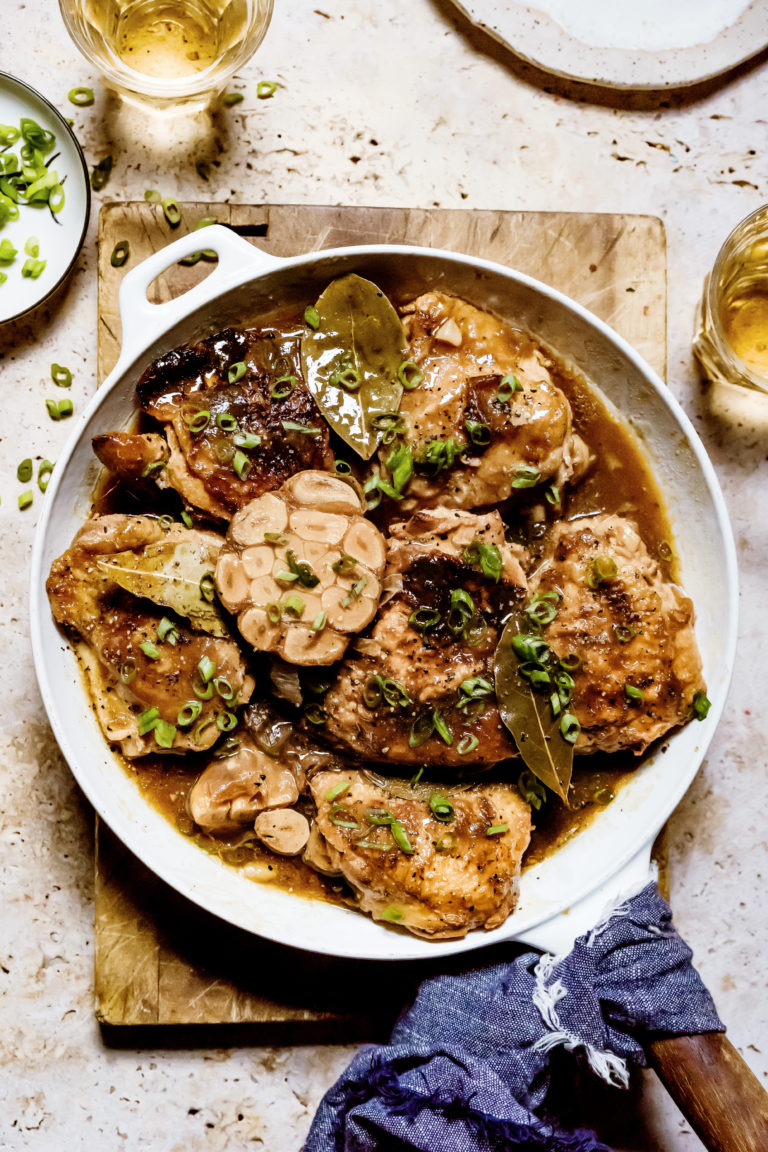 If you're a purist, you'll notice that I have made few modifications. Things like using granulated sugar over light brown sugar, add chicken broth for more sauce – because let's face it – that's everyone's favorite part. Along with that, there's cornstarch to give the sauce some added body. And if you can't readily find fish sauce, use Worchestire.
Most importantly, swap out the standard vinegar for Nature's Intent Apple Coder Vinegar. It's less pungent so your dish won't be overly tangy or sour. Along with that, Nature's Intent ACV is raw, unfiltered and unpasteurized and made with the Mother— great for enhancing the flavor of my favorite dishes. It's a difference you can see and taste. Next time you are at Ralph's grocery store don't forget to add it to your cart.
Now with the details out of way, grab your Dutch oven and let's do this.
Yield: Serves 6
Chicken Adobo
Ingredients
8 chicken thighs, skin on
3 tablespoons canola oil
1 garlic head
2 cups chicken broth
2 tablespoons corn starch
3/4 cup soy sauce
1/2 cup Nature's Intent Apple Cider Vinegar
2 teaspoon fish sauce - in a pinch you can use Worchestire sauce
4 tablespoons sugar
2 cups chicken broth
2 tablespoons corn starch
Steamed rice, scallions, green parts only, thinly sliced on a diagonal, and toasted sesame seeds (for serving)
Instructions
In a heavy bottom, Dutch oven pan heat oil over medium heat. Add chicken skin side down. Be sure not to crowd the pan, so cook chicken batches if needed. Cook until golden brown, about 7-10 minutes, making sure to lift pieces half way through for oil an fat to flow through. Cook Transfer cooked chicken onto plate and cook, lifting pieces with tongs once or twice toward the end to let hot fat flow underneath, until fat is rendered and skin is crisp and golden brown, 7–10 minutes. Transfer skin side up to a plate.
Stir the corn starch into the chicken broth to create a slurry. Add slurry, soy sauce, Nature's Intent Apple Cider Vinegar, fish sauce or Worchestire sauce, sugar and garlic to Dutch oven. Bring to a simmer, then reduce heat to low, stirring to dissolve sugar.
Return chicken to pot skin side up. Cover and cook for about 35-40 minutes or until chicken is tender and easily pulls away from bone.
Serve with rice and top with scallions and sesame seeds.