Never worry about double dippers again with these celery boats. These crispy year-round celery sticks from Duda Farm Fresh Foods are perfect for stuffing with dips like this homemade onion dip that starts with sweet caramelized onions folded into cream cheese and filled with smoked paprika, soy sauce, and fresh black pepper.
The recipe comes together with just a few ingredients and turns of the wrist. It will easily be one of the most popular bites at your Game Day Party!
To start things off, make sure to pick up Dandy® Celery. It's packed with flavor, and this sweetness perfectly contrasts the dip, while the crispy-crunch finish makes it hard to have just one.
To find Dandy® Celery near you, click here or buy it online here.
Now for the fun part, Dandy® Celery will help gear you up for game day. Click here and enter to win prizes to help you cheer on your favorite team. The grand prize consists of a $1,000 gift card. Make sure to read the sweepstakes rules and regulations for entering here.
Good luck and cheers to a tasty day of game-day eats!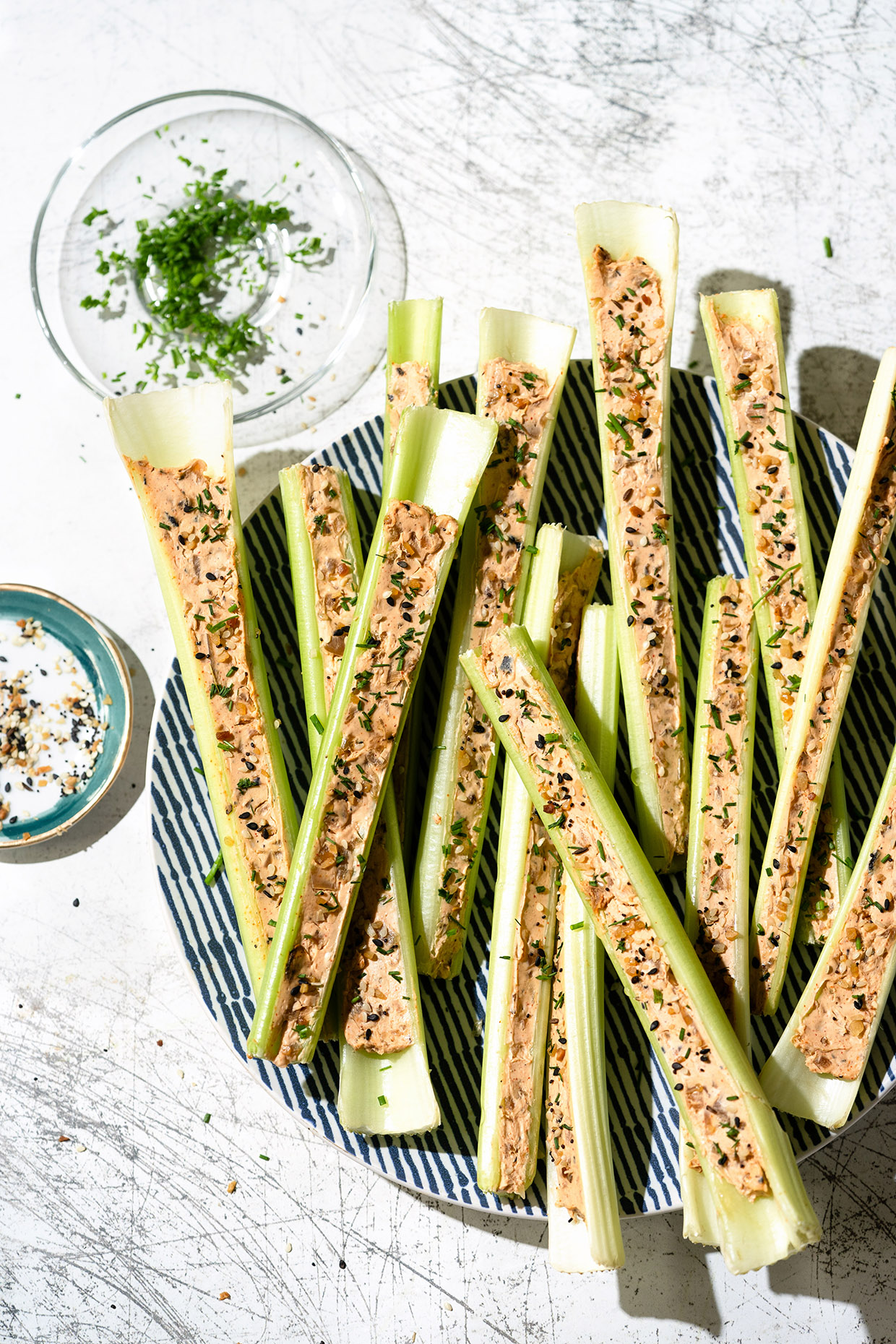 Celery Boats with Caramelized Onion Dip
Prep Time 5 minutes

Cook Time 30 minutes

Total Time 35 minutes
Ingredients
3 tablespoons olive oil
1.25lb. Dandy® Celery Sticks bag
1 large onion, sliced into 1/8-inch rings
8oz. cream cheese, room temperature
2 teaspoons soy sauce
1 teaspoon smoked paprika
1 teaspoon fresh cracked pepper
Instructions
Heat a large saute pan over medium heat, add the oil, and heat until shimmering. Once hot, add the onion rings. Saute over medium heat for 15-20 minutes, stirring frequently. Continue to stir and cook until onion rings are soft and golden brown in color; remove from heat. Set aside to cool.
In the meantime, add the cream cheese to a medium bowl. Stir in the soy sauce, smoked paprika, and black pepper. Set aside.
The onion rings should be cool enough to handle and chopped to a fine dice. Add the caramelized onions to the cream cheese mixture and stir to combine.
To fill the celery, use a knife and spread across the celery canal, leaving 1/2-inch room at the thicker end for easy pick up.
The leftover dip can be refrigerated in an airtight container for about a week.