Super Bowl excitement is in high gear around here. I've been getting ready with trying to finalize what we are going to serve for game day.
On the list of contenders is this Buffalo Chicken Pull Apart Bread. Besides being downright awesome tasting, I love how easy it is to make. Although admittedly it's a little bit messy in prep, and even more so when we you have a
toddler tugging at your pants.  
I'm pretty sure I'm going to find buffalo sauce stains all over the house for the next few weeks. That's what happens when the little man demands attention, the phone rings and you try to multitask. I placed the buffalo sauce bowl down in his reach, with a pastry brush in it, and he decided to go painting with it!
Twenty minutes later we were both seeing orange everywhere. Ugh. It's a mess I never want to revisit.
Luckily, we were able to clean it all up while the pull apart was baking, so when it came out of the oven, we
were able to enjoy it hot. Yay to another super bowl recipe the family loves!


Yield: Serves 6-8
Buffalo Chicken Pull Apart Bread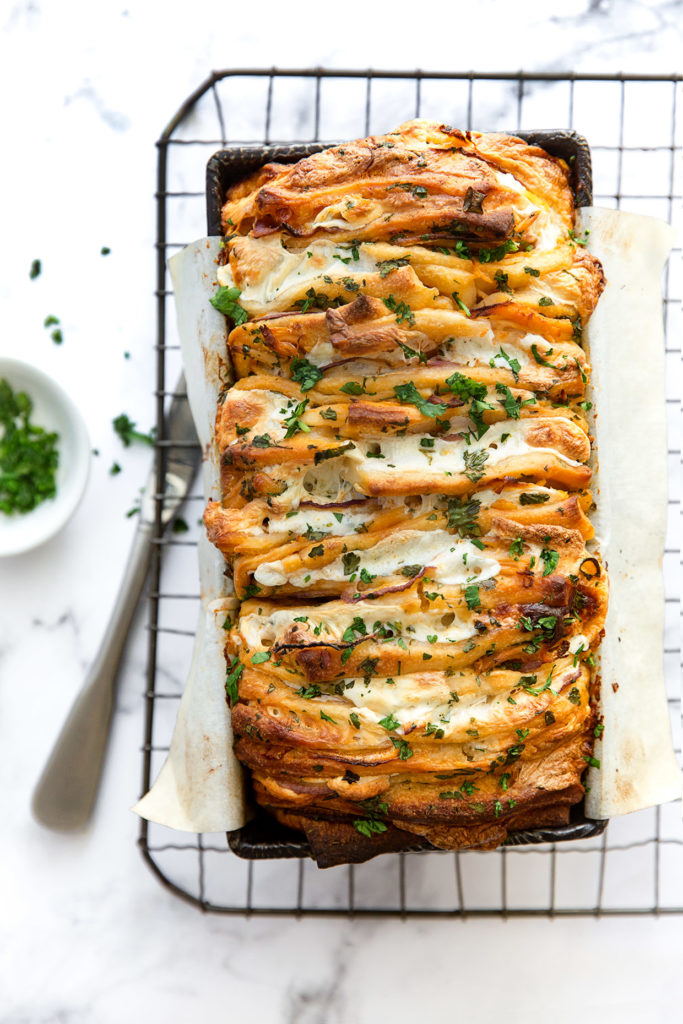 Ingredients
1/2 cup Franks Hot Sauce
3 tablespoon butter, melted and warm
4 tablespoon green onions
3 tablespoons flat parsley, finely chopped
8 oz. shredded rotisserie chicken
1/2 cup blue cheese crumbles
10 oz. fresh mozzarella
2 13.8 oz Pilsbury Pizza Crust (or homemade pizza dough)
Instructions
Preparation: Pre-heat oven to 400 degrees. If you have a pizza stone place it in the oven to pre-heat as well (this will help the pull apart bread cook more evenly). Lightly cover a 9x4.75 inch loaf pan with non-stick spray (this will keep the parchment paper in place). Place parchment on top, leaving a 1-inch over hang on each side.
To make the buffalo sauce: In a large bowl combine and mix together hot sauce and butter. Reserve and set aside 4 tablespoons of sauce.
Add shredded chicken to the bowl and mix to combine. Set aside to roll out dough.
Stretch and roll out dough to a 12-inch square. Brush reserved buffalo sauce onto dough. Sprinkle green onions and parsley on top. Cut dough into sixteen 3-inch squares. Top each square with some chicken, blue cheese crumbles and mozzarella cheese.
Stand loaf pan up vertically. Layer and stack one square on top of one other until pan fills up. Transfer pan to oven and bake, until browned on top, about 60 minutes. Check on pull apart bread after 40 minutes. If it starts to brown too quickly, tent with foil.
Remove from the oven and transfer to a wire rack to cool for ten minutes. Using the parchment over hang lift bread out of pan. Serve immediately.