This is a sponsored post in collaboration with Cans Gets You Cooking. All thoughts and opinions are my own.
Blueberry Cheesecake Popsicles ~ Cheesecake on a stick and here to cool you down for those hot summer days. Who's ready to mix up some comfort with canned blueberries?
These are the perfect after-distance learning snack for the whole family. It comes together quickly, easily and made better with canned blueberries.
It's what we need in a time when grocery shopping isn't what it used to be and canned foods ease how many trips we need to make there. But more than anything canned foods makes everyday meals, snacks and hacks even easier.
Now more than ever, canned foods have premium shelf space in my home. Canned foods offer convenient nutrition that's affordable and long lasting. It's less worry about spoiled food and grocery trips and more fun time with the kids. Plus, they're key ingredients to leveling up the flavor in so many of my family's favorite comfort foods
Yay to that and these popsicles that are getting us through a day of switching hats from teacher to parent.
Yield: 10 popsicle
Blueberry Cheesecake Popsicle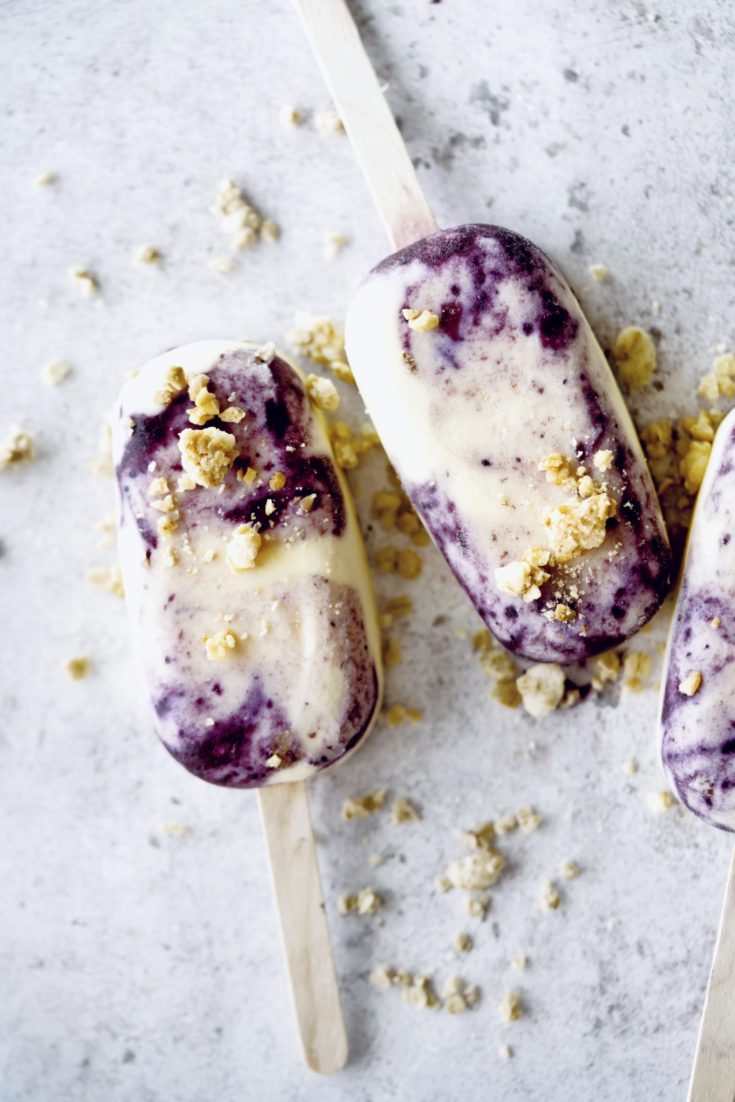 Prep Time 10 minutes

Cook Time 5 minutes

Additional Time 4 hours

Total Time 4 hours 15 minutes
Ingredients
1/2 cup canned whole blueberries in light syrup
1 8oz cream cheese
3/4 cup milk
1/3 cup sugar
2 egg yolks
1/4 cup agave or honey
Instructions
Place all ingredients in a blender and process until smooth.
Pour mixture into a saucepan. Place pan over medium heat and bring to a boil, while stirring constantly. Once boiled, turn down the heat, stir and cook for a minute longer.

Remove from heat and stir in pureed blueberry. (Note: The
final finish of the popsicle and how it appears, depends on how much or how little you swirl in the blueberry puree in the mold.

Transfer popsicle mold to a freezer and let set, about 4 to
6 hours. Duration of time will depend on the freezer setting and how full is the freezer.

Remove mold from freezer and run hot water around it for 2 to 3 seconds, or until popsicles easily release.