This fast-prep meal is layered with ravioli, a meaty marinara sauce rippled with Grass Run's meaty-tasting Ground Beef, and plenty of ooey-gooey cheese that will have adults and kids reaching for seconds. There aren't many ingredients in this recipe, so make to sure to use high quality ingredients.
Start with the beef, in my house, we are big fans of Grass Run Ground beef for its meaty flavor. It's the kind of ground beef that doesn't need much seasoning to elevate it. The beefy flavor comes through clean and strong once cooked. For the marinara sauce you can dress up store-bought like I've done, or skip the add-ins if you are short on time. When it comes to the ravioli, make sure you choose one that holds it's shape and chewy exterior well when baked.
This Beefy Ravioli Bake is the kind of dish you will definitely want to keep in your dinner rotation, especially since it's a recipe you can also assemble the night before, then bake it in about about 25 minutes before serving. Make-ahead meals like are a time-saver when you're shuttling between school, after-school sports, or school commitments like Open House during back-to-school season. As the saying goes, the days are long, but the years are short, so fast and efficient meals like this are a must. 
This simple dish relies on a few key ingredients:
Grass Run Farms Ground Beef: It's a high-quality American 100% grass fed and finished beef from cattle that consume a forage diet their entire lives and never receive antibiotics, added hormones, or animal by-products. Grass Run Farms producers are a small network of family producers throughout the Midwest. They focus on careful production and sustainable management to ensure the highest quality of beef—something that shines through when you taste it. You can shop their beef at various retailers near you, or order it online from

Market House.

Marinara sauce: You can use store-bought or homemade. Or you can elevate the flavor of jar sauce with a quick sauté of some aromatics and a few fillets of anchovies for added umami.

Ravioli: Choose your favorite type of raviolii. I used mozzarella-filled tortellini for this recipe to keep it simple in flavor so that no one component would overshadow another. 

Cheese: I used a blend of mozzarella and Parmesan, but almost any combination will do, like fontina and Parmesan, or a mixture of cheddar and mozzarella would work well too. 

 Now that you have gathered the essentials, have fun with this recipe. It's one you can easily customize to make your own.
Yield: 6 - 8 servings
Beefy Tortellini Bake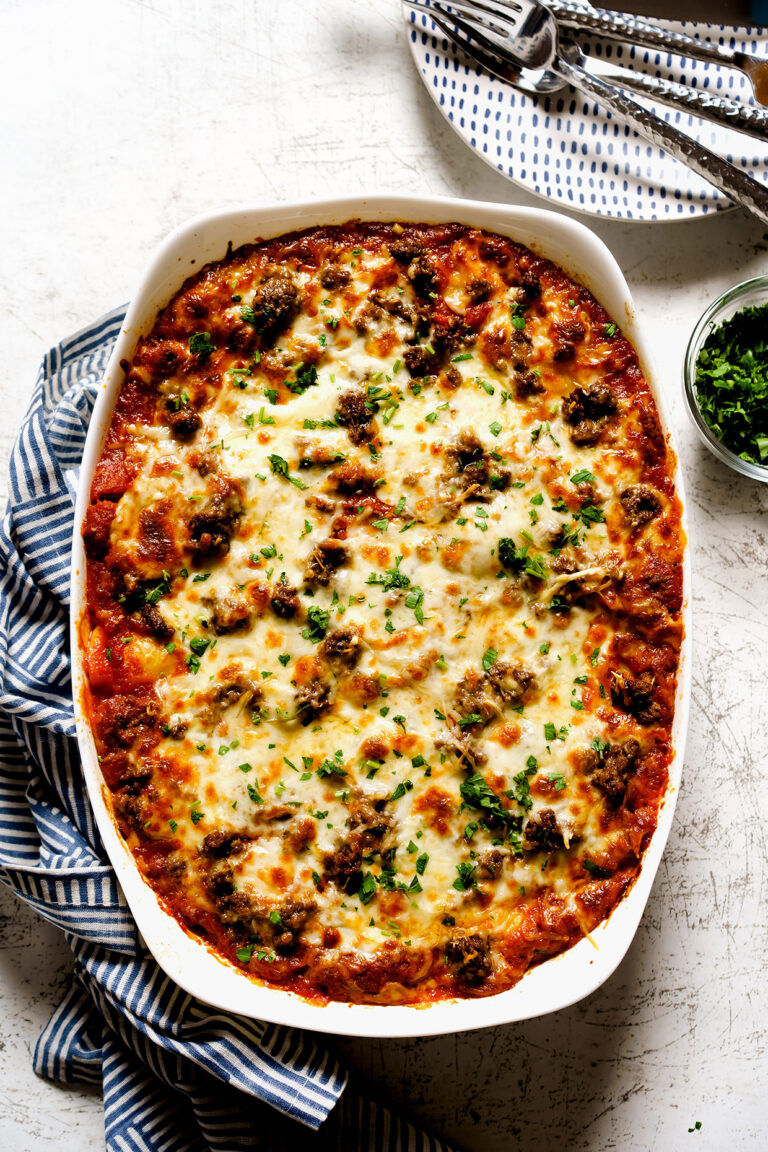 Heat oven to 375F. Move the rack to the top third of the oven. 
In a large skillet, heat oil over medium heat. Add the garlic, stir and cook until golden, about 1 to 2 minutes.  
Add the ground beef; stir and cook until beef is cooked through, about 8 to 10 minutes. Season with salt and pepper to taste. Transfer beef to a plate.  
Using the same pot, no need to clean it out; add the onions, mushrooms, carrots, and anchovies (if using). Cook and stir until tender and soft, about 7 to 10 minutes. Stir in 2 cups of marinara. Use an immersion blender to process the sauce until smooth (alternately transfer sauce to a blender or food processor and blend until a smooth texture is achieved).  
Add the cooked beef to the marinara sauce. Bring sauce to a gentle simmer. Cover and continue simmer for 20 minutes for the flavors to meld. 
Meanwhile, spread 1 cup of sauce on the bottom of a 9 x 13 baking dish. Layer with half the ravioli in an even layer. Sprinkle half the mozzarella and Parmesan cheese on top. Repeat this once more to create 2 layers. 
Cover the dish with foil and bake for 20 minutes. Remove foil and continue to bake until cheese is golden brown and sauce bubbles, about another 5- 10 minutes. Remove from oven and transfer to a wire rack to cool  10 minutes. Top with chopped parsley. Serve immediately. 
Ingredients
1 tablespoon olive oil
3 cloves garlic, chopped
1 lb. Grass Run Ground Beef
3/4 cup chopped onion
3/4 cup chopped mushroom
3/4 cup chopped carrots
4 anchovies, finely chopped (optional)
24 oz. marinara sauce (store-bought or homemade)
20 oz. uncooked cheese ravioli or tortellini
3 cups shredded mozzarella cheese
1 cup freshly grated Parmesan cheese