Some days a hearty casserole is in order, so today I'm sharing a baked rigatoni with spinach and sausage.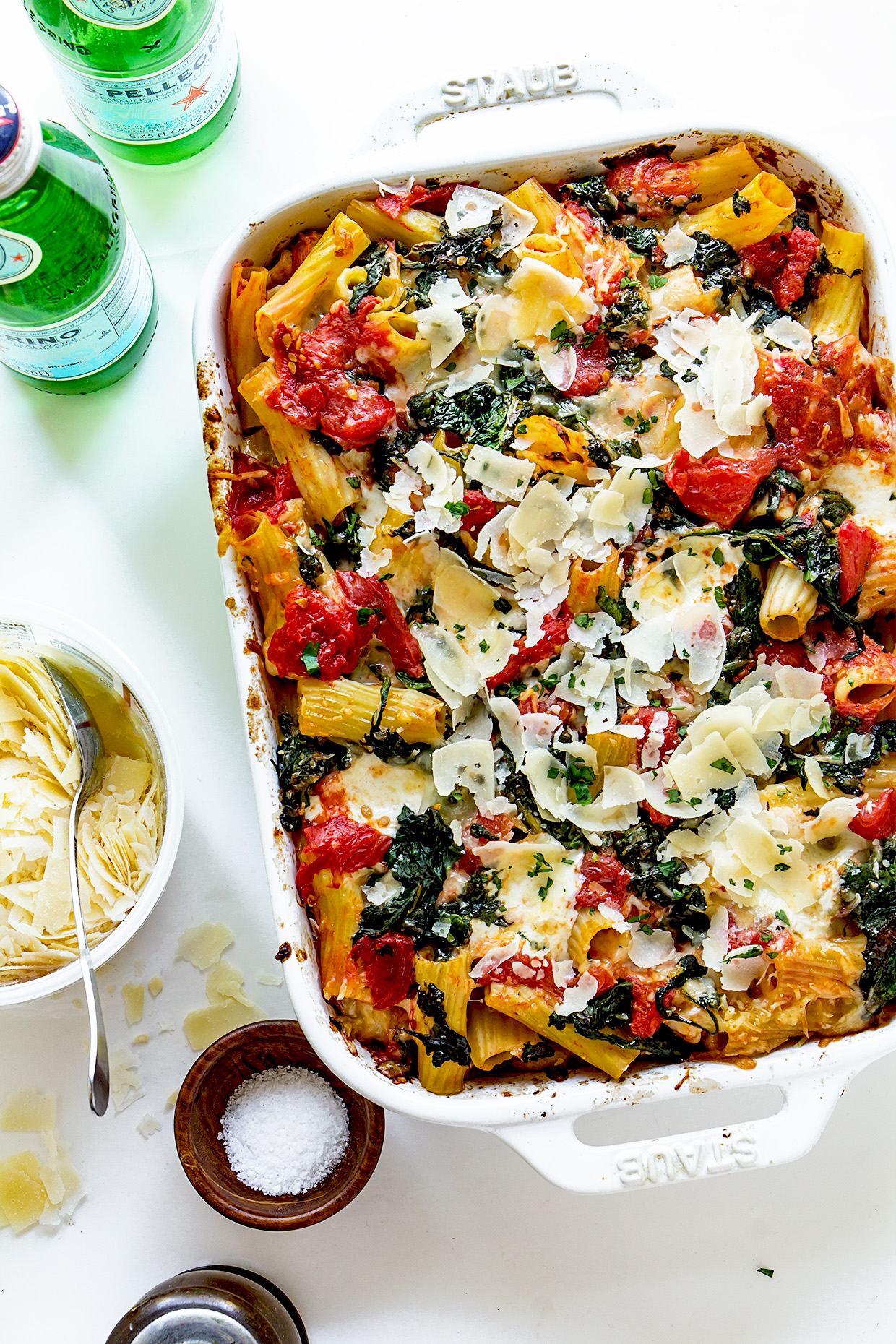 I usually make this with homemade tomato sauce but feel free to use store-bought if you are short on time. I've done that on a few occasions when I'm in pinch for time, but really, homemade is the best. 
Yes, you can taste the difference, so I've added the recipe for homemade tomato sauce at the end of the recipe card below.
Whichever way you go—homemade sauce or not—you are going to love this comfort dish.
Yield: 8 servings
Baked Rigatoni with Sausage and Spinach
Ingredients
3 tablespoon olive oil
4 garlic gloves, minced
1 onion, finely chopped
1 pound spinach, steamed
1 pound sweet sausage, cooked and drained
1 pound rigatoni, cooked
3 cups tomato sauce (homemade recipe follows)
6 ounces fontina cheese
1 pound fresh mozzarella, cut to 1/2 inch cubes
salt and pepper to taste
Homemade Tomato Sauce
4 tablespoons of olive oil
1 onion, finely diced
4 cloves garlic, chopped
1 bay leaf
2 teaspoon fresh oregano
1/4 cup chopped basil
2 teaspoons kosher salt
1 teaspoons fresh ground black pepper
2 tablespoon tomato paste
2 28oz. cans whole plum tomatoes with liquid
Instructions
Preparation: Heat oven to 350 degrees F. Lightly cover 13x9 pan with non-stick spray.
In a large skillet, heat oil over medium heat. Add onions and cook until translucent, about 3 minutes. Stir in garlic and cook until fragrant, about 30-60 seconds. Stir in spinach and cook until wilted. Stir in cooked sausage. Remove pan from heat.
In a large bowl, combine and mix together spinach and sausage mixture, pasta, tomato sauce, 3/4 of fontina cheese. Season with salt and pepper to taste. Pour half of mixture into casserole dish and layer with half of fresh mozzarella cheese, top with remaining pasta mixture, fresh mozzarella and fontina cheese. Transfer to oven and bake until cheese is melted and top is starts to brown, about 25 minutes.
To make tomato sauce (makes 6 cups): Heat olive oil in a large pot over medium heat. Add onions, garlic, bay leaf, oregano, basil, salt and pepper, stir and cook until onions are soft and translucent, about 10 minutes.
Add the tomato paste and continue to cook and stir for another 5 minutes. Add the tomatoes and stir continuously until the sauce begins to boil. Once boiled, lower heat and let sauce simmer for 1 hour, stirring every 5 minutes to prevent sauce at the bottom of pot from burning. Taste and season with additional salt, as preferred. Remove the bay leaf before using.