Baked Cinnamon Roll French Toast ~ It's not groundbreaking, but it will definitely have your kids out of bed and to the table faster than most breakfast meals. To make things easier, I bought ready-made cinnamon rolls. You know, the kind that you pop out of a tube and plop down.
I'm all about getting help where I can.
That said, you can pull this off in no-time. The prep takes less than 10 minutes and then you just need to wait for it to bake.
Pro tip #1: You can prep the cinnamon rolls the night before (see pro tip #2 below), make the custard at the same time, and assemble it in the morning. Then all you need to do the next morning is fire up the oven and let it bake while you wake up with a cup of coffee.
Pro tip #2: Here's what you don't want to do – DON'T just pop those cinnamon roll disks out and plop them down into the custard. Take the extra time to: (1) bake them according to the instructions on the tube. (2) Either cut them horizontally like I did here to preserve the swirly top orcube the the cinnamon rolls. Do one or the other. If you leave it whole baked or unbaked, the custard won't soak into the center of cinnamon roll and you'll end up with a dry lump. You can of course of poke holes into, but that doesn't work out all that well either.
Trust me on the above Pro tip #2. I've tried each variation, so save yourself the trouble of having to discover this on your own.
There you have it, breakfast made fast and delicious.


Yield: Serves 4-6
Baked Cinnamon Roll French Toast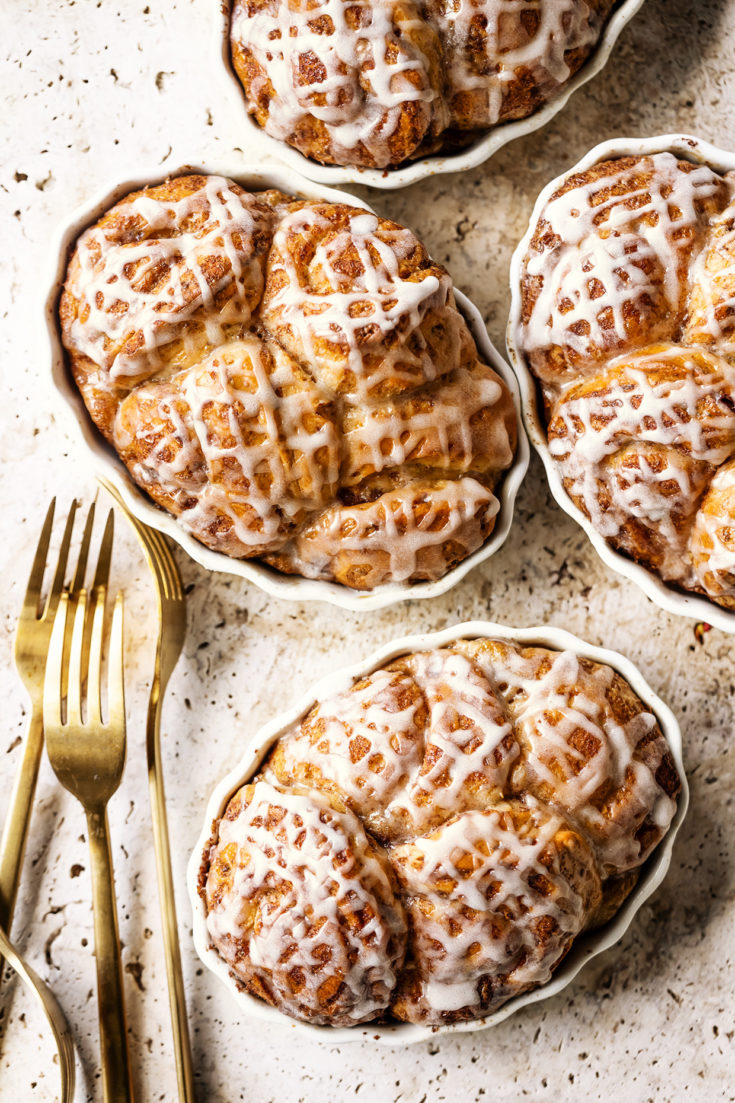 Ingredients
1 12.4 oz Pilsbury Cinnamon Roll
3 eggs
3/4 cups heavy cream
3/4 cups milk
4 tablespoons sugar
1 1/2 teaspoons vanilla extract
1 1/2 teaspoons cinnamon
Instructions
Heat oven to 350 F.
Separate cinnamon rolls from can. Reserve the icing to drizzle on at the end. Bake according to instructions. Remove from oven and set aside to cool. Once cooled, slice cinnamon rolls horizontally to preserve swirled top or, cube into 1/4 inch pieces. Set aside to make the custard.
In large bowl, whisk together the remaining ingredients: eggs, heavy cream, milk, sugar, vanilla extract and cinnamon. Place the sliced or cubed pieces of cinnamon roll into the custard and let soak for 10 minutes.
Place soaked pieces in small ramekins or one 8x8 baking dish. Transfer to the oven and bake for 20-25 minutes. Remove from oven and cool slightly. Dust with powdered sugar and drizzle on reserved icing