My solution to, "What's for dinner?" I couldn't decide and either could the boys, so I doubled down with this two-in-one recipe. The Bacon Mac and Cheese Melt.
To keep thing interesting, I added pan seared jalapeños. By interesting, I mean I added them to the little guys melt. Of course, I warned him, but he didn't heed my warning, nor did he listen to me when I said "drink milk if it's too hot."
He grabbed for the glass of water.
Yikes. And while I felt bad for him, I couldn't help chuckling. Poor kid. Luckily, I had one without the jalapeños ready. Although he's promised to "get me back" when I least expect. I can't wait. No doubt he will have a little help from his mom.
And that's dinner in my home.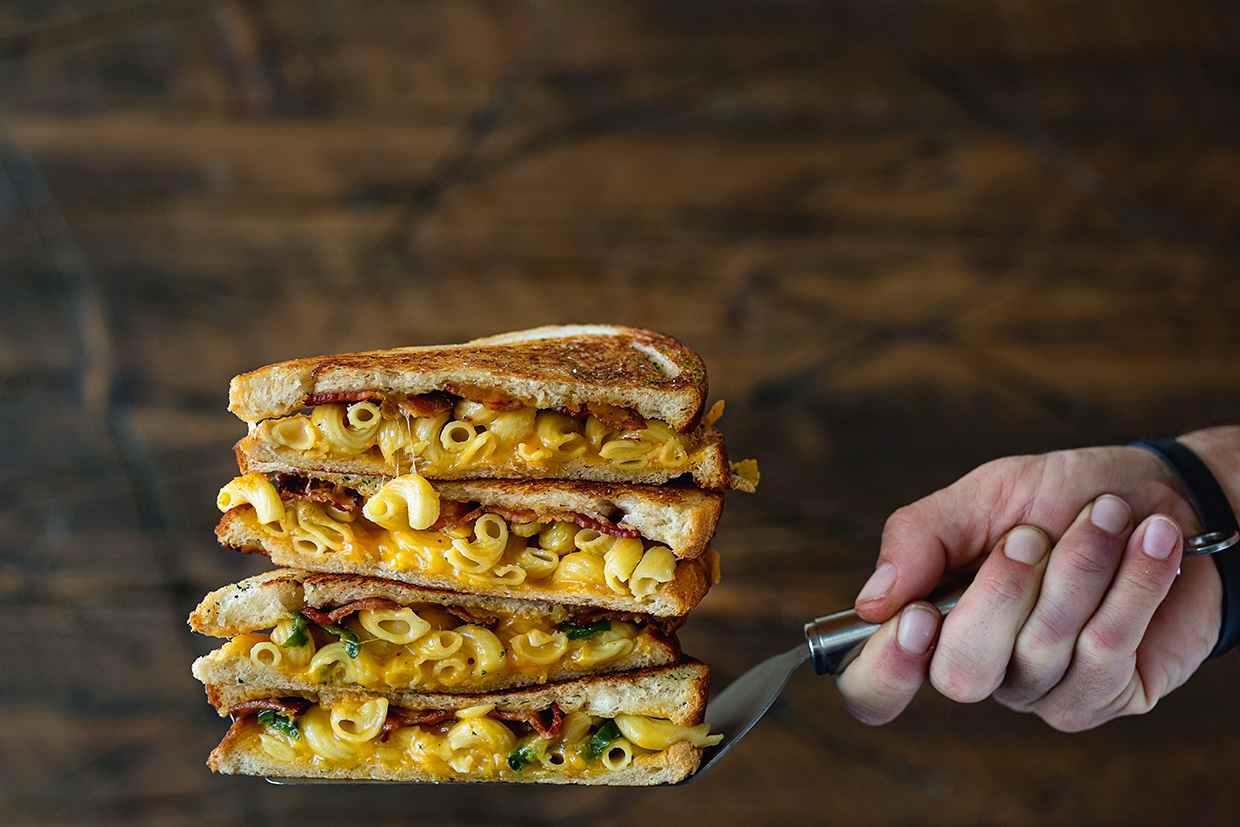 Yield: 1 sandwich
Bacon, Mac and Cheese Melt
Ingredients
2 slices of bread
1-2 tablespoon mayonnaise
1 tablespoon butter
1-2 slices extra sharp cheddar cheese
4 slices bacon
1/2 cup mac and cheese (recipe follows)
5-6 jalapeno slices, pan seared (optional)
Mac and Cheese | Serves 8
3 tablespoons all-purpose flour
3 cups whole milk
1 1/2 teaspoons dry mustard
1 teaspoon fine sea salt
1/2 teaspoon freshly ground black pepper
8 cups extra-sharp Cheddar, grated
1 pound elbow macaroni, cooked al dente
Instructions
Spread mayonnaise on both slices of bread; set aside. Heat a small skillet over medium heat. Melt half of butter, then place one slice of bread, mayonnaise side down, into pan. Layer with sliced cheese, bacon, mac and cheese and jalpaenos if using. Top with second slice of bread, mayonnaise side up. Cook until bottom piece of bread is golden brown, about 4-5 minutes. Lift sandwich and add remaining butter. Flip sandwich and gently press down sandwich for even cooking. Cook until second side is golden brown. Remove from heat. Serve immediately.
To make Easy Mac and Cheese
Preheat the oven to 350°F. Cover a 9x13-inch baking dish with non-stick spray.
In a small saucepan over medium heat, bring milk to a slight simmer (tiny bubbles will appear at edge of pan). Remove from heat.
In second saucepan over medium heat melt butter over medium. Add the flour and stir to combine, making sure to scrap bottom of pan to prevent any scorching. Cook until mixture starts to just turn brown color, about 3 minutes. Gradually add in milk and stir constantly until sauce thickens, about 3 minutes. Remove from the heat and stir in the dry mustard, salt, and pepper. Add the cheese and stir until completely melted. Salt and pepper to taste. Add elbow macaroni and stir to coat.
Transfer mixture to prepared baking dish. Bake until top starts brown and bubble, about 30 minutes.