Remember these potato boats? Well, I'm back at it with zucchini boats.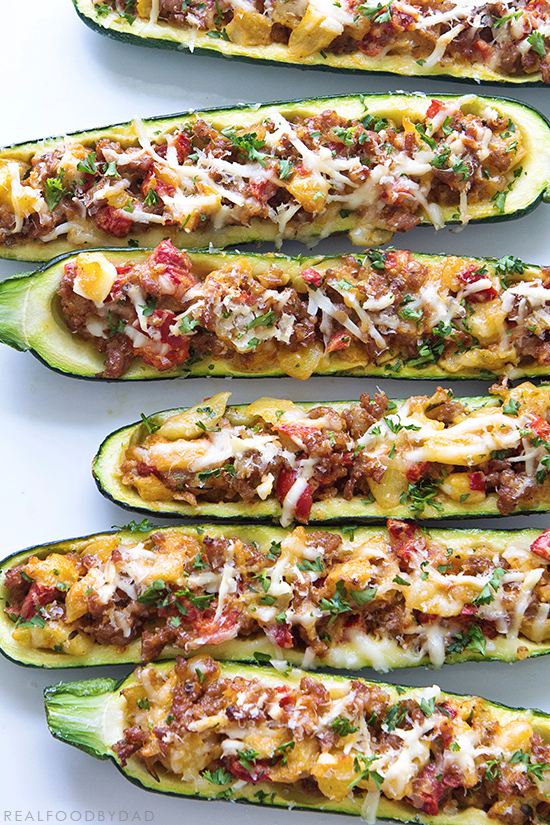 Admittedly, I'm the big carnivore in the house, the boys run somewhere in the middle and Naomi is far to the left with your lawn clippings and seeds (total term of endearment for her salad preferences). But these zucchini boats, they are a crowd pleaser all the way around.
Although I did see Naomi pick out some of the sausage. I guess that's payback for when Cole and I pick at her food. That's what happens when you have opposite food preferences. I'm not complaining, it works—more often than not we meet in the middle.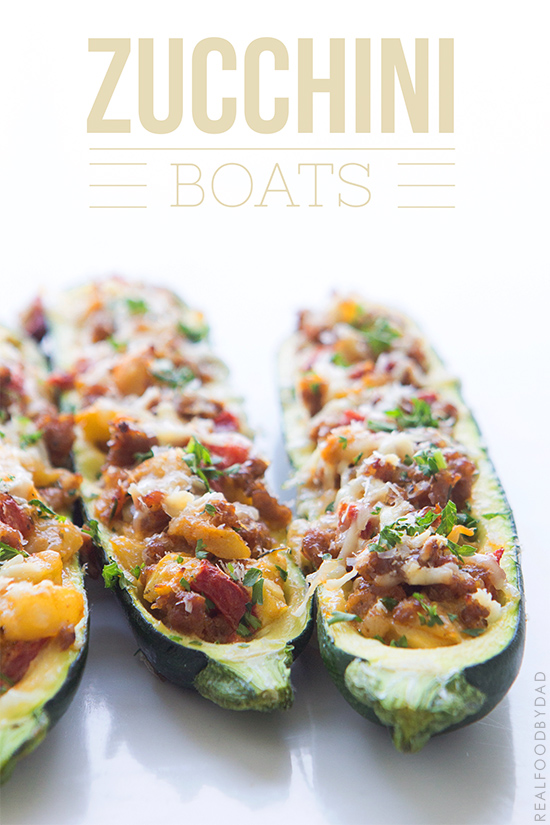 For these zucchini boats, they're pretty versatile. I used sausage, but if that's not your thing, try bacon or keep it vegetarian by filling it with hearty grains. As for the remaining filling, again, fill it with whatever you like. I used the flesh of the zucchini that was scraped out, roasted red bell peppers and I would have thrown in roasted corn, but Cole can't stand those charred kernels—so simple does it.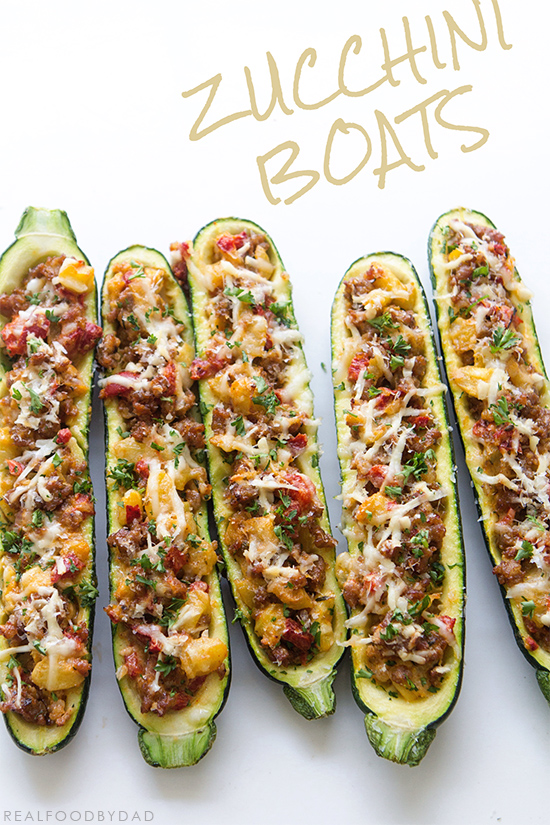 And if zucchini isn't your thing, of course you can do bell peppers, but then that would be a stuffed bell pepper because who has ever heard of bell pepper boats? Or, alright, call it what you want – boats, stuffed "so-so"—it doesn't matter. You get the idea. The stuffing and what you call it are just small details.
Yield: Makes 8 boats
Zucchini Boats
Ingredients
4 zucchinis, halved
3/4 lb. cooked sausage
1 roasted red bell pepper, diced
1 teaspoon kosher salt (1/2 teaspoon if using table salt)
1 teaspoon garlic salt
1/3 teaspoon cumin
1/4 teaspoon paprika
1/4 teaspoon cayenne pepper
1/2 cup grated Parmesan cheese
1/4 cup grated Fontina cheese
1/2 cup plus 2 tablespoons softened cream cheese
Instructions
Preparation: Heat oven to 350 degrees F. Line a large baking sheet with foil.
Using a melon baller, scrape the flesh out of the halved zucchini to create a well (make sure to leave with slight wall all the way around to give the zucchini support). Roughly chop the scraped out zucchini into 1/2 inch pieces. In a large bowl, combine chopped zucchini, sausage, bell pepper, cumin, paprika, cayenne pepper, Parmesan and Fontina cheese; toss to combine. Add in cream cheese and fold to combine.
Evenly divide mixture between each zucchini half. Transfer assembled zucchini boats to the oven and bake for about 25 minutes or until tops are browned. Remove from oven. *Optional: Finish with more cheese and finely chopped Italian parsley.