I'm back to my waffling ways with these Waffled Zucchini Fritters. A perfect topper to some grilled chicken, greens, and a poached egg.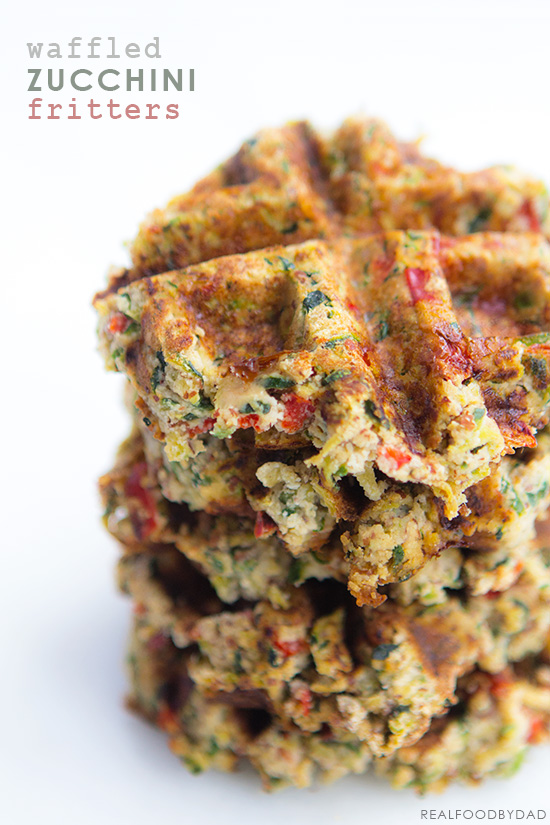 It's a pretty complete meal. The big boost here is it's also paleo-friendly.
I'm not hardcore paleo by any means , nor do I plan to be, but it seems like everyone around me is going paleo and I'm hyper aware of it. So in keeping this paleo, I started out with the same egg-to-vegetable ratio that I used in my Potaffle (waffled potato pancakes) recipe, and then swapped out the flour for coconut flour. I should preface Naomi is a baker, and works a lot with coconut flour, so I had the added benefit of picking her brain.
Here's what I found out from what she told me and through some trial error of my own: (1) coconut flour sops up a lot of liquid, good thing when working with liquid heavy zucchini—so when you get to the part about squeezing the zucchini—don't cramp your hands into paralysis. Here's what you do, follow the recipe and if at the end of mixing you still see some liquid at the bottom of the bowl, just add coconut flour one teaspoon at time until there's no more liquid. (2) Yes, coconut flour has a strong flavor, but not so much in this recipe that it's noticeable, especially since I gave these zucchini fritters some Asian flavor with soy sauce, rice vinegar and ginger. (3) Lastly, if you don't have coconut flour, just swap that out with an equal amount of all-purpose flour.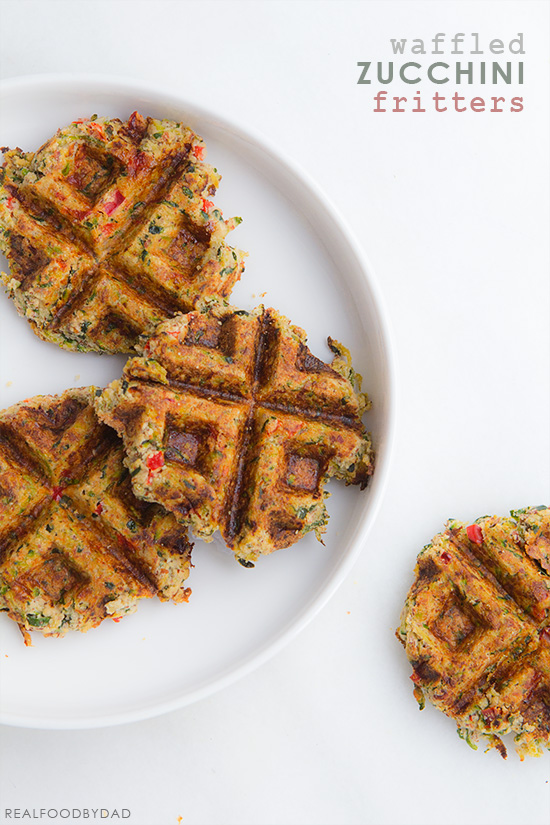 On an off-note, if you are wondering what those greens are, they're micro radishes. Yup, that's what I had left in the fridge. Not a bad choice, but if you don't like radishes then avoid this, because they are like radishes on roids—super peppery. Go for something milder like spinach or any other greens you prefer.
Now that you know everything there is to know about this zucchini fritters meal, let's do this. And for more waffle inspiration, go here.
Yield: 6 fritters
Paleo Zucchini Fritters
Ingredients
4 cups shredded zucchini (15 oz. - about 4-5 whole zucchini)
1/2 cup red bell pepper (2 oz.)
3 tablespoons chopped green onions
1 egg, lightly beatened
2 teaspoons soy sauce
1 teaspoon rice vinegar
1/4 teaspoon ground ginger
1 teaspoon salt
1 teaspoon black pepper
1/4 cup coconut flour
Instructions
Preparation: Heat waffle iron and cover with non-stick spray.
Combine and toss shredded zucchini (grated on the largest hole of a box cheese grater), red bell pepper and green onions in a large bowl; set aside.
Combine and whisk the egg, soy sauce, rice vinegar, ground ginger, salt and pepper a medium size bowl. Pour mixture into zucchini mixture, and using your hands or a sturdy spatula or wooden spoon, work the mixture until fully combined. Sprinkle coconut flour on top and fold into the mixture until fully incorporated. If there is still liquid at the bottom of the bowl, add in one teaspoon of coconut flour at time until there is no more liquid.
Using an ice cream scoop drop (about 2.5 oz or 1/3 cup scoop of mixture) fritter mixture onto hot waffle iron and cook until golden brown. Time will vary according to machine. Avoid opening and closing the waffle iron too early. If when you remove the fritter it starts to fall apart even after it's golden brown on the outside, lower the heat to ensure the inside is cooked more evenly with the exterior.