Now that the holidays are over with, let's get down to some serious eating. Never mind the dieting. It's time to really get into high gear with game day grubs.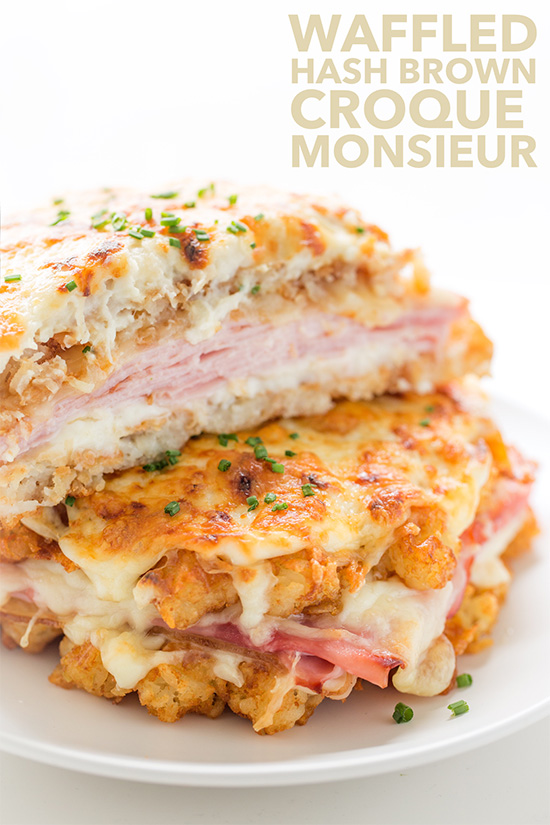 Yep, time to exercise your belly for the big game day. To get you started, I'm sharing this Waffled Hash Brown Croque Monsieur.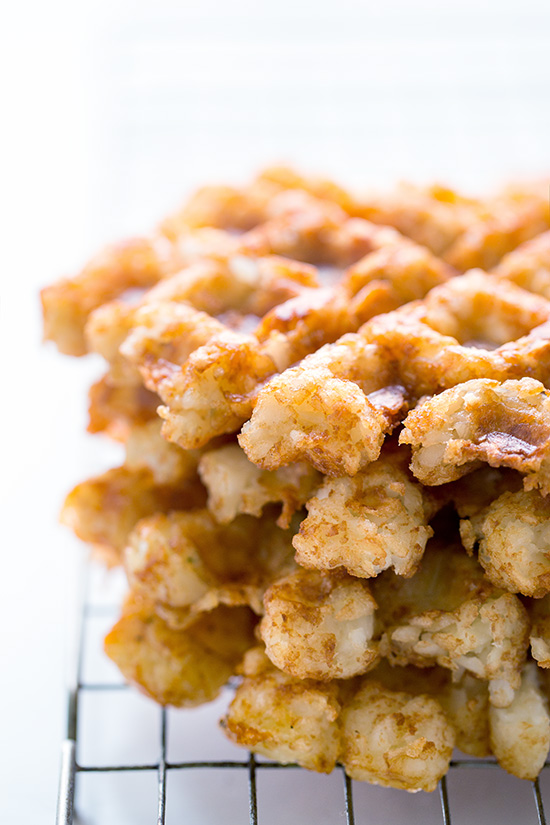 As you can see, I took some liberties with the classic by swapping out the bread slices for waffled hash browns then gave the ensemble an excessive slathering of bechamel sauce and a heavy-handed sprinkling of Fontina cheese to round it out.
If you are an 8-year-old, you will just eat this with a salad and call it a balanced meal. If you are me, you chase it with a little green juice and gear up for the next round of bites.
See how everything balances out? So go ahead and heat up that waffle iron.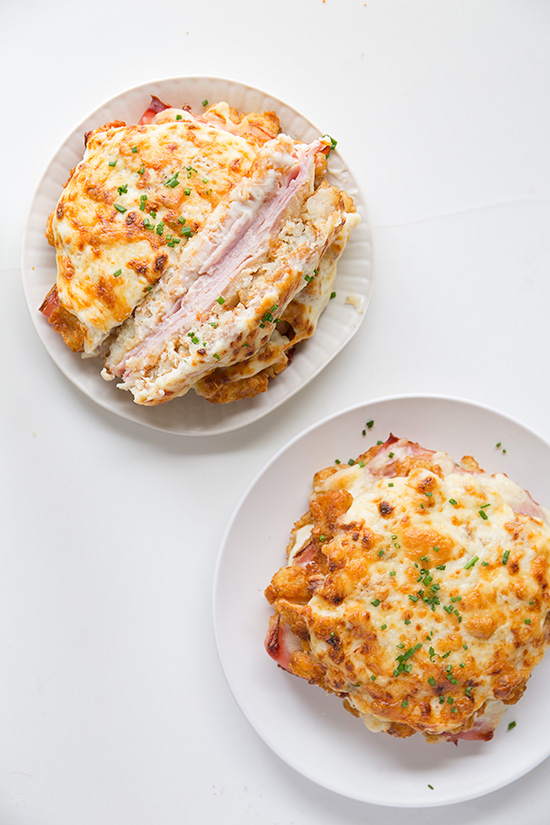 Yield: Makes 4 sandwiches
Waffled Hash Brown Croque Monsieur
Ingredients
4 tablespoons butter
1/4 cup flour
1 1/4 cup milk (room temperature)
1/2 teaspoon kosher salt
1/4 teaspoon freshly grated nutmeg
2 lbs frozen tater tots
8 slices of black forest ham (about 6 oz.)
1 1/2 cups grated Fontina (.5oz)
chives
Instructions
Cover waffle iron with non-stick spray. Place tater tots down on waffle iron as close together as possible. Cook until browned, about 5-7 minutes (time will vary according to machine).
To make béchamel sauce: In a saucepan over medium heat, melt butter. Add flour and whisk to combine, continue to cook and whisk until mixture turns dark golden, about 6-7 minutes. Stir in milk and continue to whisk until smooth and mixture thickens, about 7-10 minutes. Transfer to a shallow dish and set aside to cool. Place a a piece of plastic directly on surface.
Assembly: Heat oven to 425 degrees F. Portion out half of bechamel sauce and spread evenly among 4 waffles. Place waffles, bechamel sauce side up, onto wire rack lined baking sheet; layer with ham and half of cheese. Top with remaining waffles and spread remaining bechamel sauce on top, sprinkle remaining half of cheese. Bake until cheese is browned and bubbly, about 10-15 minutes.