Vietnamese Grilled Pork Bowls ~ A lean and tasty caramelized grilled Vietnamese pork recipe, topped with with pickled carrots and daikon, fresh greens, aromatic herbs and finished with a sweet and spicy fish sauce dressing.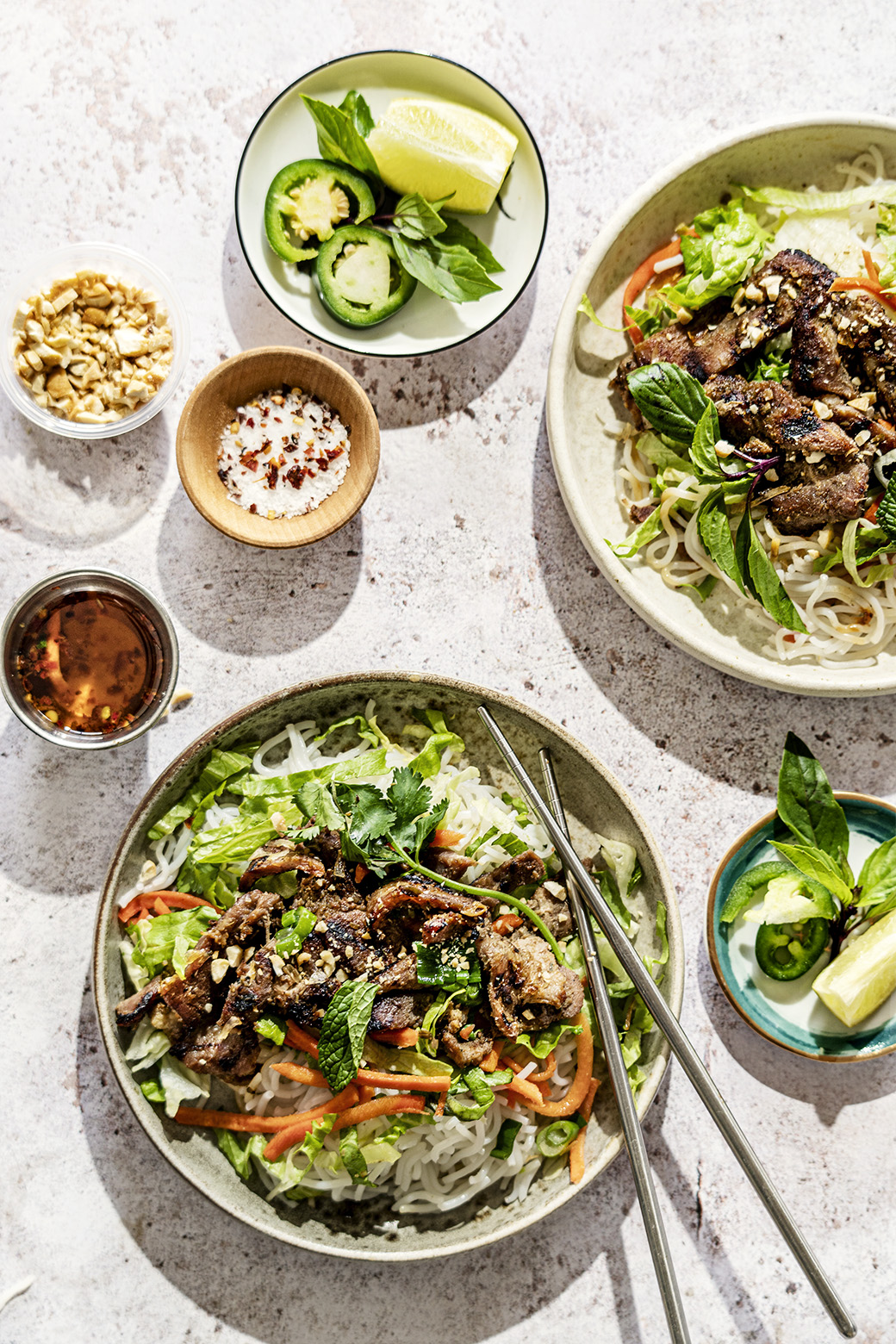 If you are regular reader around here, you know I don't do diets or fads. Mindful eating is my preferred approach. This means finding balance between food as fuel and indulgent food.
The recipe you see here definitely falls under food as fuel. It's a pork centric recipe that's lean, protein packed, and full of vegetables. Often it's my go-to post workout meal or my work lunch. The beauty of this recipe is you can make the grilled pork ahead time and have it on hand when you are ready to assemble the bowl. It's a versatile dish that can be served cold or at room temperature with the pork being served slightly warmer. The temperature with which its served is really personal preference.
If you are staying with tradition then make the bowl as you see in the picture. To tap into the versatility of the dish (which my family and I often do), feel free to change out the vegetables for what you have on hand. Sometimes I swap the pickled carrots and daikon for freshly julienned radishes for a peppery bite, snap peas for some sweetness or whatever else may be in my crispier. The pickled vegetables are traditional to the recipe and used to balance out the robust flavor of the pork marinade. But I'm a big proponent of make it the traditional way first and learn the flavors, then have fun with your food and give it your own spin and preferences.
In terms of the protein for this recipe, I prefer pork shoulder because it's more marbled and therefore more flavorful than say a loin chop. As I mentioned, you can grill the meat ahead time, two days to be exact, and have it on hand ready. See what I mean about it being meal prep friendly?
I meal prep when I can to avoid skipping meals. Doing so also allows me to actually sit and enjoy a meal rather than rushing through it because of time constraints. Meals are meant to be enjoyed in the moment. Lucky for me this recipe hits all the right notes in terms of flavor, prep and being able to meet my active lifestyle that calls for better eating.
For more lean and pork-centric recipe ideas and inspiration, visit www.pork.org.
Here are a few notes before you get started on the recipe:
Pork safety ~ Most pork cuts need to be cooked until an internal temperature reaches 145F. Ground pork and sausage should always be cooked to 160F.
Pork misconceptions clarified ~ Follow the temperature for doneness. It's false that pork must be cooked until juices run clear and that the meat is white. When pork is cooked to 145 degrees F, it will be a light blush pink color.
How to properly take the most most accurate temperature ~ This video here explains it best. https://www.pork.org/cooking/pork-temperature/
** This blog post is in collaboration with the National Pork Board. All thoughts and opinions are my own.
Yield: Serves 4
Vietnamese Pork Bowl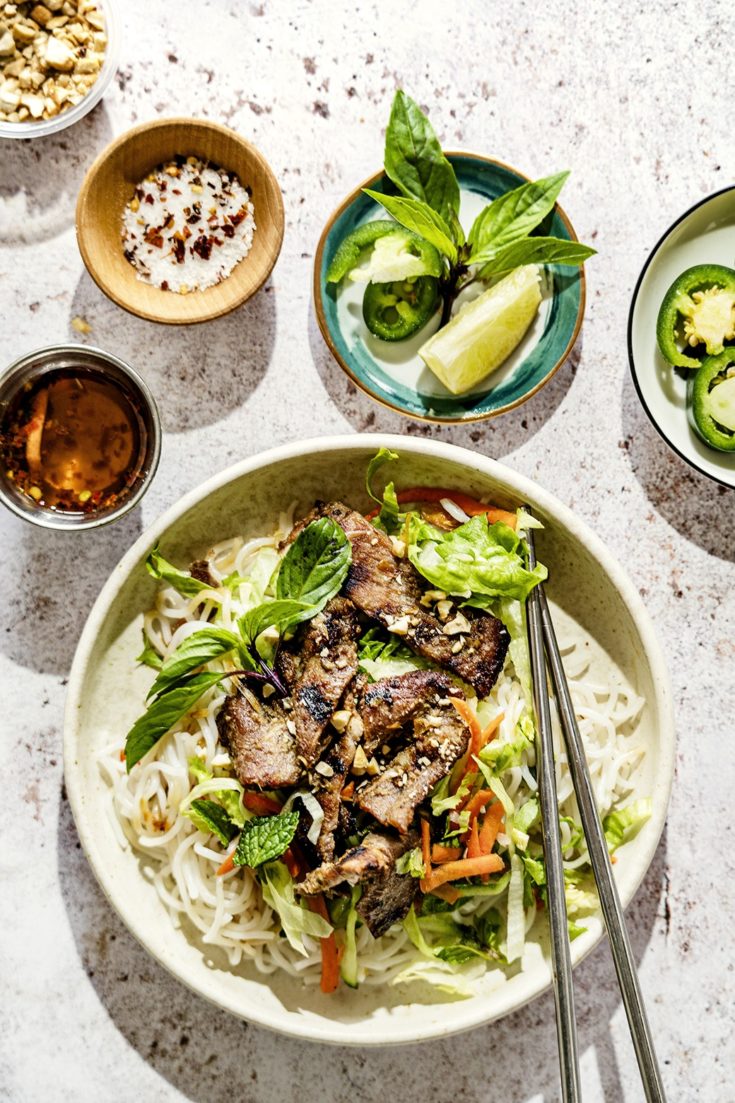 Ingredients
1 lb. pork shoulder, sliced to ¼-inch thickness (helpful tip: freeze pork for 30 minutes for ease of slicing)
3 garlic cloves, chopped
2 shallots, chopped
1 stalk lemon grass, trimmed and finely chopped
2 tablespoons cup sugar
1 tablespoon fish sauce
1 tablespoon soy sauce
1 teaspoon sesame oil
¾ lb. dried rice vermicelli, cooked and drained and cooled
2/3 cup pickled carrots and daikon (recipe follows)
2/3 cup shredded green leaf lettuce
TOPPINGS
Thai basil sprigs
mint sprigs
cilantro sprigs
sliced green onions (green and white parts)
chopped cashews (or peanuts for a more traditional finish)
limes wedges
jalapenos
DRESSING
Sweet & Spicy Fish Sauce (recipe follows)
Instructions
To make the grilled pork: In a large bowl whisk together garlic, shallots, sugar, fish sauce, soy sauce and sesame oil. Add the sliced pork and marinate for at least 1 hour or overnight.

Remove from refrigerator and let sit for 30 minutes. In the meantime, prepare grill for medium-high cooking. Place the meat in a grilling basket or thread the pieces on water-soaked bamboo skewers. Grill for 6 to 8 minutes, turning every minute until meat is cooked to 145 degrees F. Transfer to a plate and loosely cover with tent with foil and let rest for 10 minutes before assembling remainder of the bowl.

To assemble: Add rice noodles to the bowl and layer with lettuce, pickled carrots and daikon, grilled pork, and top with Thai basil, mint, cilantro, sliced green onions and chopped cashews. Serve with sweet and spicy fish sauce dressing and lime wedges.

Pickled Daikon and Carrots ~ In a small bowl, combine 1/3
cup vinegar, 1/3 cup sugar, ¼ teaspoon kosher salt, ½ cup peeled & julienned carrots and 1/4 cup peeled and & julienned daikon. Let stand for at least 30 minutes. Drain before using. Recipe can be made up to a week in advance and kept refrigerated.

Sweet & Spicy Fish Sauce ~ In small bowl, stir together
the ½ cup fish sauce, 1/3 cup sugar, 4 tablespoons white vinegar, 1 tablespoon fresh lime juice and 2 gloves of garlic finely minced (optional add 1- 2 Thai chilies thinly sliced for some heat). Recipe can be made 3 three days in advance and kept refrigerated.