If there is one meal that usually gets shortcut, it's lunch. I'm terrible with it. Breakfast and dinner–no problem, but lunch is always a problem.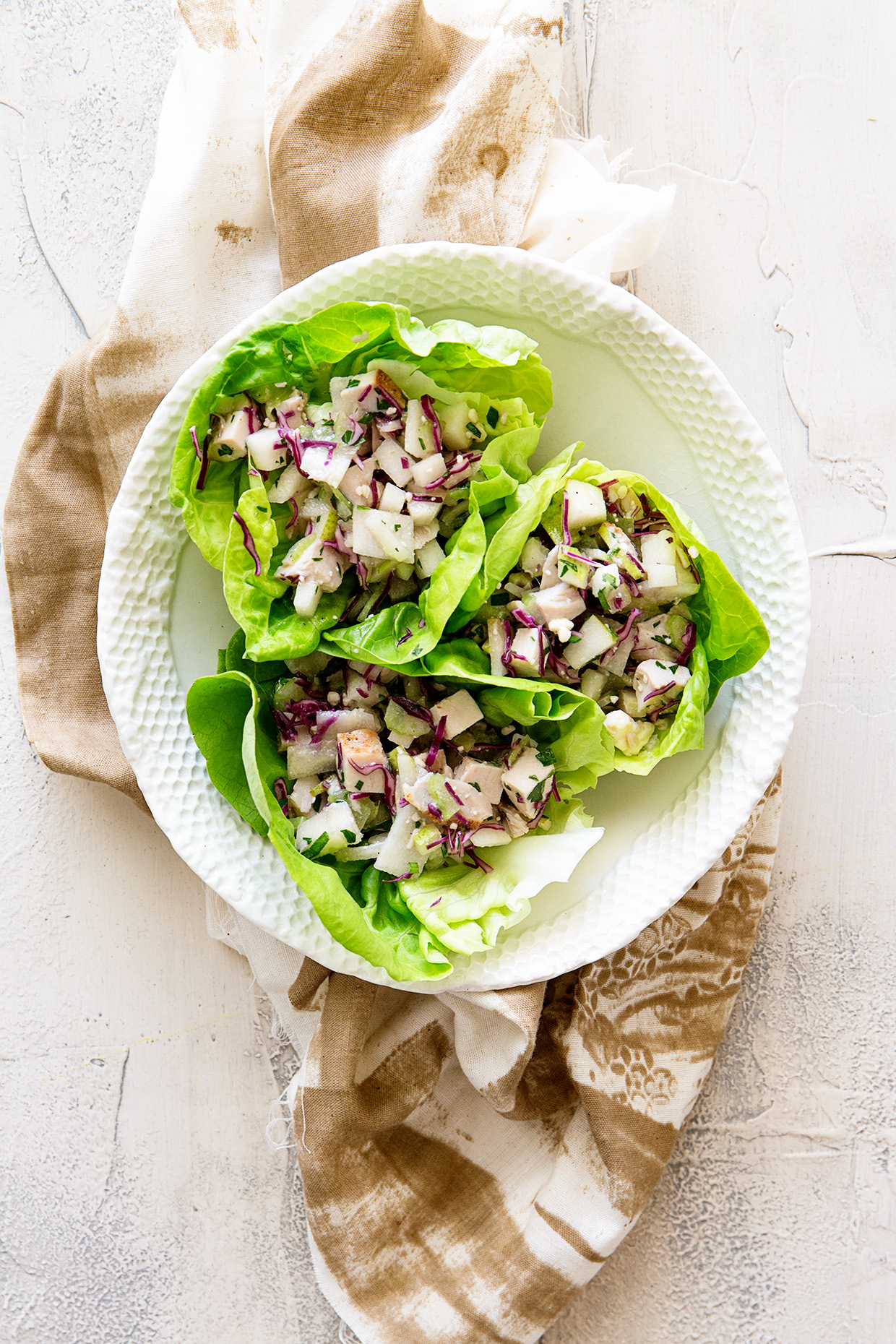 Maybe it's because I have a hard time figuring out what's light enough to have before a workout, but full enough to pack some protein and sustenance. Enter Updated Waldorf Chicken Salad from Andie Mitchell's newest book Eating in the Middle.
Admittedly, growing up, I was never a fan of this salad. My mom would fill it with nuts and raw onions. But this version – no nuts, no onions – hooray! And the best part of the salad, instead of grapes, Andie's replaced it with pears. I'm a fan.
I'm also a fan of the rest of the book. It's filled with all kinds of good-for-you goodies that are wholesome and along with indulgent treats that won't leave your sweet tooth hankering. The recipes are made with easily sourced ingredients and easy to follow instructions. Yay, to 80 new healthy recipes!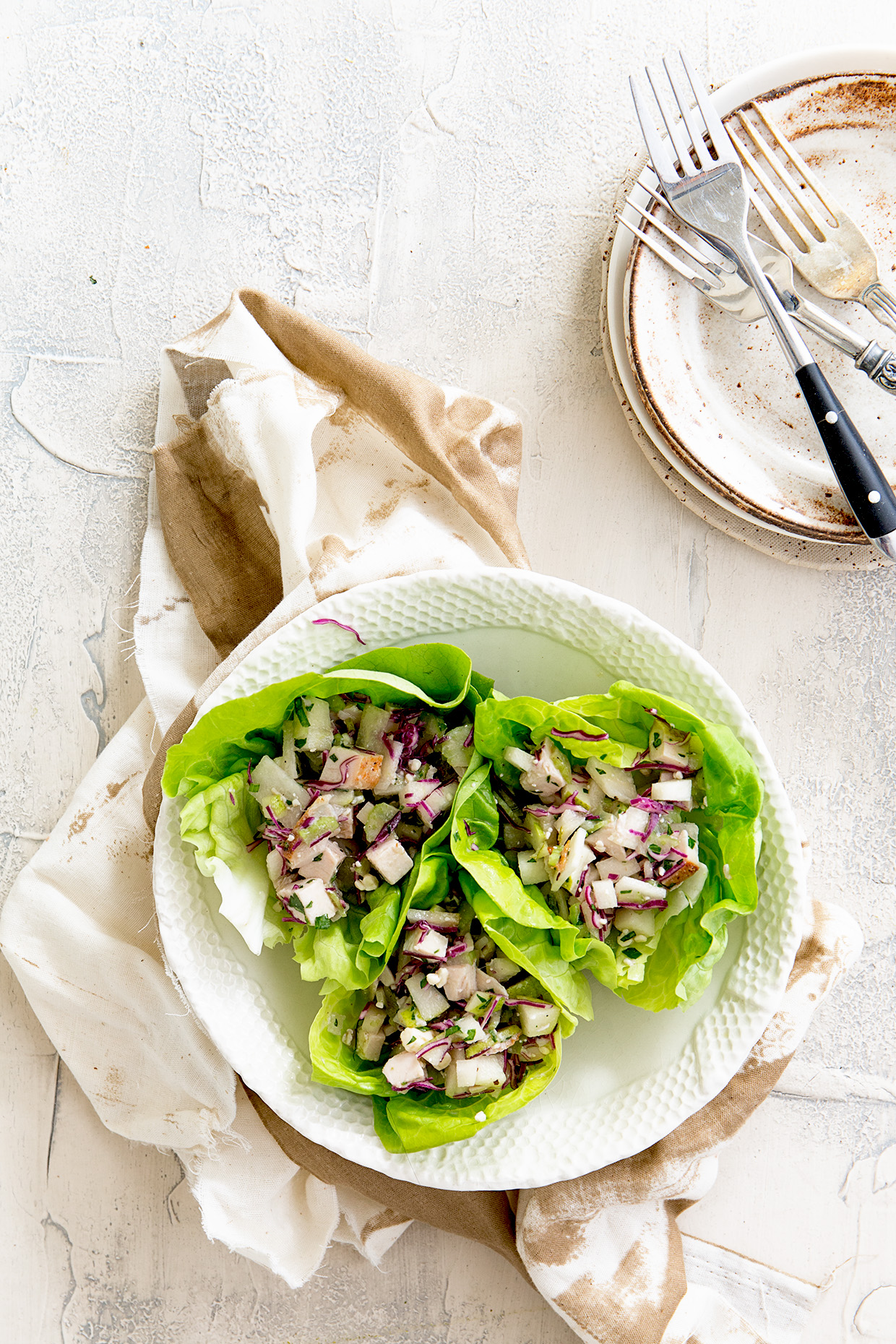 Yield: 4 servings
Updated Waldorf Salad Cups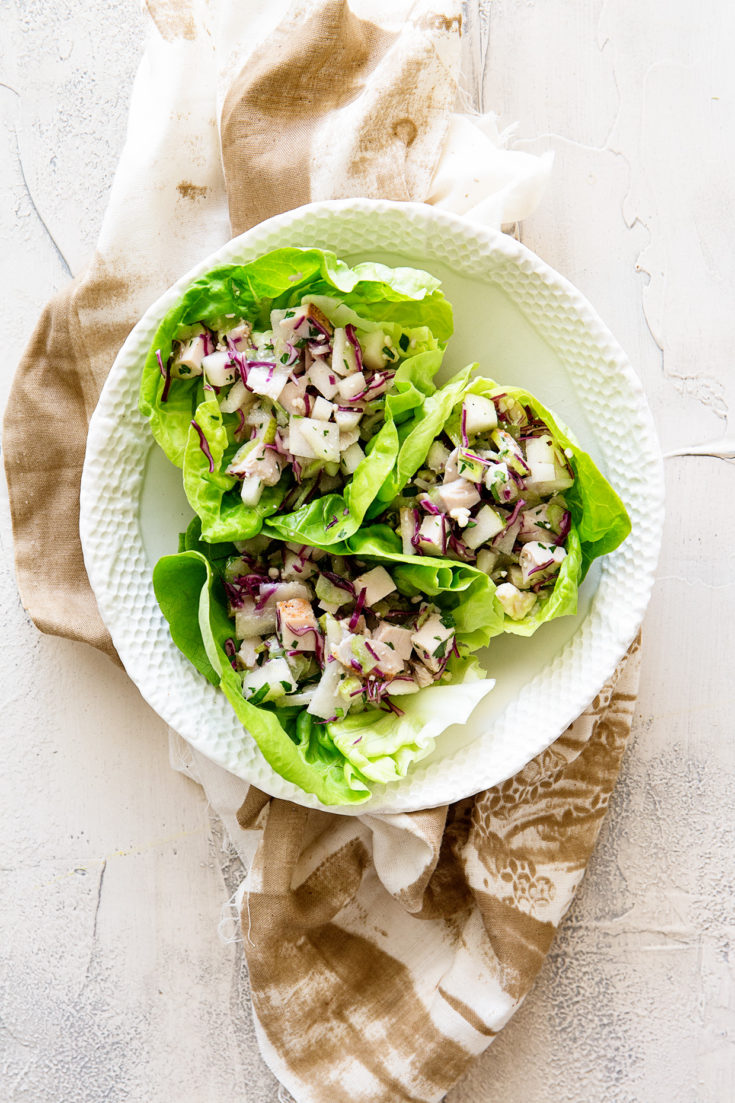 Ingredients
3 tablespoons extra virgin olive oil
3 tablespoons apple cider vinegar
1 tablespoon plus 1 teaspoon honey
pinch of salt
pinch of freshly ground black pepper
2 cups chopped (1/4 inch pieces) cooked boneless skinless chicken breast (about 12 ounces)
2 celery stalks, thinly sliced on the bias ( about 1 1/4 cups)
1/4 cup packed chopped fresh flat-leaf parsley
1 cup finely shredded red cabbage
1 large Anjou pear
3 ounces gorgonzola cheese, crumbled (about 3/4 cups)
8 butter leaf lettuce leaves
Instructions
In a large bowl whisk together the oil, vinegar, honey salt, and pepper. Add the chicken, celery, parsley, cabbage, pear, and Gorgonzola, and toss well to coat all ingredients in the dressing. Cover the bowl and refrigerate for 30 minutes.
To serve, place 2 butter lettuce leaves on each of 4 plates and divide the salad among the lettuce cups.