**This post is made in collaboration with Pyrex.  All content, ideas, and words are my own.**
Everyone knows leftovers is where it's at for post- holiday meals. This year to keep my post holiday meals strong, I'm partnering with Pyrex to share deep dish recipes like this Turkey Pot Pie that utilizes leftover turkey and swaps out the homemade pie dough for ready-made puff pastry to cut the prep time and increase my family time.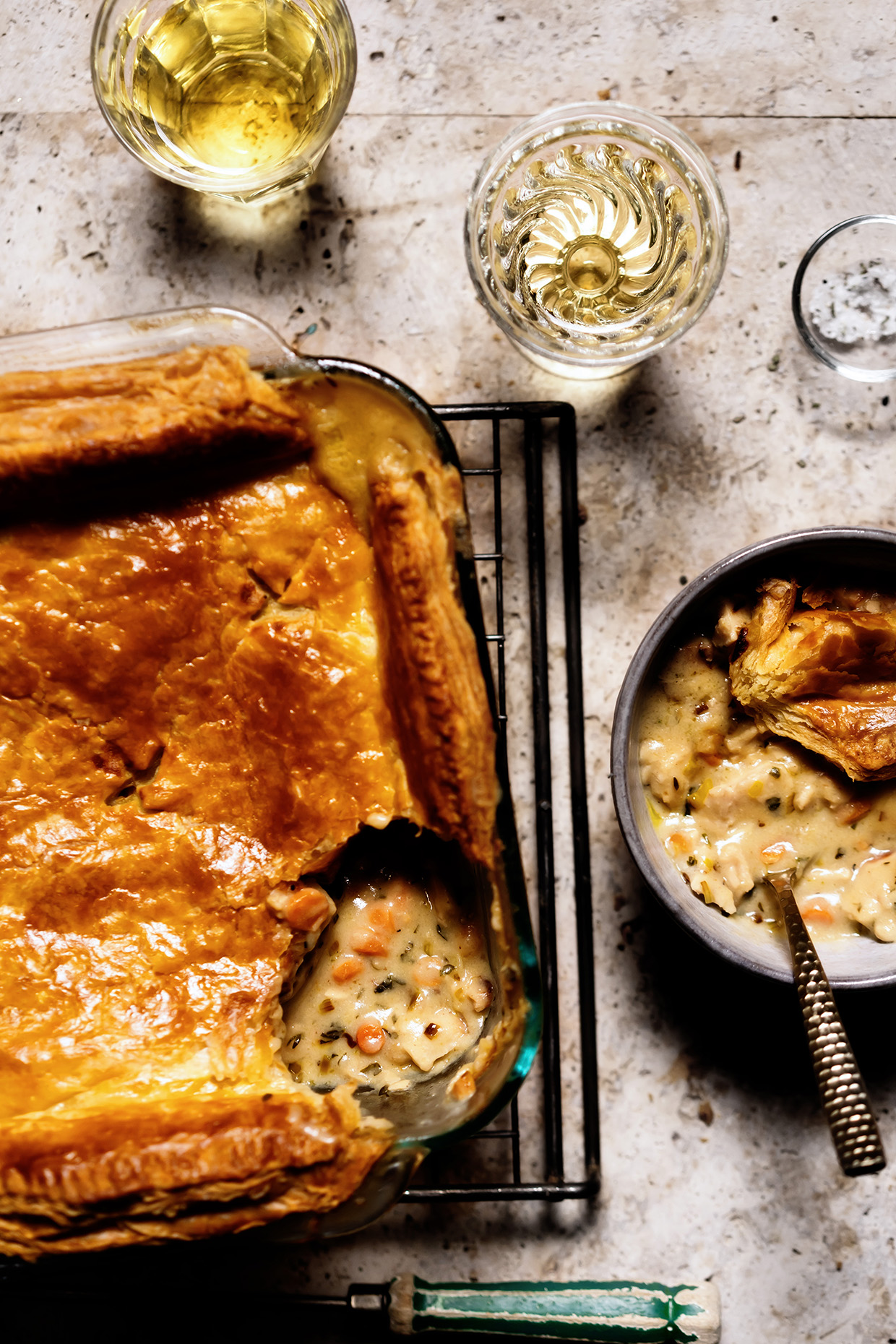 To make things even better, I'm using Pyrex's Deep because it holds 50% more filling than my previous glassware. That makes recipes like this nearly spill proof in the oven and allows me to fill it, layer it and then store it all in one dish. It even has a lid, so never mind the tangled plastic wrap mess or the shifting foil that won't stay in place.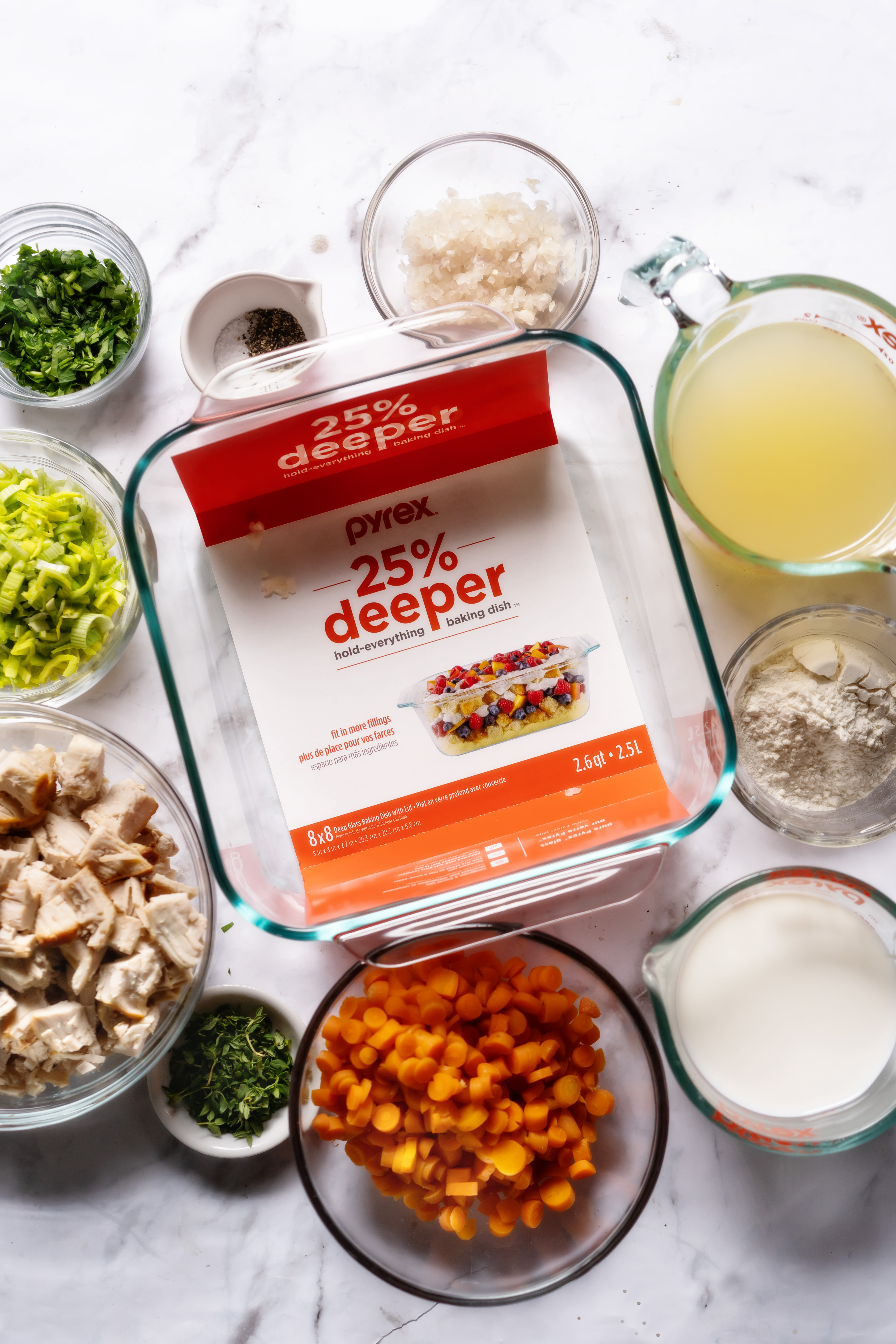 Let's rejoice about this multi-purpose win! I mean who has ever said no to making their kitchen life easier? I'm all about these deep dishes—more filling, more servings, more happiness. It's a win-win all around. 
And of course you can add to that win with this easy-to-make recipe. It's one of those meals that's cozy, comforting and perfect for those cold afternoons when you want lounge around and just watch football with the kids or do puzzles at the table – both of which are my kids' favorite things to do on cold days while spooning this.
Now that you are in the know, I insist you bookmark this recipe and make it in Pyrex's Deep.
Yield: Serves 6
Turkey Pot Pie
Ingredients
4 tablespoons butter
1 cup sliced leeks
2 cups diced carrots
1 large shallot, finely diced
2 tablespoons chopped parsley
1 tablespoon thyme
1 tablespoon garlic powder
1 tablespoon onion powder
¼ cup all-purpose flour
3 cups chicken broth
1 cup milk
2 teaspoons kosher salt
1 teaspoon black pepper
4 cups diced turkey
1 egg
1 tablespoon heavy cream
1 sheet puff pastry
Instructions
Heat oven to 350 degrees.
In a large skillet over medium-high heat, melt butter. When the butter starts to foam add the leeks, and carrot, cook and stir with a wooden spoon or spatula, until the carrots are softened (or to preferred doneness), 5 to 7 minutes. Add in the shallots, parsley, thyme, garlic and onion powder, cook and stir for another minute. Add in the flour, cook and stir until slightly browned, 2 minutes. Add the chicken stock and milk and bring to a simmer, cook and stir until sauce is thickened, about 3- 5 minutes. Sauce is ready when it easily it coats a spoon. Turn mixture into prepared pan Pyres Deep pan and set aside.
In a small bowl, mix together egg and heavy cream. Brush top edge of Pyrex Deep Dish with egg wash. Place puff pastry on top and trim it as needed so that the puff pastry fits just to the edge of the dish. Use a fork and lightly crimp the puff pastry against the edge of the dish. Transfer dish to the oven and bake at 350F for about 35 minutes or until top of puff pastry is a dark brown. Remove from oven and serve immediately.