Up until a couple of summers ago, I was regularly treated to some really amazing cocktail popsicles, or poptails, by Naomi. Her poptail creations were absolutely incredible in terms of look, taste and creativity. Like me, she gets on a roll with things and, might I say, a little obsessed, until she eventually burns out on them. And that was the case with her poptails. Sadly, they ran their course to her and have been non-existent for a long, long time. Until now! I miss them, so I decided to take things into my own hands and by making these Tropical Tequila Sunrise Popsicles for Father's Day.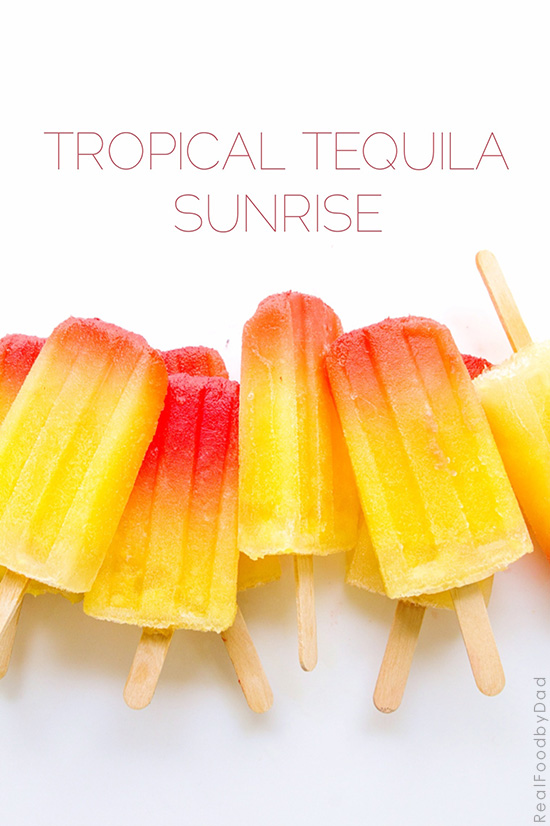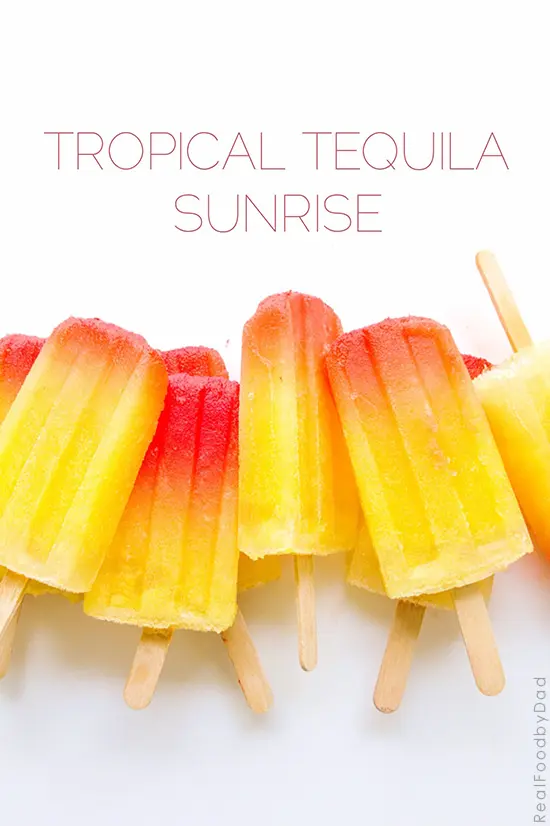 It's going to be another beautiful day here in OC on Sunday, so these popsicles will be a perfect treat after baseball practice and poolside Father's Day BBQ. And yes, I am holding baseball practice for my son's all-star team on Father's Day. We did the same on Mother's Day, so I can't favor one over the other, right? And besides, what dad doesn't love spending time with their boy on the baseball field? I do at least. Nothing better to me.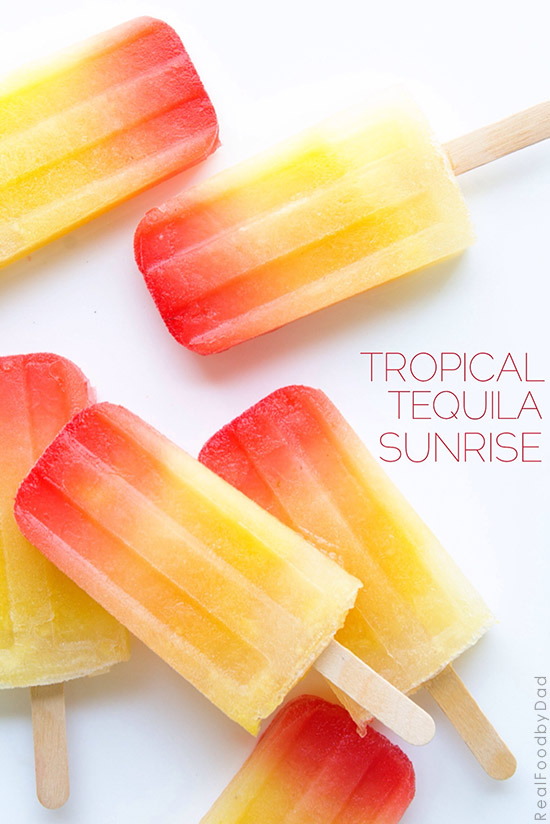 These popsicles are so easy to make, and even better to eat. Trust me. Only 4 ingredients needed – tequila, pineapple juice, fresh pineapple (pureed), and grenadine. For that layered look, the grenadine is heavier in density than the tequila and pineapple juice, so it sinks to the bottom and gives these that really cool, tropical look and feel. Perfect for summer, right? And you can make these kid-friendly too, simply leave out the tequila and perhaps use different colored popsicle sticks or another mold to differentiate them from the adult version.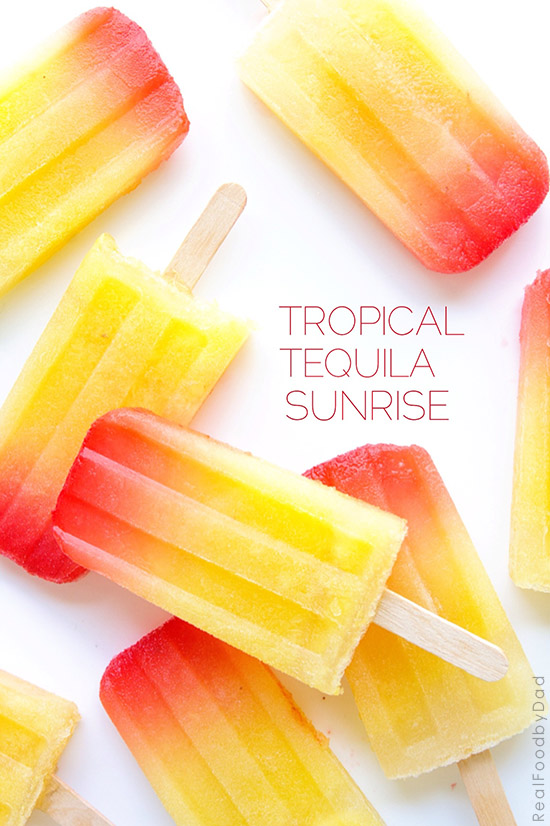 Funny how to Naomi, these ran their course a long time ago, yet I see a couple missing from the freezer already. Hmmm.
Yield: 16
Tropical Tequila Sunrise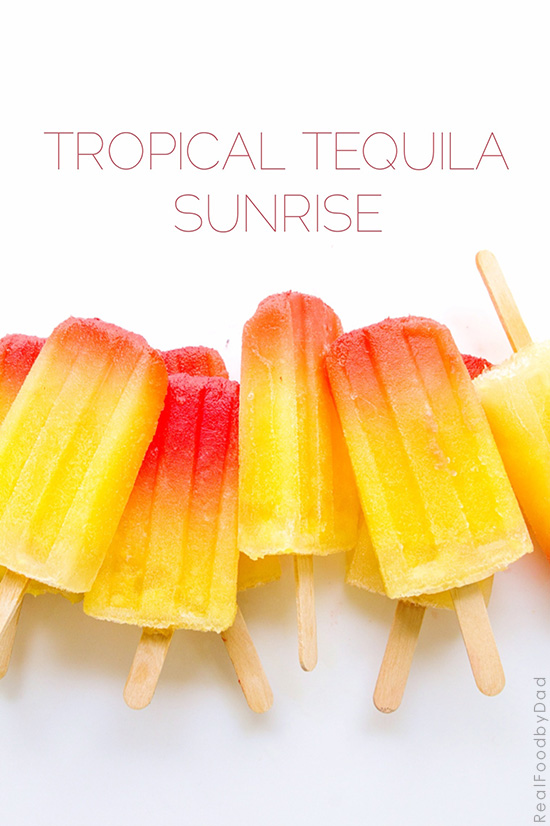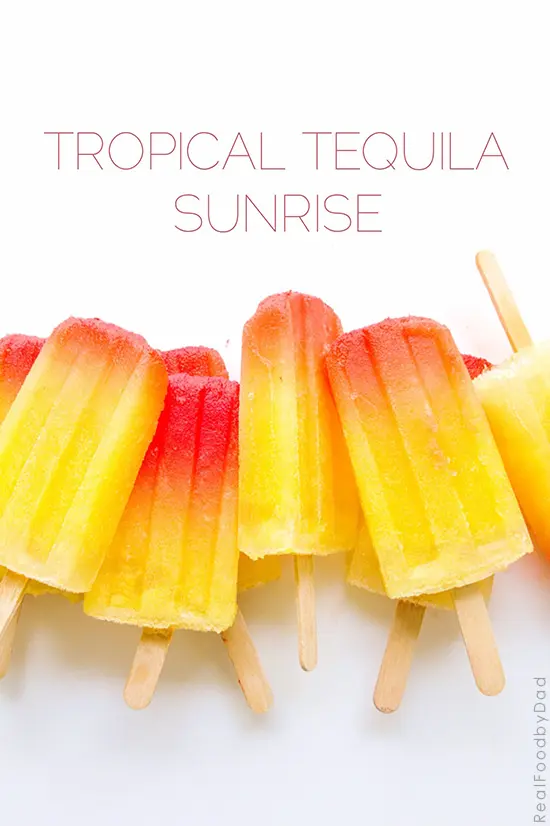 Ingredients
2 cups pineapple juice
1 lb, fresh pineapple, peeled and pureed
3/4 cup tequila
1/4 cup grenadine
Instructions
Combine and stir pineapple juice, pureed pineapple and tequila. Fill popsicle wells 3/4 way up with pineapple mixture. Pour 1 teaspoon of grenadine into each well.
**NOTES** (1) The recipe makes a total of 32 oz. The amount of popsicles it yields will vary on the mold used. The mold used in the photo yields sixteen 3oz popsicles. (2) If your popsicle mold does not have a top, cover the top with foil and outline each well with your fingers. Cut a tiny slit in the middle of each well and insert popsicle stick.