I'm not joking when I call this The Big "Big" Breakfast Sandwich. This is a serious, ridiculous sandwich that requires an insane appetite and some jaw flexing and flapping before you sink your teeth into 4-inches of my favorite power breakfast.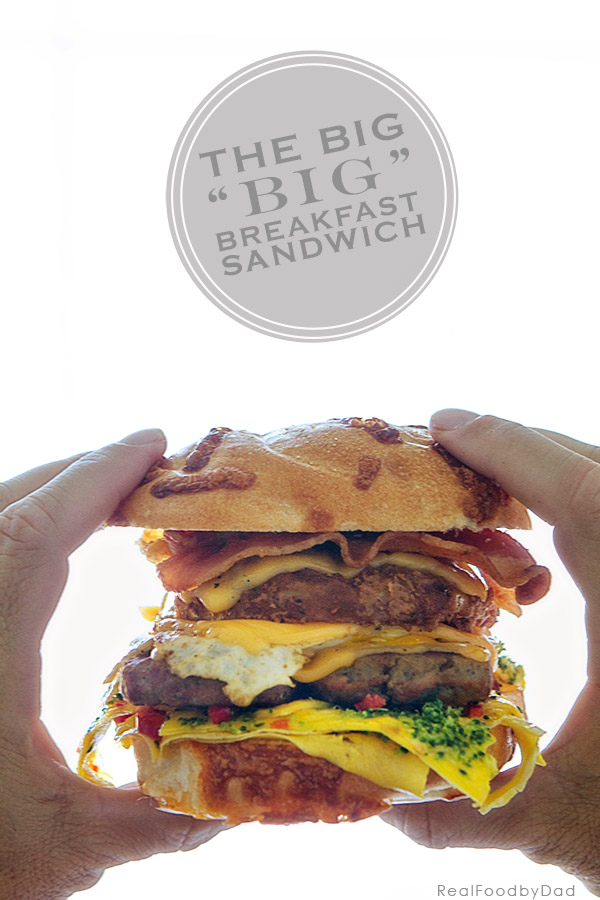 It's cheesy, meaty and full of protein—and it's not for the faint of heart.
Want to a lighter version of this? Head over to Naomi's blog and check out her Epic Veggie Breakfast Sandwich. But before you head over there, let's do a tale of the tape on this one, the sandwich as it's stacked: A kaiser cheese roll stuffed with bacon, cheese, an onion ring, cheese, fried egg, sausage patty, and a two-egg, crepe-thin omelette studded with broccoli and red bell peppers. The veggie version—is almost anemic next this for those looking for a protein packed breakfast, albeit a tasty one.
Now here's the fun part, Naomi and I have decided to have a little fun with our blogs and go Blogger vs. Blogger. This came about after volleying recipes idea back and forth, but always diverging on some point. So we decided we would each do our own version of the "big breakfast sandwich". And as a by-product, it also turned into a stand-off for Meaty Monday vs. Meatless Monday.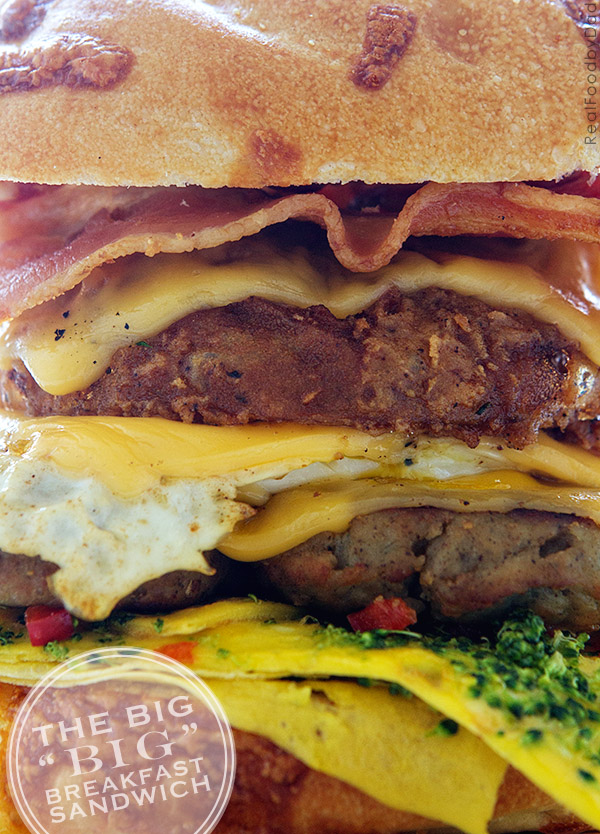 We had so much creating this fun and friendly competition and I would love to hear which you prefer: The Big "Big" Breakfast Sandwich or The Epic Veggie Breakfast Sandwich. Leave a comment and let me know which one you prefer.
Yield: 1 sandwich
The Big "Big" Breakfast Sandwich
Ingredients
Omelette
2 eggs
2 tablespoons finely chopped broccoli florets
2 tablespoons finely chopped red bell pepper
2 tablespoons finely grated Parmesan cheese
2 tablespoons heavy cream
salt and pepper to taste
Layers
3 pieces of bacon, cooked
1 onion ring
3 slices cheddar cheese
1 egg, fried
1 sausage patty
1 Kaiser cheese roll, or your preferred roll
Instructions
To make omelette: Cover a large 10 inch pan with non-stick spray and place over medium heat. Combine and whisk all ingredients in a bowl. Pour mixture into pan and using the handle swirl it until the mixture completely covers the bottom of the pan. Cook on medium heat for 5 minutes, or until omelette is fully cooked through. (You should not have to flip this since the omelette should be paper-thin from using a large pan.) Remove from heat and fold two times to create a four layer triangle.
Assembly: Place folded omelette on onto bottom of roll. Place 1 piece of cheese onto sausage and melt either in microwave or under broiler, once melted, place it on top of the omelette. Fry egg and place 1 piece of cheese on top 1 minute before egg is finished, then cover pan with a lid to melt cheese. Transfer finished fried egg on top of sausage. Place 1 piece of cheese on an onion ring and melt either in the microwave or under broiler, once melted place it on top of the fried egg. Layer with bacon and the top half of the roll. Serve immediately.