Thanksgiving Leftover Balls is where it's at this year. What's not to love in these deep fried balls that are dipped in panko and stuffed with dressing, chopped turkey, Parmesan cheese then drizzled and dipped in gravy? It's Thanksgiving in a bite and the best vehicle for leftovers. 
And Naomi and I have another little competition going on, "Who Did Thanksgiving Leftovers Better?" Her recipe is coming soon and we will be polling in Insta-Stories again, so stay tuned for that one. 
For now, I'm basking in the glory of my boys mowing these down like they've never eaten anything better. That gives me an even better reason to put these on repeat all weekend long for our game day viewing.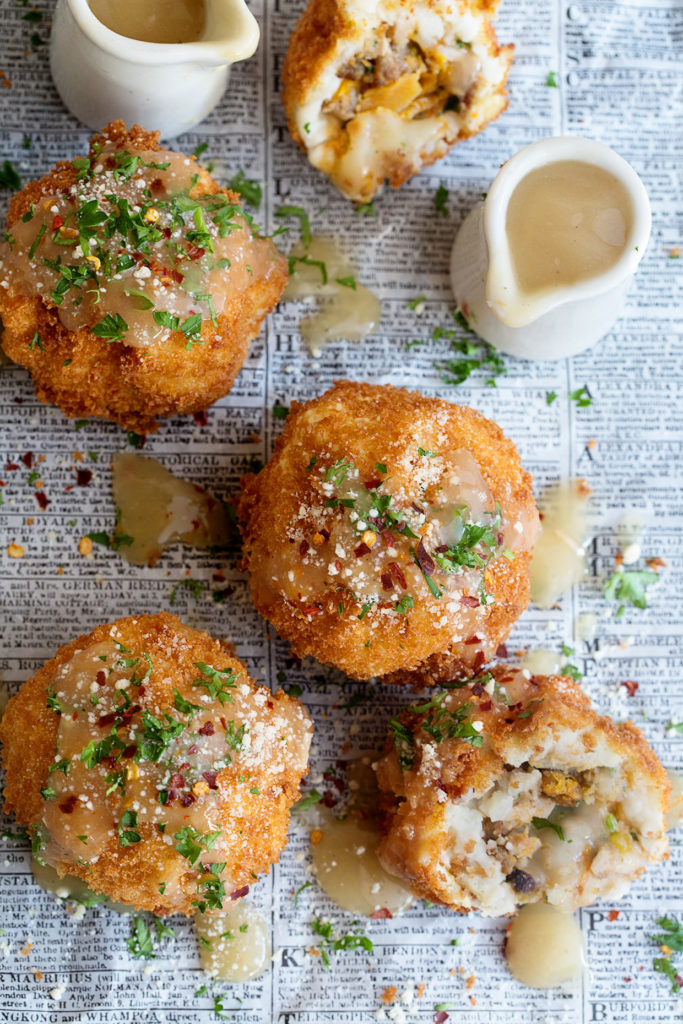 Yep, these Thanksgiving Leftover Balls are going to pull double duty as Thanksgiving leftovers and game day eats. How's that for some multi-tasking? Actually, I'm adding one more thing to that—Black Friday shopping online. Now that is almost the ultimate multi-tasking. The only thing that could make it better is if I could talk the kids into washing the car while I direct them from the sofa while: shopping, eating and cheering on my team.  
Ah, well, there's always wishing—tis the season. What doesn't require any wishing is making this. Do it, just remember to make some extra food for leftovers or don't give it all way to your guests. Enjoy!
Yield: Makes 6 to 8 three-inch balls
Thanksgiving Leftover Balls
Ingredients
2 cups stuffing, broken up if chunky
3/4 cups turkey, finely chopped
3/4 cup finely grated parmesan cheese
3 tablespoon chopped parsley
4 -5 cups cold mash potatoes
1 cup flour
1 large egg. lightly beaten
2 cups panko crumbs
1 1/2 - 2 cups of gravy for dipping
Instructions
Preparation: Line two baking sheets with parchment paper.
In a large bowl, combine stuffing, turkey, parmesan cheese, and parsley. Mix until well blended.Using your hands, form 1 1/2 inch balls and place on parchment lined baking sheet. Continue forming remaining balls. Place balls on baking sheet and transfer to the freezer and let set for 30 minutes (this step isn't necessary but it does making forming the mash potatoes around it easier).
Set up an assembly line that includes four bowls lined in a row. Fill the first bowl with mashed potatoes, the second bowl with flour, the third bowl with the lightly beaten egg and the fourth bowl with panko crumbs.
Remove stuffing balls from freezer and wrap about 4 tablespoons of mash potato around it. Make sure you are working with cold mash potatoes for easy handling. Gently roll ball in flour and then transfer it to the egg bowl. Using your hands or a fork, roll the ball around to cover it in egg. Finally dip and cover the ball in panko crumbs. Place ball on parchment lined baking sheet and continue forming the remaining balls.
Fill a pan with enough to submerge the Thanksgiving Left over balls. Heat oil to 365 degrees F. Line a baking sheet with paper towels. Working in batches, drop 2-3 balls into the oil and fry until balls are golden brown, about 3-4 minutes. Remove with a slotted spoon and transfer to paper-towel-lined parchment baking sheet to drain.Continue deep frying remaining balls Adjust heat as needed to keep oil at a consistent 365 degrees F. Serve immediately with gravy. *Optional: garnish balls with parsley, additional finely grated parmesan cheese and red pepper flakes.