Let's do some Thanksgiving food today. These hand pies are super easy and I made them as a test run for the big day.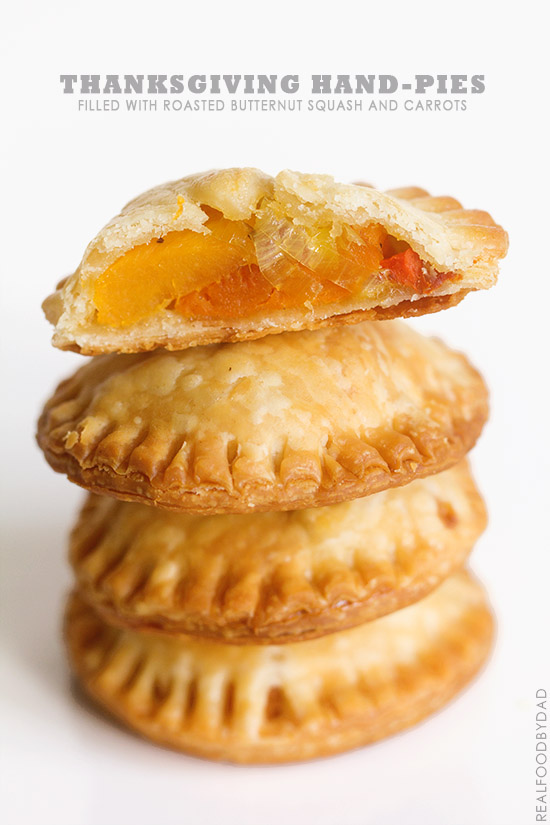 You know what it's like with kids. They see the huge spread and you hear, "There's nothing to eat".
This year, I'm getting clever with the veggie side dish by slipping them in a hand pie. Everyone knows kids love small bites, right? I'm pretty sure if I stuffed a regular sized pie with roasted butternut squash and carrots and handed a slice of it to one of my boys, it would be pushed backed at me faster than the words "Uh, no thank you".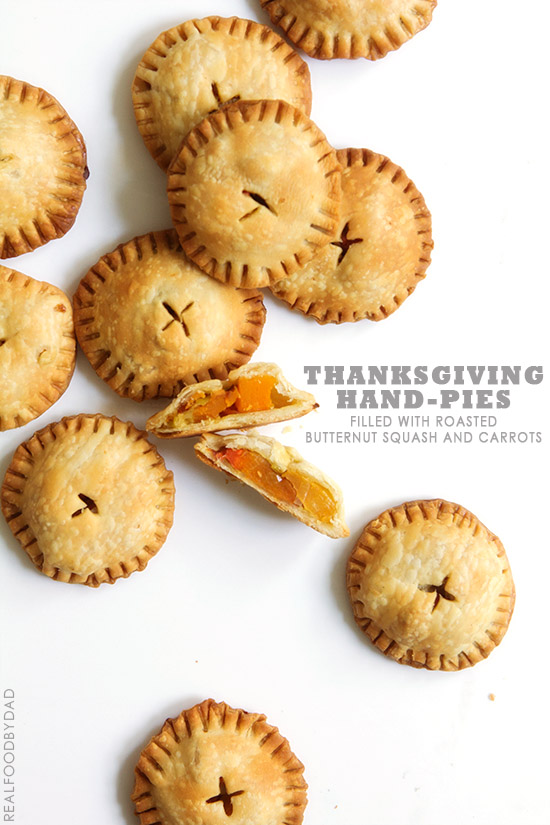 Admittedly, I was that kid—heck, up until a few years ago, I was that kid in adult form. Yes, I'm a picky eater, but I'm getting so much better. . . look mom—I'm eating veggies of all sorts.
Speaking of veggies, I kept the butternut squash and carrot filling simple with a fast butter saute alongside some thyme and leeks then into the oven for a quick roasting. Sure, you can skip the saute portion and go straight to roasting, but don't. The butter, leek and thyme gives the filling a rich flavor.
If you aren't into these veggies, use what you like and then stamp out some pie crust and get filling. These go quick, and not so coincidentally, they are also very popular with adults. Ah-hem, I can vouch for that.
Thanksgiving Hand Pies
Makes 12- 15 2 inch hand pies
Ingredients
2 tablespoons olive oil
1 lb. pre-cut butternut squash
1 lb. carrots, chopped
1/3 cup chopped leeks, white and light green parts only
salt and pepper to taste
1 tablespoon thyme
2 tablespoons butter
1 egg, lightly beaten
2 ready-made Pillsbury Pie crusts
Instructions
Preparation: Heat oven to 450 degrees F.
Heat olive oil in large oven proof skillet. Add in butternut squash, carrots, leeks salt and pepper (Make sure not to crowd the pan. If you don't have a large enough pan, work in two batches); stir and cook until about 5 minutes. Add in thyme and butter; stir to combine. Transfer skillet to oven and roast until golden and fork tender, about 10-15 minutes. (If you don't have an oven proof pan, transfer mixture to a bakesheet.) Remove from oven and cool to warm.
Roll out chilled pie dough and stamp out 2 inch circles for hand pies. Place bottom layer of hand pie on parchment lined bakesheet and brush the perimeter with the egg wash. Place just a little over 1 tablespoon of butternut and carrot mixture in the center. Lightly stretch a second pie circle and place over the top of filling making sure the top covers the bottom; crimp edge with a fork and cut a small slit on top to allow steam to escape. Bake at 400 degrees until golden brown, about 10-12 minutes. Remove from the oven and transfer to a wire rack to cool slightly.