Remember these carb-less nachos? They were such a big hit here. And I am all about game day grub lately. So I tried to pull it off here with just beef, but it didn't work, as evident by the chips that give these nachos the structure it needs for finger food eating.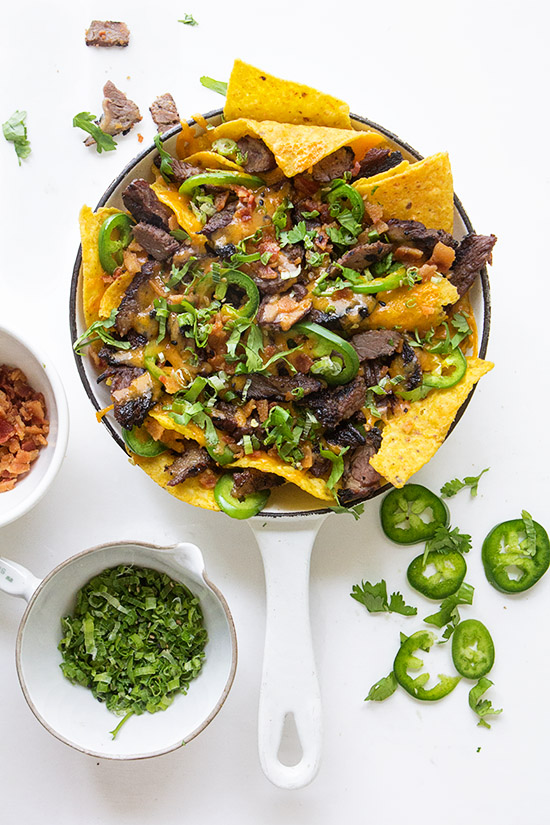 But if you want to keep this carb-less (a-hem, Naomi), just grab a fork and pick around.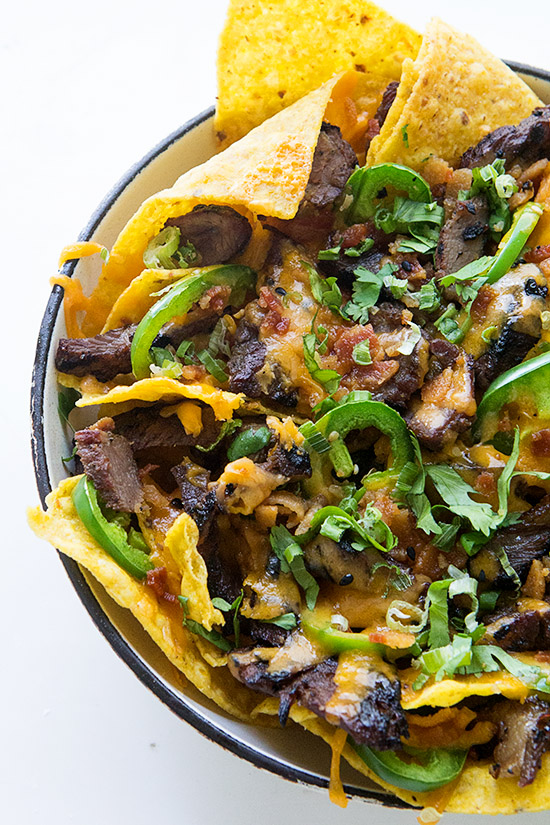 I made this one recent afternoon for us and we downed it so fast it nearly knocked us out. Out cold. We took a nap for a few hours. Of course when we woke up, there was some slight guilt about wasting work hours. But then we just gave in and decided to make it a no-work day.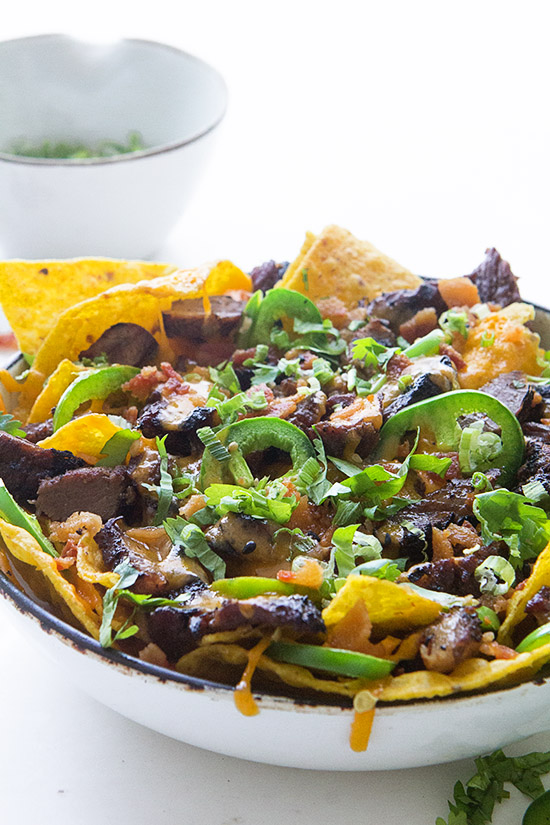 I can't remember the last time we did that. But we've decided that needs to happen way more often. By that I mean the nachos, the nap, the no-work and somewhere in between we are going to fit in some margaritas next time.
Yield: Serves 6
Texas Beef Nachos
Ingredients
1½ lbs. ribeye steak
3 cups cheddar cheese
1½ teaspoon kosher salt
1½ teaspoon smoked paprika
¾ teaspoon chili powder
½ teaspoon cayenne pepper
4 cups restaurant style tortilla chips
2 large jalapeños, sliced
3 tablespoons sliced green onions
6 slices of bacon, cooked and crumbled
Instructions
Preparation: Heat oven to 425 degrees F.
Combine and mix together salt, paprika, chili powder and cayenne pepper in a bowl. Sprinkle and rub spice mixture over the ribeye. Place ribeye on grill and cook to desired finish. Let cool to room temperature and slice.
Evenly divide all remaining ingredients. Fill an oven proof 10-inch skillet with half the chips, cheese, ribeye, jalapeños, green onions and bacon. Repeat with remaining ingredients.
Place assembled skillet in oven. Bake until cheese is melted, about 3-4 minutes. Remove from oven and sprinkle green onions and crumbled bacon on top. Serve immediately. *Optional: Serve with chopped cilantro.