Yeah, I know, salad. But at least it's one that's full of goodies. And after all it's January, so I know many of you are doing detox, roll-backs, restarts, resets . . . dare I say diets? Many of you know I don't believe in diets. It's all about moderation to me.
So consider this our healthy dish to balance the onset of calorie pumped foods for next week. Don't say I didn't warn you.
Back to this salad. It's fresh, crisp and full of healthy stuff. And meatless. Meatless? Yeah, I know – whaaat? It happens. Not often but sometimes that's what the family wants and I give in. My little guy Cole is not a huge meat eater, he loves salads and fruit. I consider myself lucky for that, because my other guy is a picky eater like me and our palates are just a little harder to please.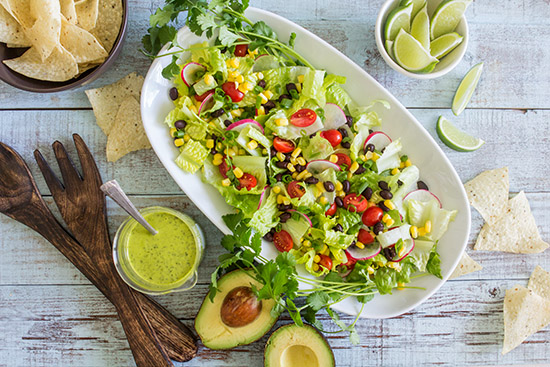 I don't do salads much, but when I do I like ones like this, built on a romaine lettuce and full of texture and crunch. I omitted the meat this time around, but if you need a protein pump, just add some grilled chicken. Either way you go—meatless or not—you'll love this salad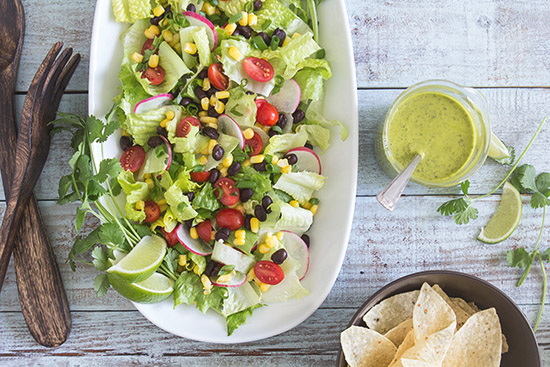 Tex Mex Salad
Ingredients
1 head of romaine lettuce, cut into strips
1 1/2 cups cherry tomatoes, halved
1 cup cheddar cheese
3-4 radishes, thinly sliced
1 cup corn
1 cup black beans, drained and rinsed
1/4 cup sliced green onion
Cilantro Lime Dressing
2 tablespoons freshly chopped cilantro leaves
1 tablespoon apple cider vinegar
2 teaspoons lime zest, about one lime
1/4 cup fresh lime juice
1/2 cup plain Greek yogurt
1 tablespoon honey
1/2 cup extra-virgin olive oil
Instructions
Toss all ingredients in large salad bowl.
To make dressing: Place cilantro, vinegar, lime zest, lime juice, yogurt and honey in a blender and process until smooth. With the blender still running, drizzle in olive oil and process until thick and creamy. Drizzle finished dressing over salad.