For those of you who know me, you will almost not believe that I'm nearly falling out of my seat over these tempeh tacos.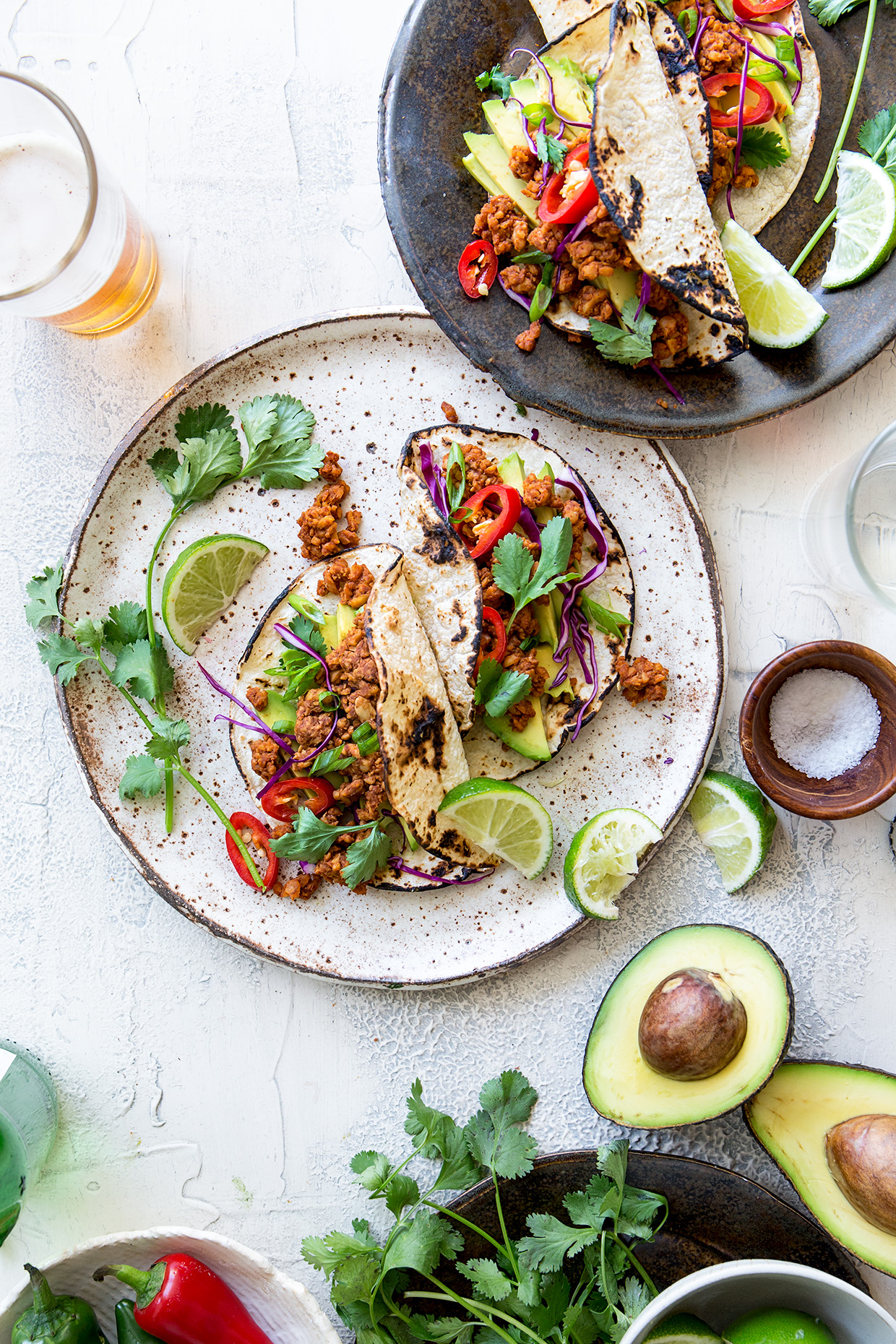 I'm sure my mom (hi mom!), is shocked reading that I had a tacos with meat made from plants. Tacos are one of my favorite foods, so it was only a few years ago that I gave tempeh tacos a big no thank you. But then Naomi convinced me I had to try it. I was hooked.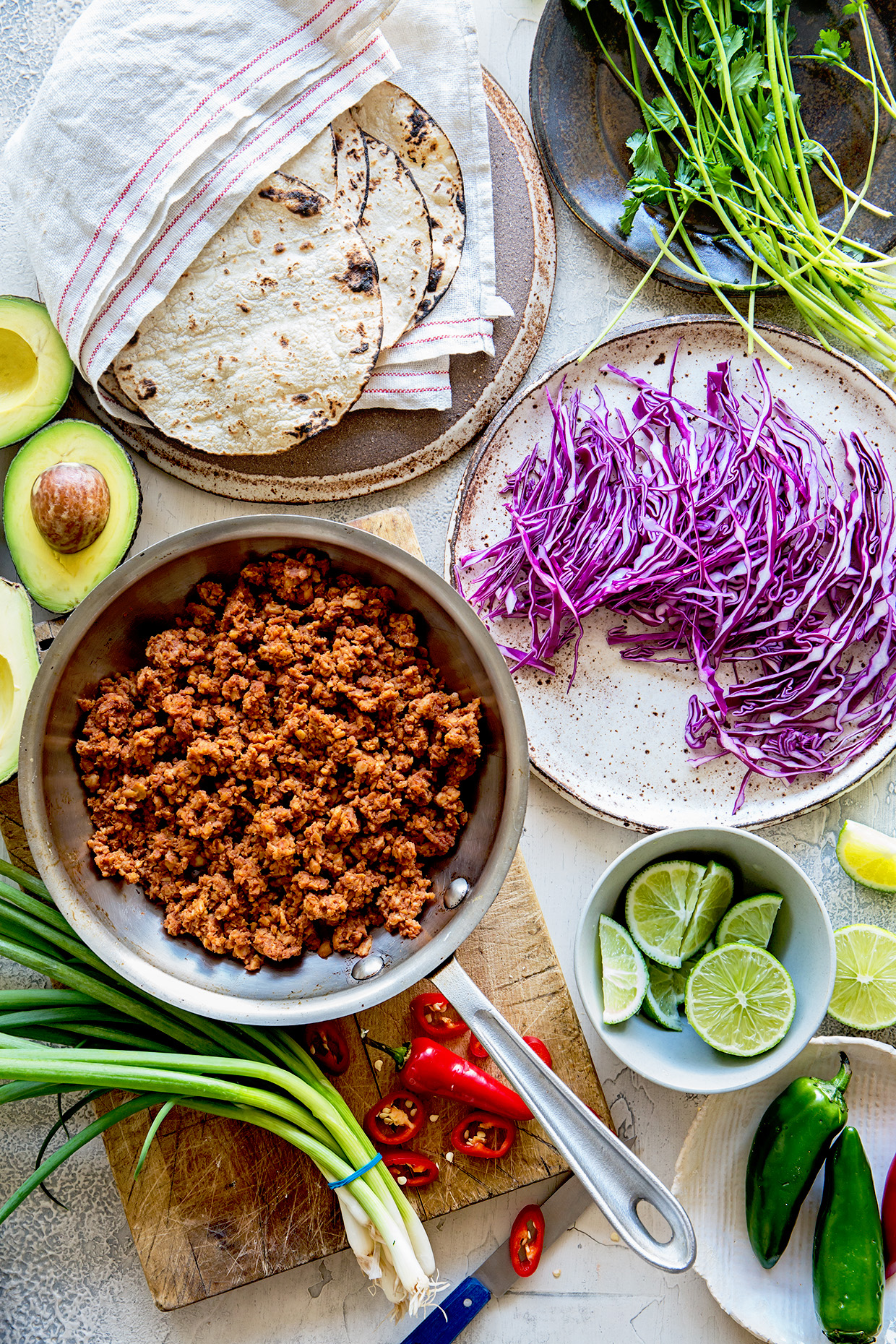 Here's the thing with tempeh—it will take on just about any flavor you give it. The trick to taking tempeh tacos from good to great— homemade taco seasoning. Yep, no buying the pre-made stuff. The good news, it's super easy to make—just dump each ingredient in a small jar and shake it up—done. 
As for the tempeh, since it is a mixture of organic soy and brown rice, the texture is spot on for taco meat. Give it a quick stir in a hot pan, and you'll have tacos in under 20 minutes.
For the brand, I prefer Lightlife for its flavor and texture. Beyond that, there's more good reasons to support my favorite plant based meat, unlike their competitors, its been Lightlife's  core mission to give 5%  of it's annual profits to the local community and support organizations with shared values. They've been doing this since the company started in 1979. This year they've partnered with Wholesome Wave to help fund the National Nutrition Incentive Network, a group of nutrition incentive programs operated at farmers markets across the country providing low-income consumers with a monetary incentive when they spend their federal nutrition benefits on fresh produce.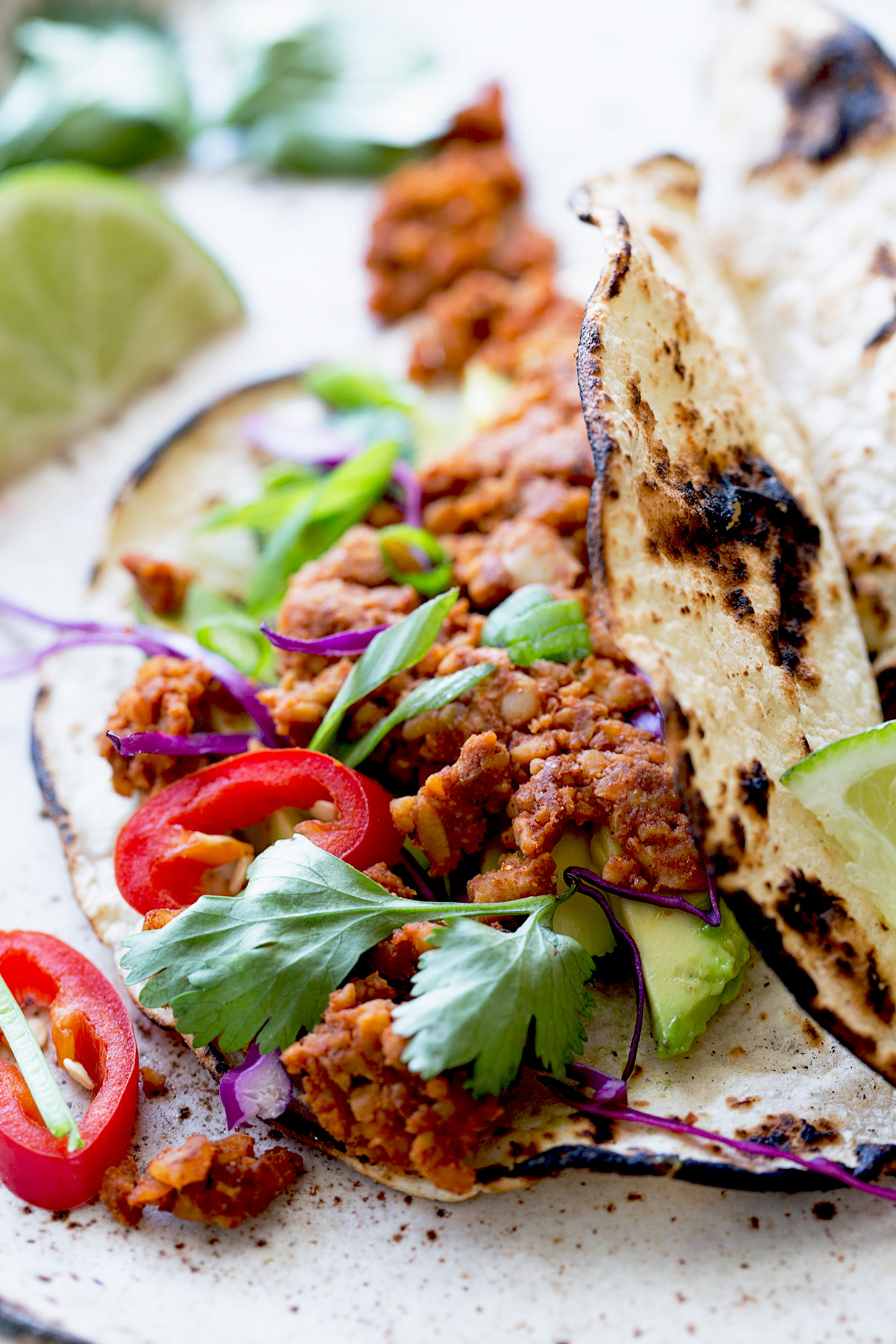 They look awesome, right? Look at that meat-y filling! Of course they look even better when they get a quick photo-op styling from a food prop and styling obsessor, aka Naomi. Fortunately we enjoy working with each other, so I don't mind when she comes and retools and re-tweaks my photo set, especially if that means the sooner I finish, the sooner we eat. 
See  . . . I know what's up—I'm in it, to win it! Go teamwork. 
Yield: 8-10 tacos
Tempeh Tacos
Ingredients
1 Lightlife Organic Soy Tempeh
Homemade Taco Seasoning
2 tablespoons chili powder
1 tablespoon + 1 teaspoon ground cumin
1 teaspoon cornstarch
2 teaspoons kosher salt
2 teaspoons onion powder
1 1/2 teaspoons garlic powder
1 teaspoon smoked paprika
1 teaspoon ground coriander
1/2 teaspoon Ancho chili powder
1/2 teaspoon cayenne pepper
3 tablespoons tomato paste
4 tablespoons water
2 tablespoons vegetable oil
8-10 corn tortillas
Avocados, shredded red cabbage,cilantro and limes wedges (for serving)
Instructions
Grate Lightlife Organic Soy Tempeh against largest hole on a cheese grater box (you will have approximately 2 cups); set aside.
Place all ingredients in a bowl and whisk to combine, or alternately, place all ingredients in a jar and shake it up. In a small bowl whisk together tomato paste and water.
Heat vegetable oil in a large pan over medium heat. Add tempeh, homemade taco seasoning and tomato paste mixture. Cook and stir mixture is well combined and heated through. Remove pan from heat. Spoon tempeh mix onto tortillas and top with avocados, red cabbage and cilantro. Serve with lime wedges.