Pasta shells are always a comfort dish in my home. This recipe is a riff on Naomi's classic pasta shells. But instead of going the traditional route, I decided to inject her recipe with some of my Mexican-food-loving touch.
It turned out better than I expected. I am so happy with the results. But I'm even more happy because the family went crazy for them. That's the upside.
The downside is, I get more dinner duties because they want to see what else I can turn out.
Help!
I'm not sure what the next comfort dish turn wild will be, but if you have suggestions—leave them in the comment section.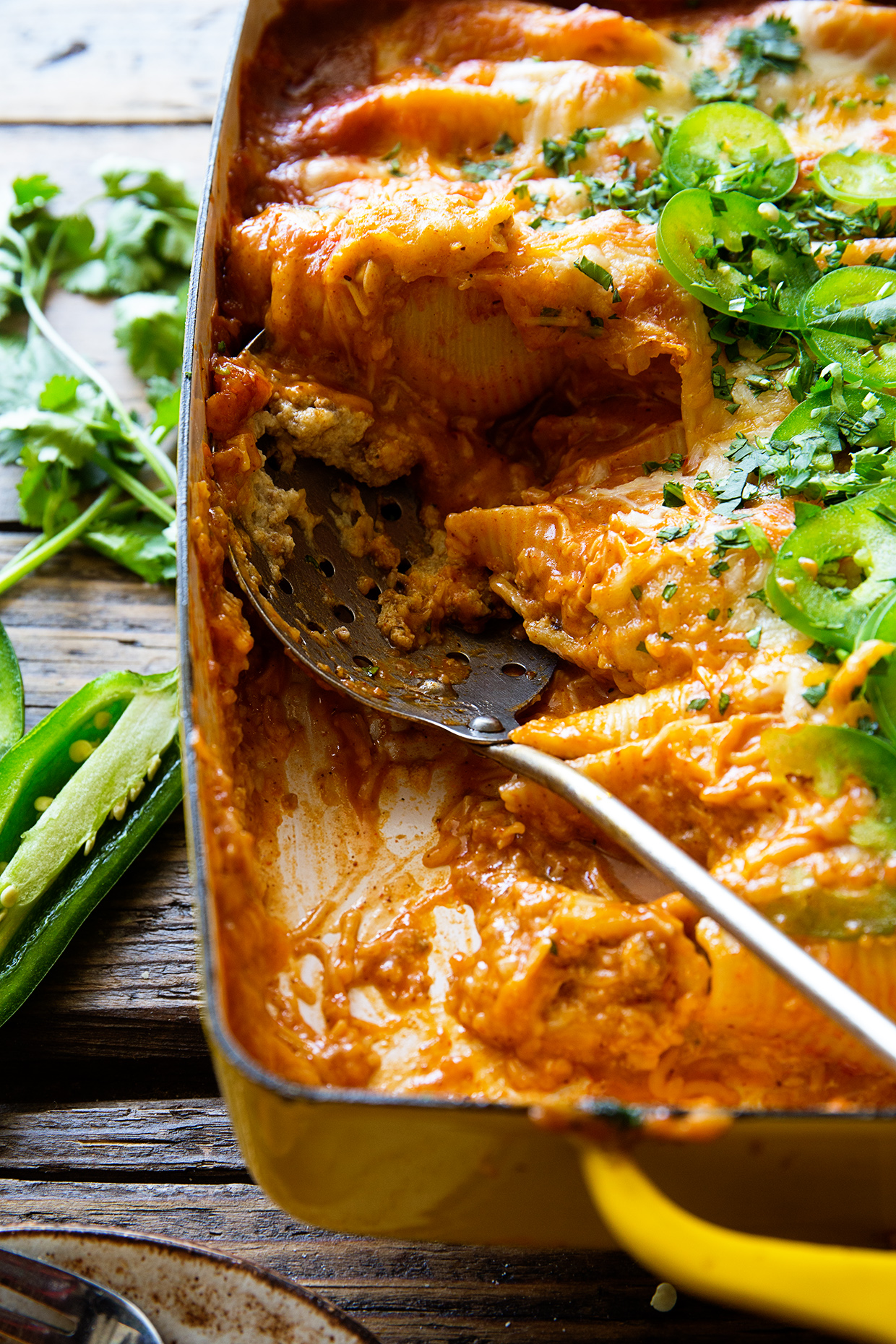 Yield: Serves 4-6
Taco Pasta Shells
Ingredients
1 lb. large jumbo pasta shells
.75lb. ground beef
4 tablespoons preferred taco seasoning
2 cups ricotta cheese
4 cups Mexican cheese, divided use
1/4 cup chopped black olives
1/4 cup diced green chilies
1 tablespoon garlic powder
1 tablespoon onion powder
1 1/2 teaspoon kosher salt
1 teaspoon fresh ground pepper
1 teaspoon cumin
2 large eggs
16oz. enchilada sauce
4 oz. heavy cream
Instructions
Cook pasta shells according to instructions on the box; set aside.
Add ground beef and taco seasoning in a large skillet and cook over medium heat until browned. Drain and set aside to cool completely.
In a large bowl, mix and combine ricotta cheese, 2 cups of cheese, black olives, green chilies, garlic salt, onion salt, salt and cumin. Add cooled ground beef and mix to combine. Create a well in the center of mixture and add eggs; lightly beat. Mix beaten eggs into mixture. Now heat oven to 375 degrees. Transfer mixture to a plastic bag and cut off a corner. Pipe mixture into shells.
In another large bowl, mix and combine enchilada sauce and heavy cream. Add half of sauce into casserole pan. Add filled pasta shells side-by-side. Transfer casserole to oven and bake at 375 degrees until cheese is bubbly, about 25 minutes. Remove from oven and cool slightly before serving.