Since my wife is pregnant, I have learned to pick up many of the cooking duties around here. And to my surprise, I absolutely love it (hence the blog). And to quote one of my favorite television shows, this makes her "happy, happy". Perhaps due to my short attention span, my goal with every meal that I make is to get it done in 30 minutes or less and it's got to be something we all like. And that's not always easy with me and one of my sons being picky, Naomi's cravings changing day to day. So this Taco Pasta Salad that I came up with was a big hit.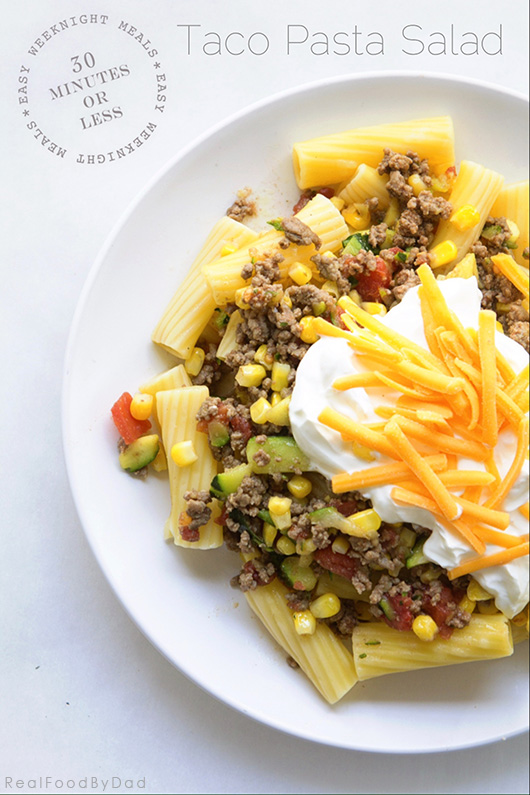 This one came about following one of Cole's Little League games, where we were all starving and on the verge of crankiness, but none of us wanting to go out to eat. We are all burned out on that. We made a quick run to the store, grabbed some 90% lean ground beef and some rigatoni pasta, and I got to work the second we walked through the door. Being from Southern California, we've always got cheese, taco seasoning and toppings on hand, so that made this even easier to prepare.
And let me tell you, while I was secretly hoping to have leftovers for lunch the next day, no chance. The entire dish was gone in an instant.
Want to up the flavor even more? Toss the taco mixture in with the pasta, place it in a casserole pan, cover the surface with more Mexican cheese, bake it for 10-15 minutes until the cheese turns golden brown, and you've got yourself a ridiculously awesome casserole. Serve on paper plates with plastic utensils and the dish washing is a breeze! Tacky? Maybe. Convenient? Definitely.
Enjoy!
Yield: 6
Taco Pasta Salad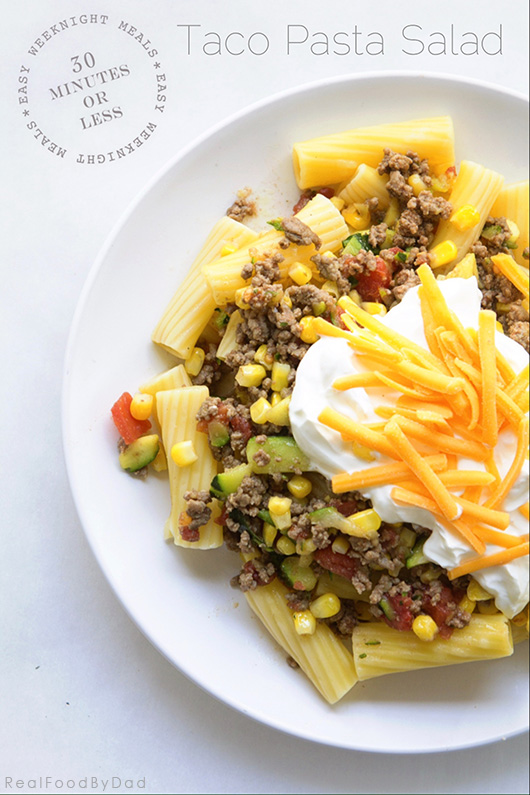 Prep Time 10 minutes

Cook Time 20 minutes

Total Time 30 minutes
Ingredients
2 cups rigatoni pasta,
1 lb 90% lean ground beef
1 (1.25oz.) taco seasoning
1/2 cup corn
1/2 cup zucninni,, chopped
1 cup chunky salsa, (your preferred brand)
1 cup Mexican Cheese
Garnishings:
sour cream
sharp cheddar cheese
cilantro
lime
Instructions
Cook pasta according to instructions; drain and set aside. Brown ground beef until no longer pink in a skillet over medium-high heat, about 8-10 minutes. Drain and stir in taco seasoning, corn, zucchinni, salsa and Mexican cheese. Serve over pasta and garnish to your preference.
Notes: (1) You can use fresh or frozen corn. Alternately, you can also use roasted corn to kick up the flavor even more. If you do, Trader Joe's sells a great frozen roasted corn brand. (2) Alternately, as the posted mentioned, make this a casserole by tossing the taco mixture in with the pasta and sprinkling more Mexican cheese on top (enough to cover the surface) and bake it until the cheese melts and slights browns, about 10-15 minutes.