Pizza Tortellini Bake ~ Think your classic pasta dinner mashed up against everyone's favorite game day food.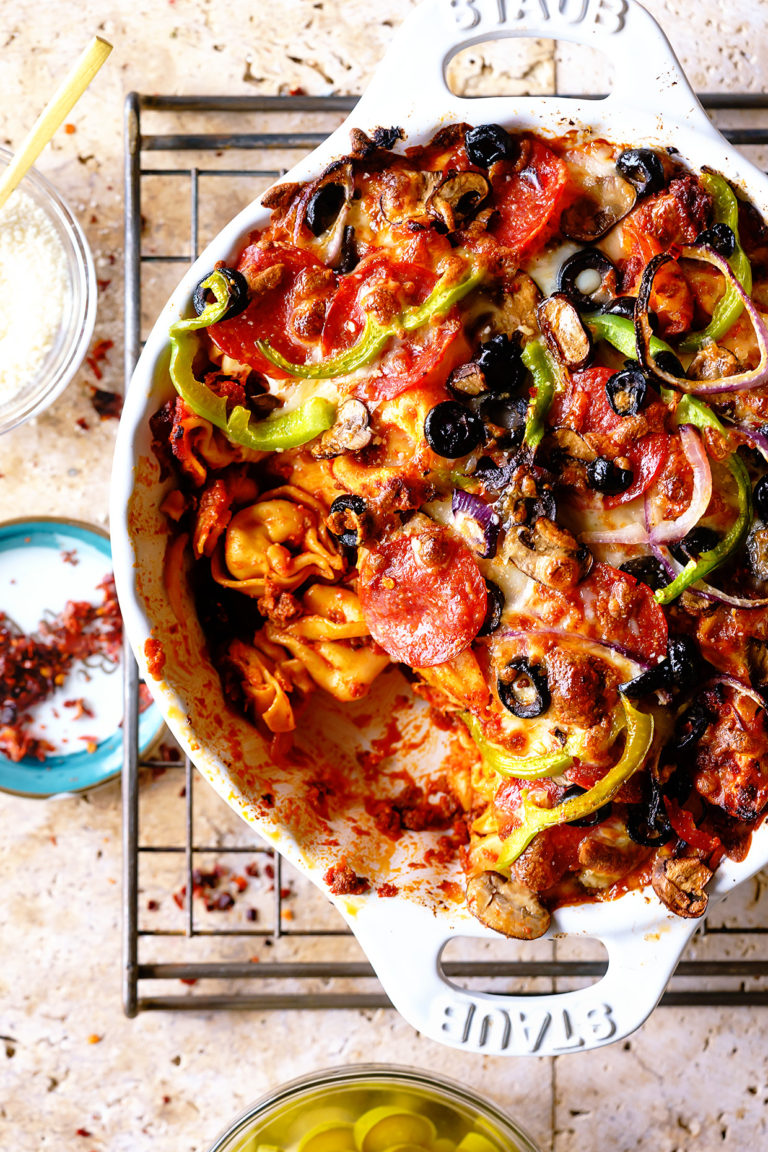 This is so easy to make, I'm thinking the kids got this one next time. But the last time I thought that with another marinara-heavy dish, the kitchen looked like a crime scene and I was scrubbing sauce out of crevices that I didn't even know existed. The trade-off isn't quite there yet.
But Naomi keeps reminding me that the kids need to learn to be more independent–with or without the messes. I agree 100 percent, but does it have to happen all at once? The worst part is, whatever the older one does, the little one wants to follow. I'm not ready to give up being needed. I secretly like it that both boys still ask me to squash spiders and slay the nighttime ghosts that keep them from tucking themselves into bed. I'm sure they are ready to do a lot more for themselves, but I'm not ready to pass over all my dad duties.
Although when it comes to dinner, I guess teaching them how to properly clean up is a chore in of itself that needs to be taught.
Yield: Serves 6
Supreme Pizza Tortellini Bake
Ingredients
1lb. chorizo
2 24oz store bought marinara*, or homemade
14.5 oz. canned tomatoes*
20 oz. tortellini
3 oz. sliced pepperoni
2 oz. sliced olives
1 green bell pepper, sliced
1/2 medium red onion thinly sliced
16 oz. mozzarella cheese
Instructions
Pre-heat oven to 350 degrees F.
Heat a large skillet over medium heat until hot, about 1 minute. Add the chorizo and cook, breaking apart meat, until no longer pink, about 5 to 7 minutes. Drain excess fat. Stir in the marinara and diced tomato and heat until simmering. Let simmer for 3 minutes to burn off some of the liquid.
Spoon a thin layer of sauce over the bottom of a casserole dish. Add the tortellini to the pan and toss with the remaining sauce to coat. Add half the sauce-covered tortellini to the casserole dish and layer with pepperoni, olives, bell peppers, onion and cheese. Repeat with remaining half of ingredients.
Transfer assembled casserole to the oven and bake at 350 degrees F for 25 minutes. To brown the cheese on top, turn on the broiler for the last 5 minutes. Remove from oven and serve immediately.
Notes:
*For store bought marinara I prefer Rao's Homemade Marinara and for the diced tomatoes I prefer Muir Glen Organic Diced Tomatoes