The big game is days away, so to gear you up I've partnered with Mrs. Thinster's to share these Brown Bottom Rice Crispy Treats. Face it, football themed food and dessert is a must.
These treats are easy to make and full of flavor with a little help from Mrs. Thinster's Brownie Batter Cookie Thins for the crust and some Mrs. Thinster's Cake Batter Cookie Thins for the cereal layer. Aside from being tasty, my boys and I had so much fun making them—albeit, a bit messy when you have a toddler in the mix.
To start, make sure you pulverize the cookies to a fine crumb. Usually this isn't an issue, but when you have my boys involved, they are practically eating one cookie for every five. It becomes problematic when you need every last cookie for the crust. Grrrr!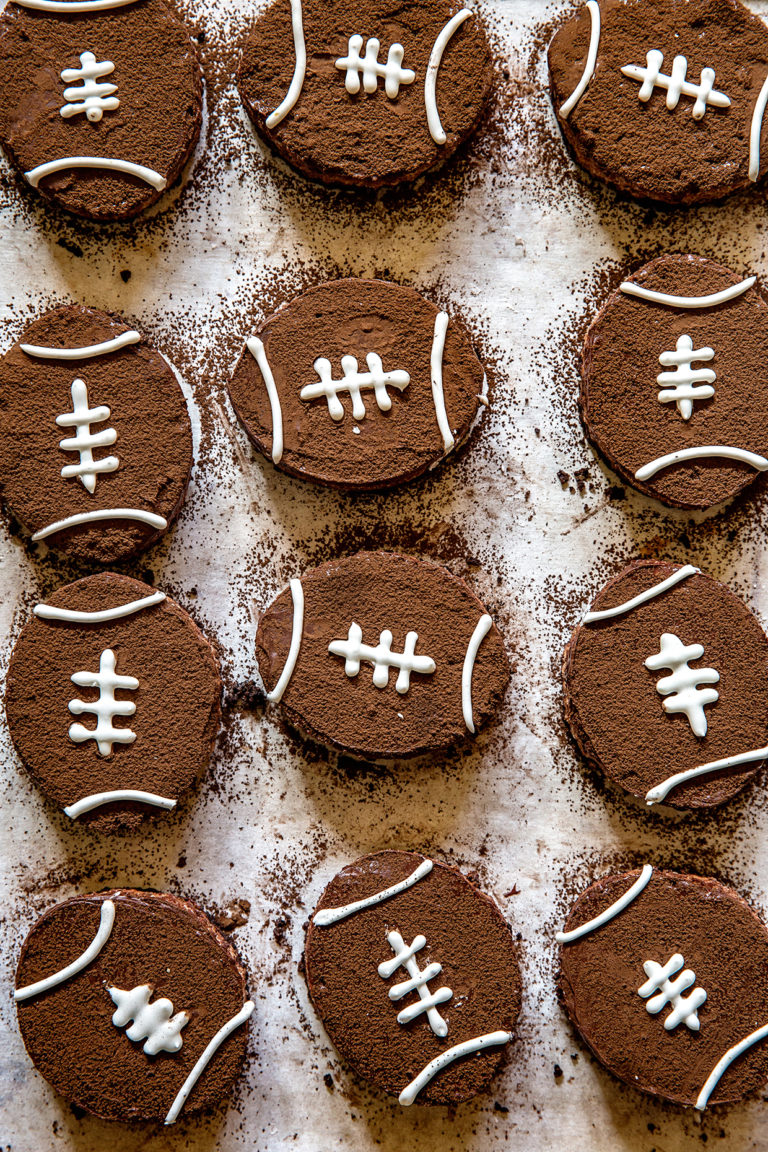 Although, I can't complain too much because I love having them in the kitchen with me. It's just a reminder that I need to keep more Mrs. Thinster's cookie thins in stock, especially since they are made with wholesome ingredients that are non-GMO, contain no corn syrup and are free of artificial flavors, colors and preservatives. See where you can get your own Mrs. Thinster's HERE.
Yield: Makes 12 3-inch football treats
Super Bowl Snacks
Ingredients
Crust
4 4oz. Mrs. Thinster's Brownie Batter Cookie Thins
6 tablespoons unsalted butter
1/4 cup sugar
Rice Cereal Layer
4 oz. chocolate, melted
1 4 oz. Mrs. Thinster's Cake Batter Cookie Thins
5 tablespoons butter
10 oz. mini marshmallows
6 cups cocoa flavored rice cereal
Topping
4 oz. chocolate, melted
2 tablespoons cocoa powder
Glaze
1 cup powdered sugar
2 teaspoons milk
2 teaspoons corn syrup
Instructions
To make crust: Pulverize Mrs. Thinster's Brownie Batter Cookie Thins to a fine crumb. In a large bowl, combine crumbs with butter and sugar. Mix until well combined. Press crumb into a 9x13 pan. Bake at 350F for 10 minutes. Transfer to wire rack to cool.
To make cereal layer: Spread melted chocolate on top of crust; set aside. (This will give the cereal layer something to stick to.) Pulverize Mrs. Thinster's Cake Batter Cookie Thins to a fine crumb; set aside. In a large pot, heat butter over medium high heat. Add marshmallows and stir to melt. Add in cereal and Mrs. Thinster's crumbs until well combined. Working quickly spread cereal mixture onto chocolate covered crust. Press mixture to an even layer. If needed, lightly wet hands to work with mixture to prevent any excessive sticking.
To make topping: Spread chocolate on top. Use an offset spatula to spread to an even finish. Set aside to let dry. Stamp out footballs and dust with cocoa powder.
To make glaze for piping football strings: In a small bowl, whisk together sugar and milk until smooth and well combined. Whisk in corn syrup until smooth. Transfer icing to a pastry bag fitted with #2 round tip. Pipe football strings on top. Set aside to dry.
**This is a sponsored post in collaboration Mrs. Thinster's. All opinions are my own.