Coming in hot . . . Summer Dip Board! It's perfect for backyard BBQs, poolside gatherings, picnics, and more. This one has three kinds: Seven Layer Bean Dip, Mexican Corn Salad Dip, and Roasted Tomatillos Guacamole. It's finished with two types of tortilla chips and peppers as the vehicle for all to get dipping.
Summer around here means lazy eating, which often translates to lazy cooking. If that is you and you entertain in the same way I usually do, then you are in luck. The dips can be prepared ahead of time (just make sure to slap that plastic wrap directly on the Roasted Tomatillos Guacamole to prevent it from browning) and served with some burgers and cocktails.

I should mention that "ahead of time" means one day. Don't get all crazy, and do this three days in advance. No one likes soggy corn dip or a weepy seven-layer dip. Make the dips the night before and assemble them the day of. A good time would be when the grill is coming to temperature. Of course, make sure to leave yourself enough time that after you assemble the dip board, you can mix up a cocktail.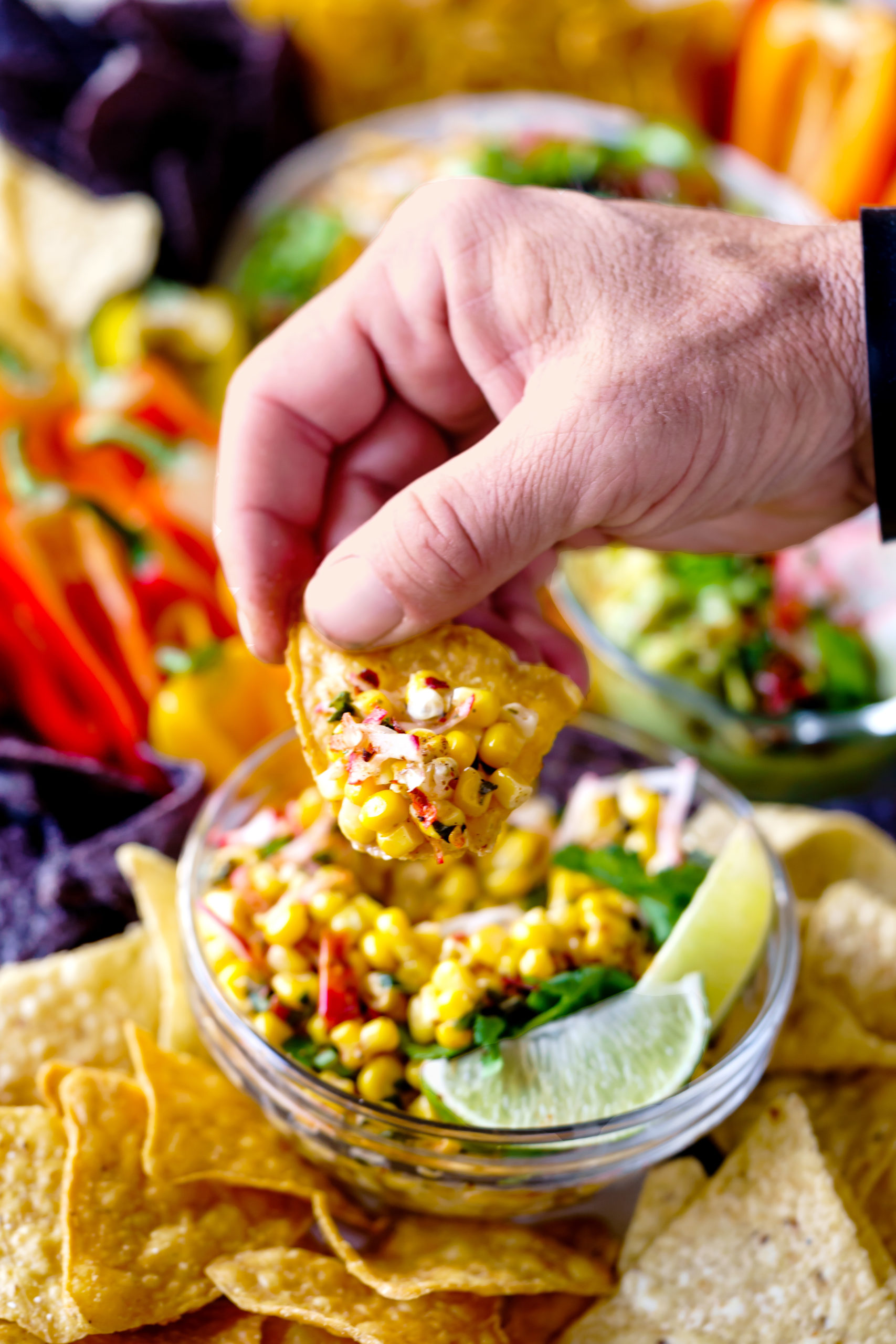 Everyone knows that the best grilling happens when you have a cocktail in one hand while flipping burgers with the other.
Serving suggestions to go with the summer dip board :
What else can I use besides chips for these dips. These dips go great with the following:
Crispy raw vegetables like: cucumber, carrot or celery.
Want to make a full summer spread? Add any one or a few of the below and you are ready:
For a cocktail try this Blood Orange Margarita (if you blood oranges are out of season where you are, use Valencia oranges), Grilled Corn and Zucchini Burger, Grilled Shrimp and Mango Tacos, Grilled Cobb Salad
Yield: Serves 6
Summer Dip Board
Prep Time 15 minutes

Total Time 15 minutes
Ingredients
9 oz. blue tortilla chips
9 oz. white tortilla chips
1 lb. baby bell peppers, halved and seeded
Roasted Tomatillo Guacamole
1/2 lb. fresh tomatillos, husked
2 serrano chilies
10 cilantro sprigs, plus more for garnish
salt to taste
2 large ripe avocados, seeded and flesh scooped out
1 tablespoon fresh squeezed lime
CORN DIP
3 cups corn kernels, fresh, frozen or canned
2 serrano chilies, seeded and diced
3 tablespoons diced radishes
2 tablespoons mayonnaise
2 tablespoons cojita cheese
2 tablespoons finely chopped cilantro
1/4 teaspoon chipotle chili powder
1/4 teaspoon smoked paprika
1/4 teaspoon salt
1/4 fresh cracked black pepper
7-LAYER BEAN DIP
1 9 ounce can bean dip
8 oz. guacamole, homemade or store bought
8 oz. salsa, homemade or store bought
8 oz. carton dairy sour cream
4 oz. (1 cup) shredded cheddar or taco cheese
1 cup chopped, seeded tomato
1 cup sliced black olives
1/2 cup sliced jalapenos
Instructions
To make Tomatillo Guacamole: Heat the broiler. Line baking sheet with foil place tomatillos on in a single layer, stem side down. Transfer pan to broiler at the highest rack; broil for 2 to 5 minutes charred on one side. Turn over and over on the other for 2 to 5 minutes longer, or until charred. Remove from blender and transfer charred tomatillos to a blender. Add lime juice, all accumulated juice on baking sheet, chilies, cilantro sprigs and salt. Blend to a coarse puree.

In a large bowl, using a a fork, mash avocados to a coarse finish. Add tomatillo pureed and fold until blended.

To make Corn Dip: In a large bowl, combine and fold together all ingredients.

Layer bean dip with guacamole, salsa and sour cream. Top with cheese, tomatoes, olives and jalapenos.