Summer Dip Board for all your outdoor gatherings. This dip board has 3 kinds of dips: Seven Layer Bean Dip, Mexican Corn Salad Dip, and Roasted Tomatillas Guacamole and finished with two types tortilla chips and peppers as the vehicle for you to get dipping.
While this summer has not started out like previous summers, my boys and I are embracing it. I'm joining many others as I learn and teach my kids how to be a better ally to the Black Lives Matter movement. To lead by example, we are making this book, Black Enough, a mandatory summer read. The book is a collection of stories about what it's like to be young and black in America with Ibi Zoboi as the editor. As a family we will be reading this together and discussing it at length. If anyone has other books or actionable things to do, please share with the rest of us in the comment section.
I understand this is a food blog and I'm here for it. But aside from just sharing food I'm also here to share bites of life. What is food if we can't gather and come together to exchange stories and experiences to learn from one another?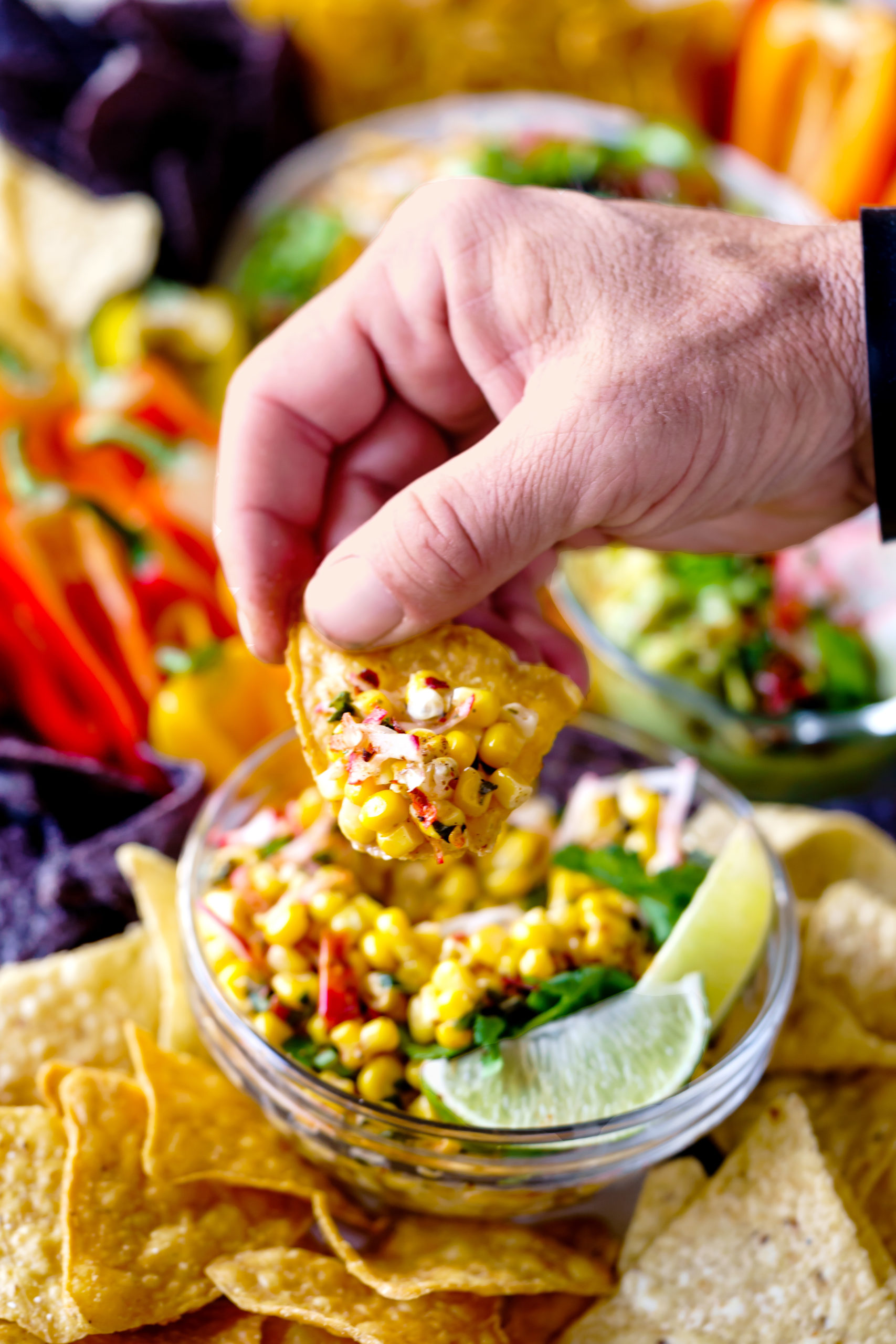 That said, I'd love to know what everyone is cooking and doing for summer to keep your kids and yourself nourished both physically and mentally. On that note, let me know if there is a summer dish you want to see here.
For now, enjoy this summer dip board!
Serving suggestions to go with the summer dip board :
What else can I use besides chips for these dips. These dips go great with the following:
Crispy raw vegetables like: cucumber, carrot or celery.
Want to make a full summer spread? Add any one or a few of the below and you are ready:
For a cocktail try this Blood Orange Margarita (if you blood oranges are out of season where you are, use Valencia oranges), Grilled Shrimp and Mango Tacos, Grilled Cobb Salad
Yield: Serves 6
Summer Dip Board
Prep Time 15 minutes

Total Time 15 minutes
Ingredients
9 oz. blue tortilla chips
9 oz. white tortilla chips
1 lb. baby bell peppers, halved and seeded
Roasted Tomatillo Guacamole
1/2 lb. fresh tomatillos, husked
2 serrano chilies
10 cilantro sprigs, plus more for garnish
salt to taste
2 large ripe avocados, seeded and flesh scooped out
1 tablespoon fresh squeezed lime
CORN DIP
3 cups corn kernels, fresh, frozen or canned
2 serrano chilies, seeded and diced
3 tablespoons diced radishes
2 tablespoons mayonnaise
2 tablespoons cojita cheese
2 tablespoons finely chopped cilantro
1/4 teaspoon chipotle chili powder
1/4 teaspoon smoked paprika
1/4 teaspoon salt
1/4 fresh cracked black pepper
7-LAYER BEAN DIP
1 9 ounce can bean dip
8 oz. guacamole, homemade or store bought
8 oz. salsa, homemade or store bought
8 oz. carton dairy sour cream
4 oz. (1 cup) shredded cheddar or taco cheese
1 cup chopped, seeded tomato
1 cup sliced black olives
1/2 cup sliced jalapenos
Instructions
To make Tomatillo Guacamole: Heat the broiler. Line baking sheet with foil place tomatillos on in a single layer, stem side down. Transfer pan to broiler at the highest rack; broil for 2 to 5 minutes charred on one side. Turn over and over on the other for 2 to 5 minutes longer, or until charred. Remove from blender and transfer charred tomatillos to a blender. Add lime juice, all accumulated juice on baking sheet, chilies, cilantro sprigs and salt. Blend to a coarse puree.

In a large bowl, using a a fork, mash avocados to a coarse finish. Add tomatillo pureed and fold until blended.

To make Corn Dip: In a large bowl, combine and fold together all ingredients.

Layer bean dip with guacamole, salsa and sour cream. Top with cheese, tomatoes, olives and jalapenos.