Yep, more eggs, more breakfast food. It's a favorite meal around here and if it were completely up to me—it would be breakfast every meal and eggs just about every which way to go with it.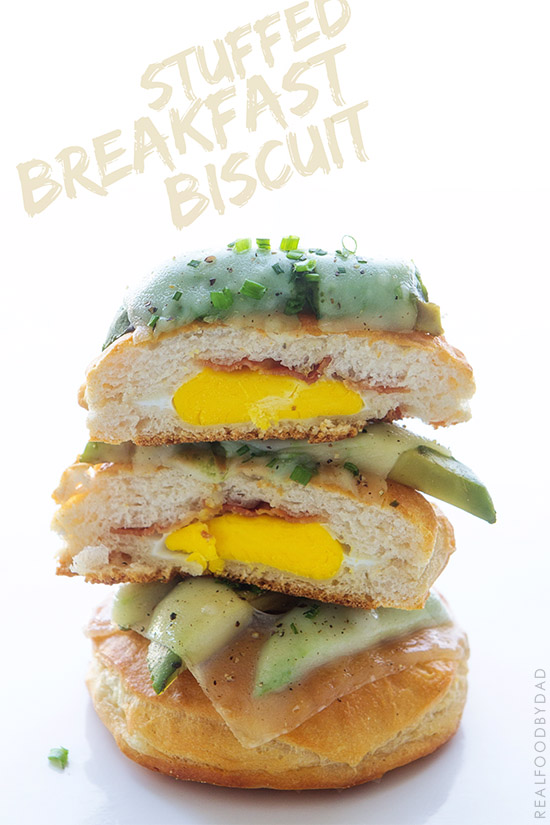 But alas my family won't hear of it, especially Cole, who just recently expressed his egg fatigue. What?
Short of telling him he was fired from the family for blasphemy, I came up with this for some redirection. An egg stuffed biscuit with bacon and avocados and swiss cheese on top.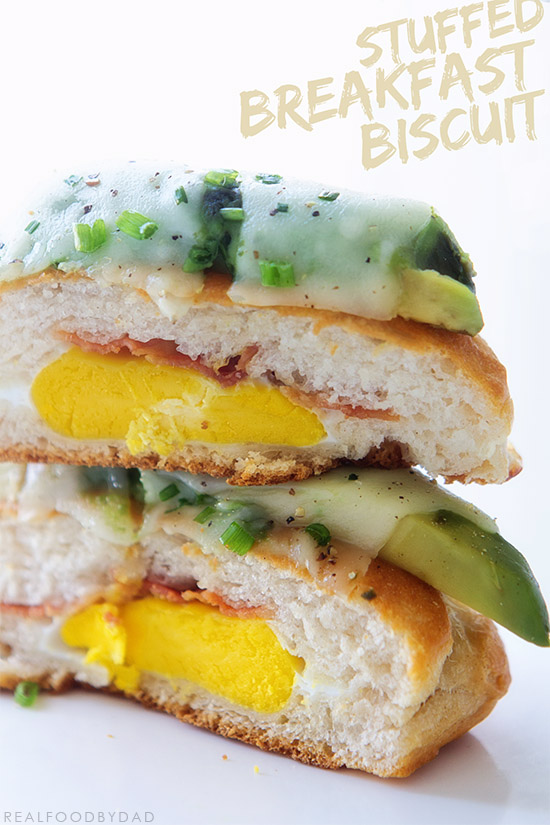 While I loved the whole ensemble, the little dude enjoyed everything but the bacon. Where did I go wrong there? Who doesn't like bacon?
Yes, I almost literally asked him that in disbelief, "What do you mean?"
"I don't like the fat."
"That's the best part, Cole."
Blank stare. Yep, blank-ness. I let him pick it out. I guess I should be thankful he's not a picky eater like me and my older boy. I will let the bacon slide, the egg – no way. Eggs are here to stay in this house and—yes, I'm that parent that's going to push him through his so-called egg-fatigue stage.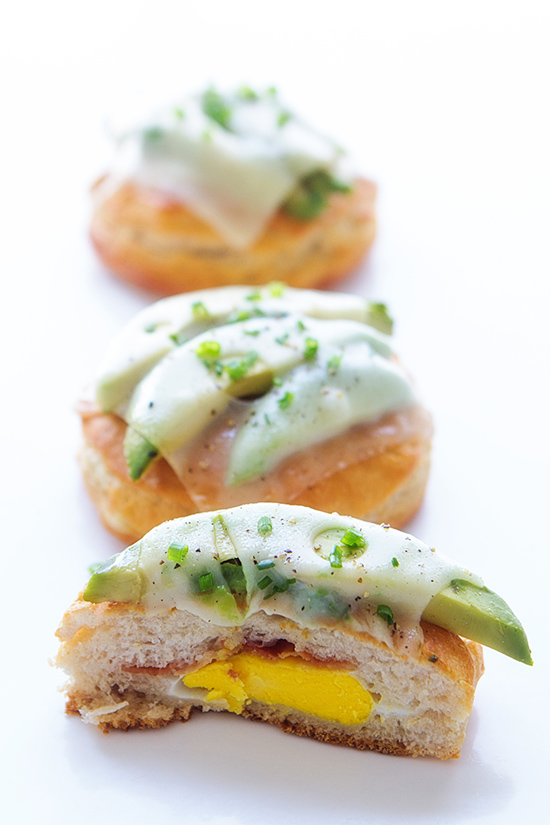 That said, do this. It's a breakfast of champions. I can say that because after this breakfast, the little dude went on to have the basketball game of his career and scored 18 points and led the team in steals and rebounds. I'm so proud, can you tell?
Yield: 6
Stuffed Breakfast Biscuits
Ingredients
1 can Pillsbury Grand Biscuit
6 cooked bacon strips
6 small eggs
2 avocado, sliced
8 slices Swiss cheese
Instructions
Preparation: Heat oven to 375 degrees F. Line baking sheet with parchment
Separate biscuits and split each one in half. Place one half down on parchment-lined bakesheet. Create a small well, crack a small egg on top and gently layer with some bacon. Place second half of split biscuit on top. Use a fork tines and press edges together. Bake for 10 minutes or until biscuit tops are golden. Remove from oven. Place sliced avocado on top and layer with cheese. Flip oven to broil and return biscuits to oven to melt cheese. Optional: Garnish which chives and black pepper. Repeat with remaining ingredients.
Note: This recipe can be scaled up or down according to your needs, just make sure to reserve one biscuit in case you need to use it to patch and seal the other biscuit sandwiches should they not seal due to the egg whites leaking to the edge.