Depending on where you live, strawberry season is just a few short weeks away. If you live in Southern California like I do, it's started. To kickstart the season, I made these Strawberry Shortcake Trifles for my boys: (1) because they are so easy, no baking involved (2) strawberries are a favorite of Cole's and the toddler.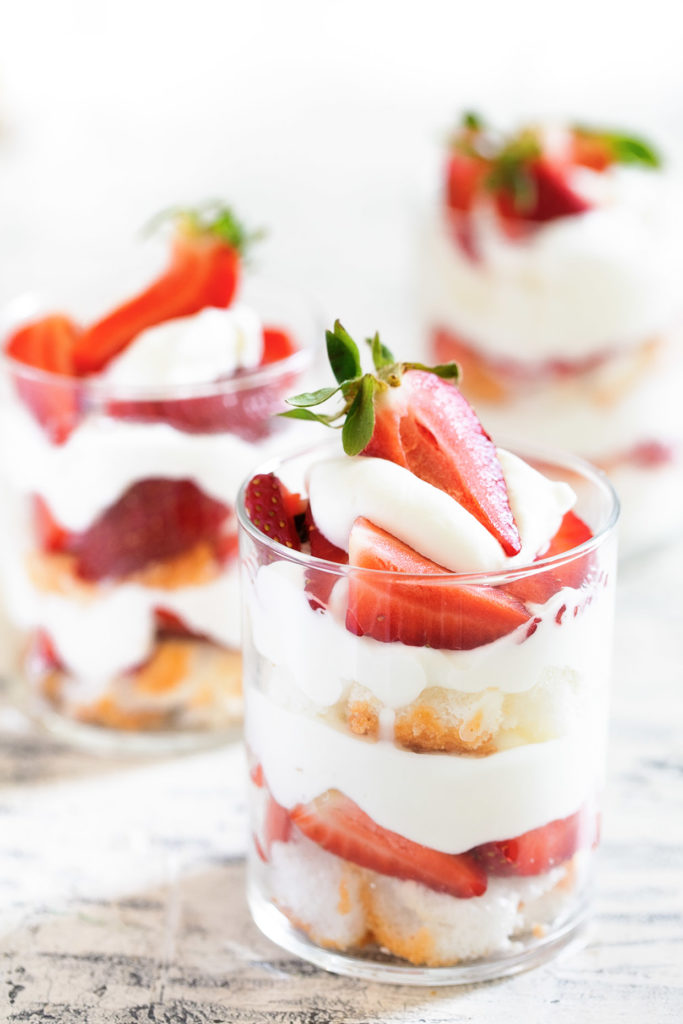 What is easier than cutting up store-bought angel food cake and layering it with fresh cut strawberries and homemade whipped cream? Throwing it all in a bowl rather than layering like they are here, but that wouldn't be very visually interesting. But it is how I served it to my boys. I skip all the layering fuss and save that for easy party desserts, or for sharing like I have here because everyone likes having options:  this is a dessert you can dress up or down. Whatever way you decide to go with this strawberry dessert: enjoy!
Yield: Serves 8-10
Strawberry Shortcake Trifles
Ingredients
2 cups heavy cream
1/4 cup granulated sugar
1 8 inch angel food cake, cubed into 1-inch pieces
2 lbs strawberries, quartered
Instructions
Place heavy cream and sugar in a large chilled bowl. Using a balloon whisk beat until soft peaks just start to form. Or alternately, use a stand mixer and beat on medium-low until soft peaks form. To assemble: layer cake, strawberries and whipped cream into preferred glasses.