I figured we might as well cover Valentine's Day easy-style. By easy-style I mean—20-minute dessert.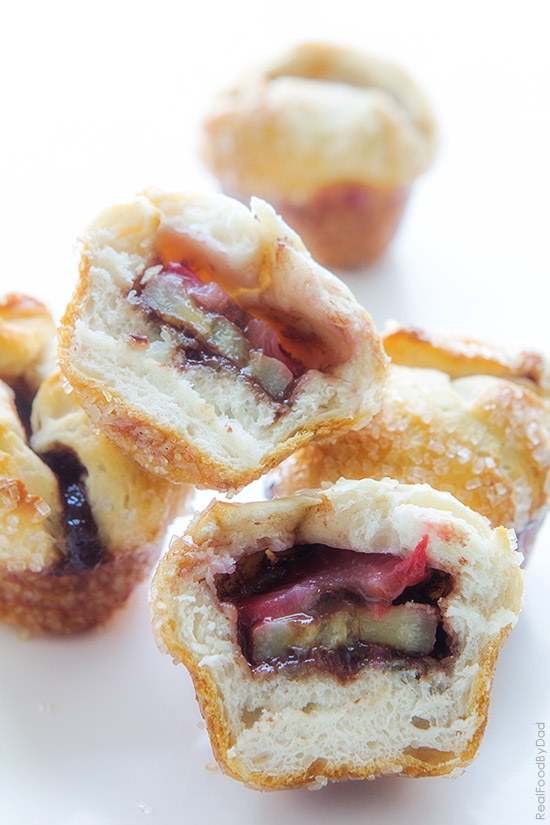 Not only is this a five ingredient dessert that's fuss-free, it's nearly flub proof. That is unless you are holding a baby who won't stop swatting at your face for attention in one arm and assembling these in another.
That's life lately, everything is done with a baby tethered to my side. About the only time I'm baby-free is at the gym, or on the baseball field and of course when Naomi has him. And now that he can crawl, there's no escape—if he spots me, he's charging towards me and he's tugging at my ankles, and as of late—banging on the bathroom door. Even privacy is a thing of the past. Since he's my last one, I've accepted that he will probably be spoiled.
But let's talk food – these were a huge hit. Of course my sample size was limited to my neighbors, my mom and Naomi-—all of which loved them and I'm sure you will to. What's not to like— strawberries and bananas layered on a shmear of Nutella and wrapped up in biscuit dough. Yep, I kept it easy and just used Pillsbury biscuits. Although puff pastry would work too, I opted for the biscuits because they're saltier and less airy. To finish, I used coarse sugar for some crunch, but if you don't have any on hand you can dust these with powdered sugar.
Strawberry Banana Nutella Bites
Ingredients
16.4 Pillsbury Buttermilk Biscuits
8-10 strawberries, sliced
2 large bananas, sliced
1/2 cup Nutella
4 tablespoons coarse sugar
Instructions
Preparation: Heat oven to 450 degrees F. Spray wells of mini-muffin pan with non-stick spray.
Separate biscuits and cut each one in half. Flatten each half to an 1/8 inch thin. Spread about 1/2 teaspoon of Nutella on flatten biscuit half, layer with sliced banana and strawberry. Wrap the dough around it to form a ball (make sure to pinch the seam close). Roll ball in coarse sugar and place seam side up in the muffin well. Bake at 450 degree F until golden, about 8-10 minutes. Remove from oven and remove bites from well and transfer to a cooling rack.