Yes, I'm on a sriracha run. It's one of those spicy condiments that's not too spicy for my humble palate. Although as of late, my heat tolerance is creeping to an all-time high. Something I've attributed to my growing food exploration since starting the blog.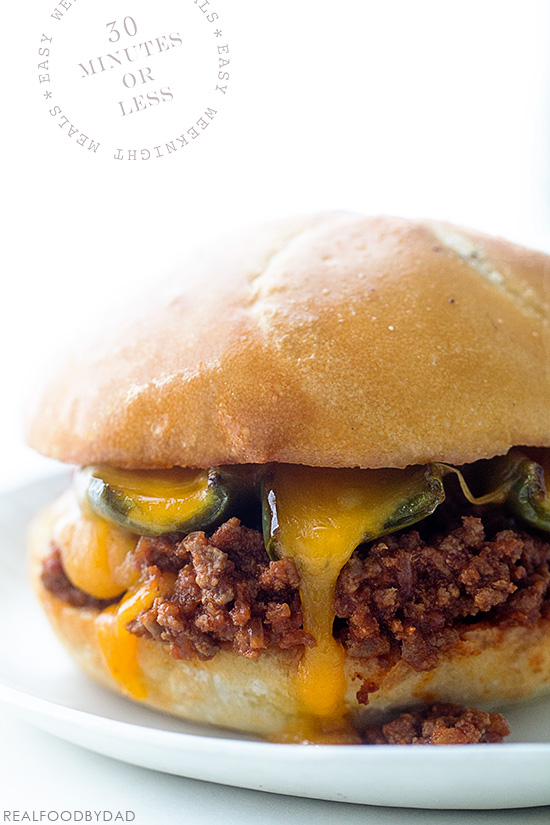 And for this dish, the sriracha gives it the acidic balance needed to cut through the fat in the sloppy joe. That's right, I'm not shy about throwing around the word "fat". Fat and food work when done right. And sometimes necessary, like when you are making sloppy joes.
The fat keeps keeps the meat mixture soft in texture while providing a boost in flavor. So when you go to make this, skip the pre-packaged ground beef and pick out some rib eye and sirloin, then ask the butcher to grind it for you. With the meat spoken for, let's talk spices. I kept it simple and pretty traditional, other than throwing in a hint of Sriracha. Of course, increase the heat to your liking,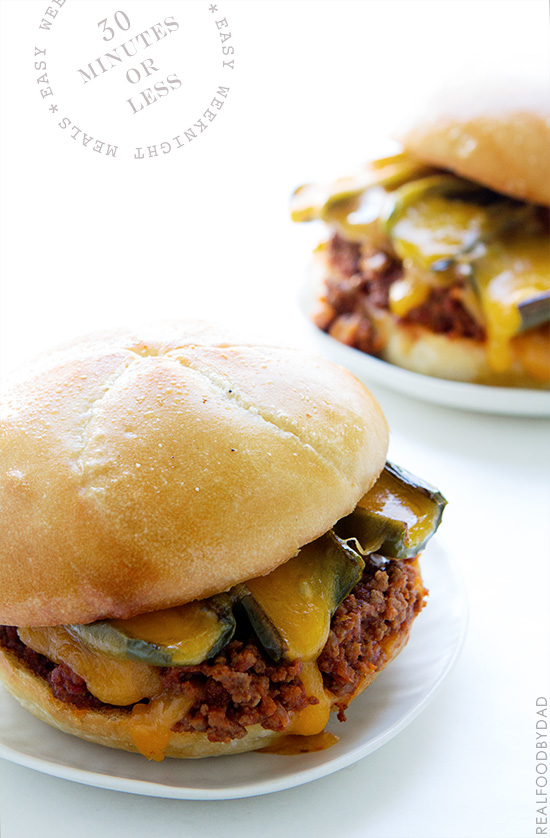 I kept my ratio conservative because I know my audience. Cole loved it and ate it straight-up with a spoon. Blake, well—he's my picky eater, so true to expectation, he didn't even bother. Naomi drizzled on enough Sriracha to burn the back of everyone's throat around her. Me, I topped it with what you see here—roasted jalapenos and a heavy layering of cheese.
Now who's ready for some football? Because this would be great with a beer or a coke while watching the Patriots destroy the Seahawks. And psst . . .small tip, this is one of those dishes that gets better from sitting overnight, so go ahead and make this the night before and reheat it over a low flame prior to serving.

Sriracha Sloppy Joes with Roasted Jalapenos
Ingredients
1 tablespoon canola oil
1 1/2 lb. ribeye
1/2 lb. sirloin
1 sweet onion, coarsely chopped
3 garlic gloves, coarsely chopped
1 tablespoon tomato paste
1 14 0z. can diced tomatoes
¼ cup of water
¼ cup brown sugar
¼ cup Sriracha
3 tablespoons Worcestershire sauce
2 tablespoons Dijon mustard
2 tablespoons ancho chile powder
2 tablespoons cumin
1 tablespoon paprika
1/2 teaspoon cayenne pepper
Salt and pepper to taste
Instructions
Place canola oil in a large skillet and over high heat. Add in the meat, using a wooden spoon or a sturdy spatula, break it up into small pieces, an cook until browned, about 8-10 minutes. Remove meat with a slotted spoon to a plate. Drain off all but 1 tablespoon of fat from the pan. Add in the onions and cook until soft and translucent, about 3 minutes. Add in the garlic and cook for one more minute. Reduce the heat to medium-low and add in remaining ingredients; cover and simmer for 10 minutes. Transfer mixture to blender or food processor and process for 10-20 seconds, or until desired texture and consistency. Return sauce to pan and add in meat, stir to evenly heat everything. Season with salt and pepper to taste.