Everyone knows pretty much all kids love mac & cheese. But not all kids are so fond of veggies.
Lucky for me, my little guy loves vegetables and fruit, so I never have to be the sneaky chef.
In fact, I just take his favorite meals like this Horizon Classic Mac and pump it full of veggies like broccoli, red and yellow bell peppers and squash. To keep things simple, I roasted the veggies in the oven then mixed them into the mac and cheese.
It's an easy meal that I can throw together for him in 25 minutes or less and he always comes back for seconds.
I don't always add Sriracha to it, but in this version I decided to spice it up a bit. That's the good thing about the Horizon's Classic Mac, it easily adapts to tweaks and additional flavor enhancers.
And that's a good thing for me, because this is one of those frequently requested dinner shortcuts that I can easily pull together for the little guy and always keep it interesting.
For more amazing #MACNATOR recipes, follow Horizon's Pinterest board. Follow Horizon Organics on Facebook and Twitter to find quick and delicious #MACNATOR recipes and be sure to visit Horizon Organic for more information on their wonderful products as well fast and easy weeknight dinner inspiration.
This is a sponsored conversation written by me on behalf of Horizon Organic. The opinions and text are all mine.
Sriracha Mac & Cheese Vegetable Bake​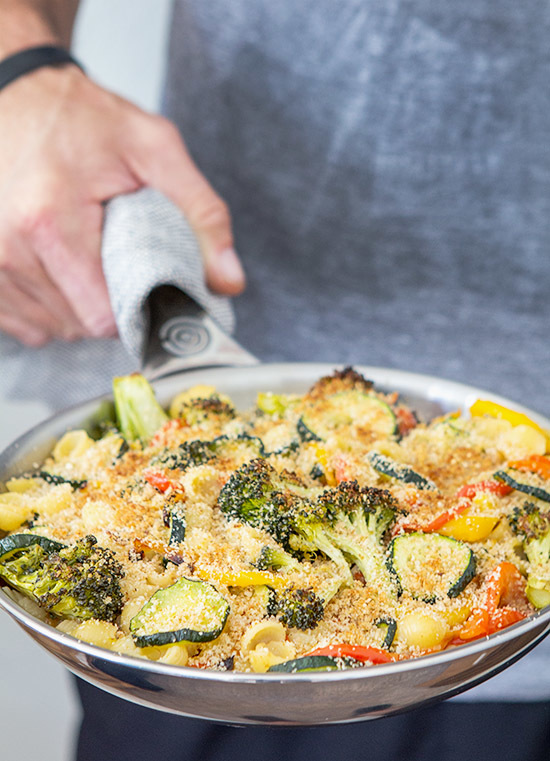 Ingredients
1 cup (about 1 pepper) sliced red pepper
1 cup (about 1 pepper) sliced yellow pepper
1/2 (about 2 squash) sliced cup squash
1 large broccoli head
3 tablespoons olive oil
1 teaspoon salt
1/2 teaspoon pepper
1 box Horizon Classic Mac, prepared according to instructions
2 tablespoons Sriracha
1/2 cup bread crumbs
1/4 cup finely grated Parmesan cheese
Instructions
Preparation: Heat oven to 425 degrees F.
Toss all vegetables with olive oil, salt and pepper. Divide mixture between two bake sheets and roast for about 20 minutes or until slightly browned. Remove from oven; set aside. Prepare Horizon Classic Mac according to package. Mix in Sriracha (add more to taste if needed). Transfer mac and cheese to an oven proof pan. Fold in oven-roasted vegetables. In a separate bowl, combine and mix bread crumbs with parmesan cheese; sprinkle mixture on top of mac and cheese. Transfer to an oven and broil on high for 2-3 minutes or until top becomes brown and crunchy.