Summer is quickly setting in now that the kids are out of school. That means long days trying to beat the summer heat. Aside from going to the pool and the beach alot to stay cool, I'm going to be all about easy meals. And meals that won't heat up the house with long oven cooking or baking time.
Keeping that in mind, I'll be utilizing the new Sharp R-830 Convection Microwave Oven as my latest kitchen gadget to keep summers cooler and cooking times faster. It's a countertop unit that's a combination of a standard microwave oven and a convection oven. The dual model cooks food quickly, while still being able to brown and crisp things like a traditional oven.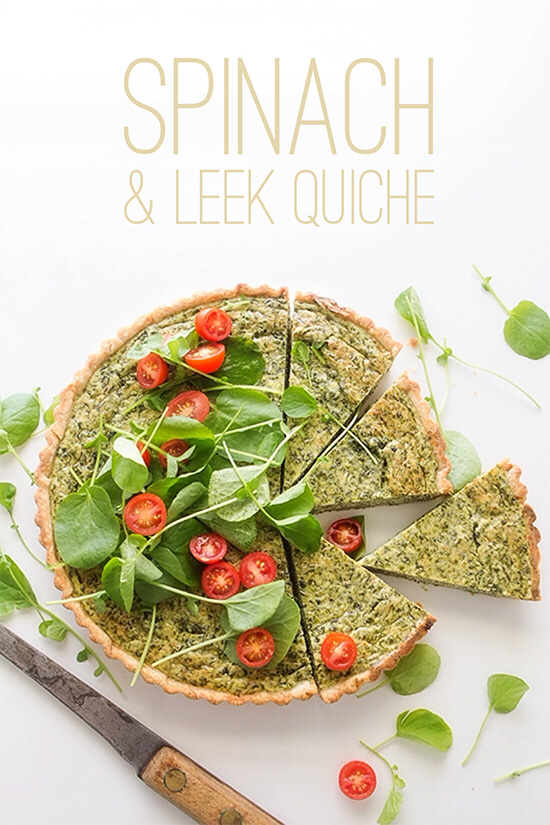 For this quiche, I par-baked the crust. You can see the crust came out just right – perfectly crisp and brown. The high speed fan of the convection oven pushes and circulates the heat for even cooking—ideal for baking. Once the crust was par-baked, I filled and finished baking the remainder of the quiche in no time.
I'm all for this new kitchen assistant—anything that can keep the house cool, guarantees great results and makes life easier—yes, please.
Now for the recipe, use your preferred pastry shell, or to shortcut the recipe – use store bought crust. For the greens I prefer spinach , but kale or Swiss chard or almost any greens will work. Want to make it skinny style? Use low-fat cheesecake. Craving some protein? Throw some pancetta in it. Are you seeing where I am going with this? Yep, you got it—this recipe is highly adaptable, so make it your way and enjoy!
Yield: Serves 6-8
Spinach and Leek Quiche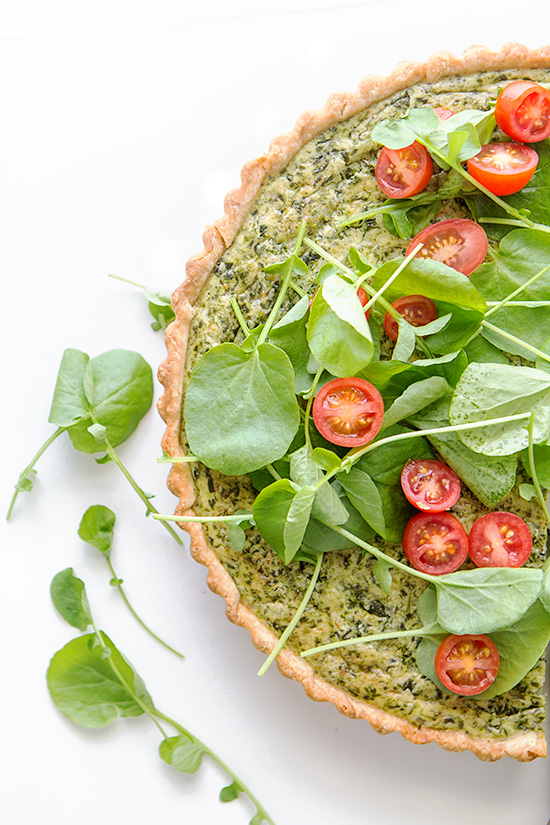 Ingredients
[url undefined]Thomas Keller's[/url] Pastry Shell (no adaptations made)
2 cups all-purpose flour, sifted, plus more for dusting
1 teaspoon kosher salt
2 sticks chilled unsalted butter, cut into 1/4-inch dice
1/4 cup ice water
1 10 oz. frozen spinach, thawed and drained
1/2 cup leeks, sauteed in butter until softened and cooled
1 8oz. cream cheese, softened
4 eggs
3/4 cup fontina cheese
3/4 cup parmesan cheese
3/4 teaspoon kosher salt
Instructions
Preparation: Heat oven to 375 degrees F.
To make pastry shell: Add in 1 cup of flour and salt to a stand mixer bowl fitted with the paddle attachment and mix on low. With the mixer running on low, add the butter pieces, a handful at a time. Once all the butter has been added, increase the speed to medium and mix until the butter is completely incorporated. 2. Reduce the speed to low, beat in the the remaining 1 cup of flour just until blended. Mix in the water just until thoroughly incorporated. Flatten the pastry dough into an 8-inch disk, wrap in plastic and refrigerate until chilled, at least 1 hour or overnight.
Brush one 9 inch tart pan with oil. Place tart pan on a parchment lined bake sheet. Dust the pastry dough on both sides with flour. Working on a lightly floured surface, roll out the pastry to a 16-inch round, about 3/16 inch thick. Carefully trim the dough to fit a one 9 inch pan with a 1 inch overhang. Use the trimmings to fill any cracks. Refrigerate the shell for 20 minutes.
Preheat the oven to 375°. Line the pastry shell with a 14-inch round of parchment paper; fill the shell with dried rice. Bake for about 20 minutes, or until the edge of the dough is lightly browned. Remove the parchment and rice, continue baking the pastry shell for about 15 minutes longer, or until richly browned on the bottom. Transfer the pastry shell to a wire rack to cool.
To make filling: Place all ingredients in a food processor bowl and pulse until well blended. Pour mixture into crust and bake at 375 degrees F until set, about 25-30 minutes.

This is a sponsored post in partnership with Sharp USA; however all opinions are my own. Thank you for supporting the brands that help make running this site possible.