**This is a sponsored post in collaboration with Knorr® Selects **
Can we just talk about this casserole? Spinach and Artichoke Dip is a family favorite in my house, so when I decided to flip it into a casserole, I knew it would be an instant hit.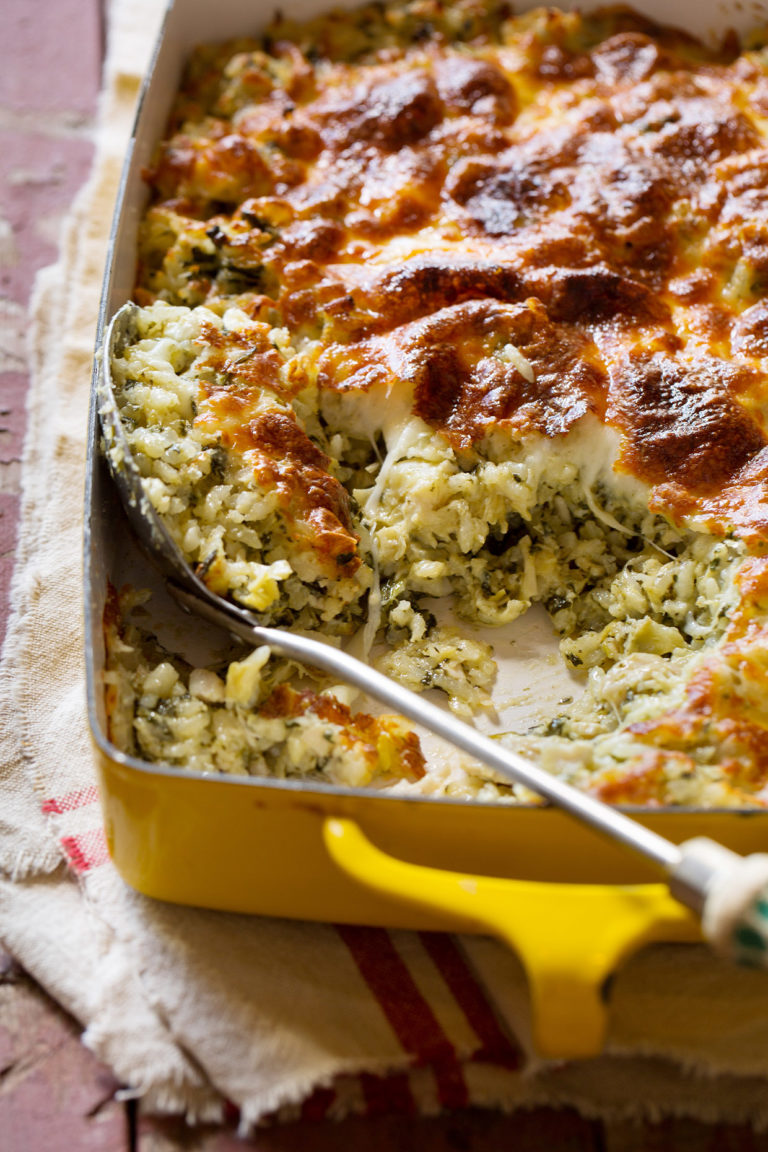 I added Knorr Selects Spinach and Artichoke Rice to pump this up into a more filling meal. It was the perfect solution because not only did it add flavor, but it saved me prep time since this recipe takes under 30 minutes to make from start to finish.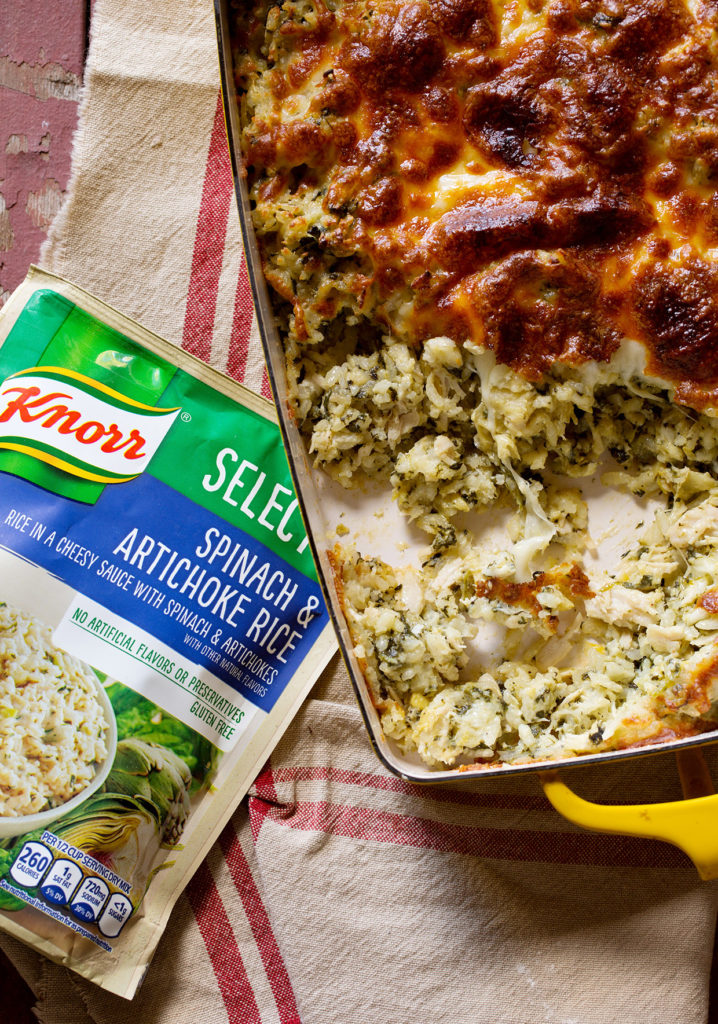 In fact, this was so easy to make that I was able to pull it off with my 10-year-old Cole helping me while at the same time my toddler tried to pull me away from the kitchen. With one arm stirring and one arm holding the toddler, Cole jumped in as my trusted sous chef. I love to get the boys involved in my cooking around the holidays as a way to spend more time together.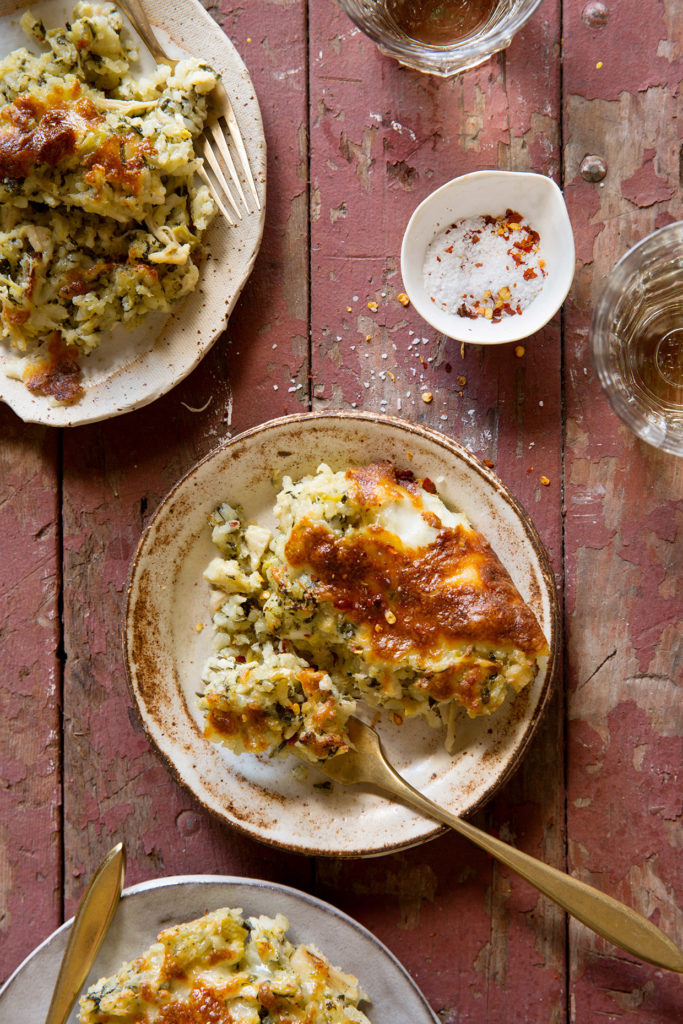 I like Knorr® Selects because they are great as-is or perfect as a base for a bigger meal like this casserole. They're also made with responsibly sourced rice from Arkansas, contain no artificial flavors or preservatives and are gluten-free. These things are all important to me and my family and I'm proud to serve meals made with Knorr Selects to my relatives when they're staying at our home.
My boys enjoyed this so much we will definitely be making this recipe again for game day! Now, all I have to work out is getting Cole to make the whole meal by himself (or at least with me by his side talking him through it). It's that easy!
Yield: Serves 6-8
Spinach and Artichoke Rice Casserole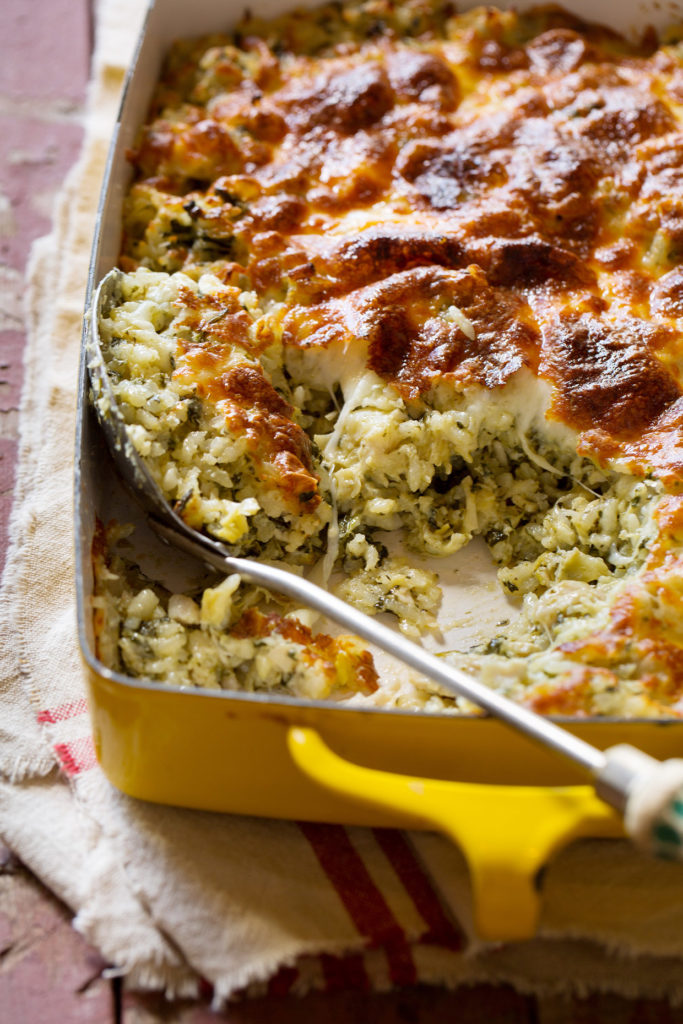 Ingredients
3 cups Knorr Homestyle Stock
1 cup milk
1/2 cup sour cream
4 oz. cream cheese
1 tablespoon onion powder
1 tablespoon garlic powder
1 tablespoon dried parsley
1 tablespoon dried thyme
1 tablespoon dried oregano
2 teaspoon kosher salt or to taste
10 oz spinach
12 oz. artichoke hearts, drained
2 cups cubed chicken, fully cooked
1 4.5 oz. Knorr Selects Spinach and Artichoke Rice
4 oz. Fontina
8 oz. parmesan cheese, divided use
4 oz. mozzarella cheese
Instructions
In large sauce pan over medium heat, bring chicken stock and milk to a simmer. Add the cream cheese and sour cream, then stir to cook until mixture is smooth, about 3 minutes. Add the onion powder, garlic powder, parsley, thyme, oregano and kosher salt; stir and cook for a minute longer. Remove pan from heat. Set sauce aside.
In large skillet, heat 1 tablespoon of olive oil. Add half the spinach and stir to cook until spinach is wilted. Add the remaining half and repeat. Remove from heat and set aside to assemble casserole.
Empty the Knorr Selects Spinach and Artichoke Rice into a 13x9 inch casserole. Pour the sauce on top and stir in the wilted spinach and artichoke hearts. Fold in the fontina cheese and half the parmesan cheese. Using spatula level out contents to an even layer. Sprinkle remaining half of parmesan and mozzarella cheese on top.