Can you believe that it's almost Thanksgiving. I know, Halloween hasn't even come and gone and I'm jumping ahead.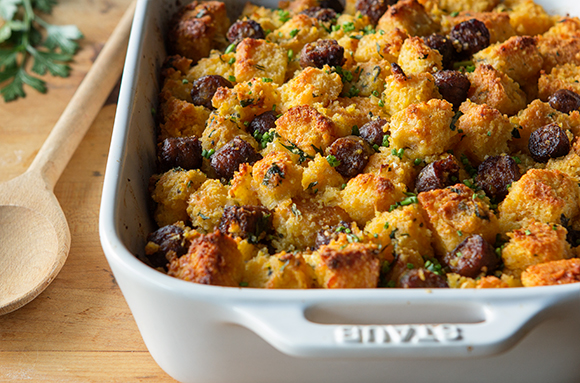 In my home, the holidays start the 1st of October, so expect to see me bounce back and forth between the holidays. I may even slip in a Christmas-ready dish here and there.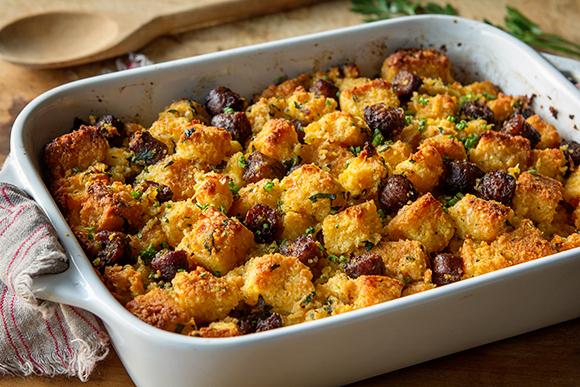 Speaking of which, how perfect is this stuffing for either Thanksgiving or Christmas? It's one you can make a day ahead and give a quick low and slow reheat. In fact, it will taste even better. The overnight rest lets all the flavors dig deeply into the cornbread.
And since we are a few weeks away from any holiday gathering, I'd love to know what some of your family favorites are.
Yield: 8-10servings
Spicy Jalapeño and Cheddar Cornbread Stuffing with Sausage
Ingredients
• 8 cups dried cornbread (use your favorite recipe or see recipe below)
• 8 tablespoons unsalted butter
• 1 12oz. Jones Dairy Farm Pork Sausage
• 2 cups chopped yellow onions
• cups 1/4-inch slices celery
• 1/2 cup chopped flat-leaf parsley
• tablespoons chopped fresh sage
• tablespoon chopped fresh thyme
• 2 teaspoons kosher salt
• 1 teaspoon freshly ground black pepper
• 2 cups low-sodium chicken broth, divided
• 2 large eggs
Instructions
Preparation: Heat oven to 350 degrees F. Lightly butter 9x13 casserole pan; set aside.
In a large skillet melt butter over medium-high heat. Add sausage and onions, stir and break up sausage; cook sausage and is cooked through, about 7 minutes. Add to bowl with bread, stir in herbs, salt, and pepper. Drizzle in 1 cup broth, gently toss.
Whisk together 1 cup broth and eggs in a small bowl. Add to bread mixture, gently fold until thoroughly combined. Transfer to prepared dish, cover with foil, and bake until an instant-read thermometer inserted into the center of dressing registers 160°, about 40 minutes.
Cornbread
Makes one 8-inch pan
• 1 1/2 cups unbleached all-purpose flour
• 1 cup cornmeal
• 2 teaspoons baking powder
• 1/4 teaspoon baking soda
• 1/8 teaspoon cayenne pepper
• 1 medium jalapeño chile, cored, seeded, and chopped fine
• 1 teaspoon Kosher salt
• ¾ cup fontina cheese
• ¾ cup sharp cheddar cheese, shredded
• 1/3 cup parmesan cheese
• ¼ cup packed light brown sugar
• 3/4 cup frozen corn kernels (3 1/2 ounces), thawed
• 1 cup buttermilk
• 2 large eggs
• 8 tablespoons unsalted butter, melted and cooled slightly
Preparation: Heat oven to 400 degrees. Cover a 8-inch square pan with nonstick spray.
In a large bowl whisk together flour, cornmeal, baking powder, baking soda, cayenne, jalapeño, salt, and cheeses in medium bowl until combined. Create a well in the center; set aside. In food processor or blender, process brown sugar, thawed corn kernels, and buttermilk until combined, about 5 seconds. Add eggs and process until well combined (a few corn lumps will remain), about 5 seconds longer. Pour mixture into well of dry ingredients and begin folding dry ingredients into wet with a just a few turns to combine. Add melted butter and continue folding until dry ingredients until are just moistened. Pour batter into prepared baking dish; use an offset spatula to smooth out surface. Bake until deep golden brown and toothpick inserted in center comes out clean, 25 to 35 minutes. Cool on wire rack 10 minutes; remove from pan and allow to cool, about 25 minutes. Cut into ¼ inch pieces and allow to dry out completely, about 2 days or place in oven at 200 degrees F and bake for 3 hours.