Look at that, a vegetarian meal and you would hardly know it by the looks of this loaded pizza. Generally, I love my pizza loaded to please my inner carnivore.
But this time around, I decided to trade in my usual meaty pizza for a vegetarian spin as part of my sponsorship with Ford and their Switch It Up Series.
I'm joining Merrill Stubbs with Ford's fun new YouTube Series Switch It Up. A series that is helping experts try something new-or something they've never done before. You are going to love how encouraging they are. Check this one out from DIY maven Erica Domesek, of PS I Made This. She challenged Merrill Stubbs of Food 52 to trade out her kitchen comfort for a studio to do an art project.
That said, this pizza – you cannot believe the bulging eyes and sighs of disbelief from my family when this hit the dinner table. Naomi of course, being nearly vegetarian herself, loved it but couldn't believe the pizza before her was one crafted by the meat lover she knows me to be. Same with Cole, but once he took a bite and three pieces later—he was all in.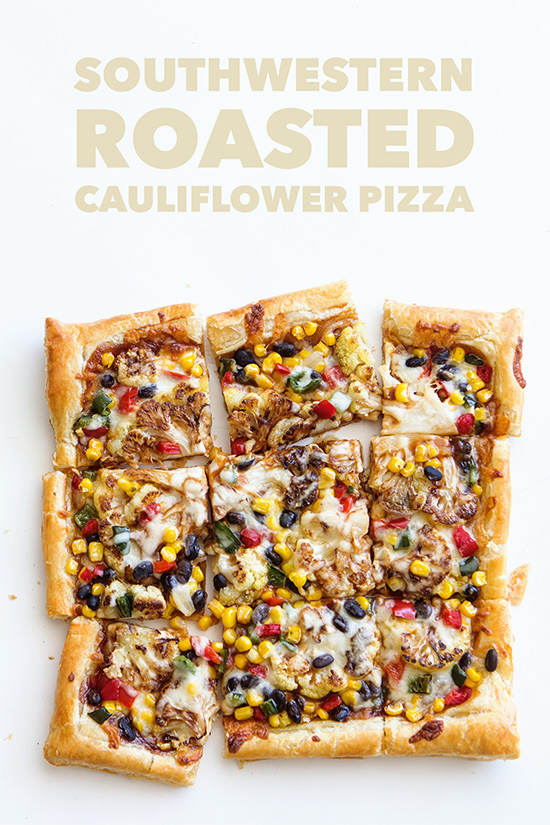 Admittedly, I was a bit apprehensive and was sure I would need to have a second dinner ready in case I wasn't satisfied or filled enough. Both proved to be wrong. I actually loved it and the "meatiness" of the cauliflower was enough to keep me full for the evening.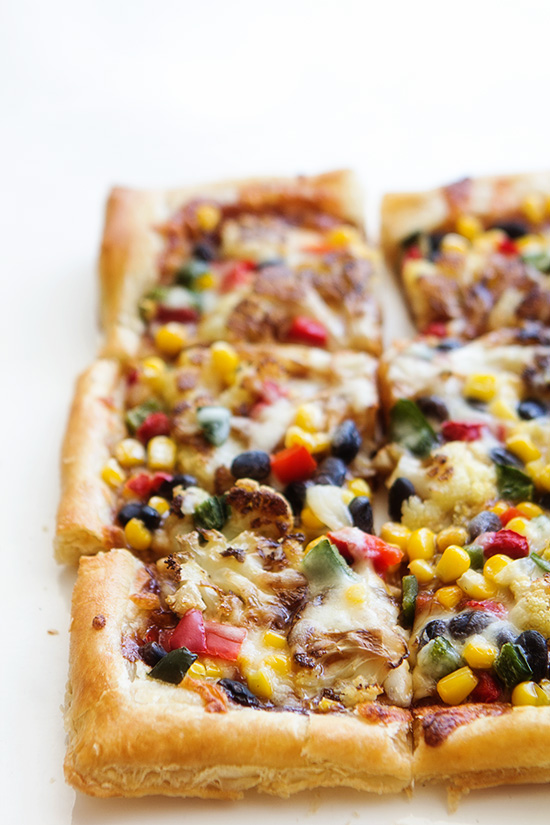 Yield: Serves 6
Southwestern Roasted Cauliflower Pizza
Ingredients
1 puff pastry shell, thawed according to directions
1/4 cup BBQ sauce
1/2 cup shredded Mozzarella cheese
1 cauliflower head, roasted and sliced
3 tablespoons corn
3 tablespoons petite black beans
3 tablespoons chopped red pepper
3 tablespoons chopped green pepper
Instructions
Preparation: Heat oven to 400 degrees F.* LIne baking sheet with parchment paper.
Flatten out pastry shell and using a knife point, score a 1/2-inch border all the way around. Spread BBQ sauce inside border, sprinkle half of cheese on top. Layer with remaining ingredients and finish with remaining cheese. Bake for 15-22 minutes or until puff pastry is golden brown.
*For best results, skip the baking sheet and place pizza steel (or pizza stone) in the oven and allow it to heat up with the oven. Then bake pizza with parchment paper underneath directly on pizza steel.

This is a sponsored post with Ford; however all opinions are my own. Thank you for supporting the brands that help make running this site possible.