You know what's better than scoops of sorbet? Sorbet floats.
I'm not a calorie counter, but these floats—they are low cal and basically pureed fruit floating on some Bai5 antioxidant infusions (only 5 calories) and seltzer water – you can pack these sippers up all summer long for the beach or poolside.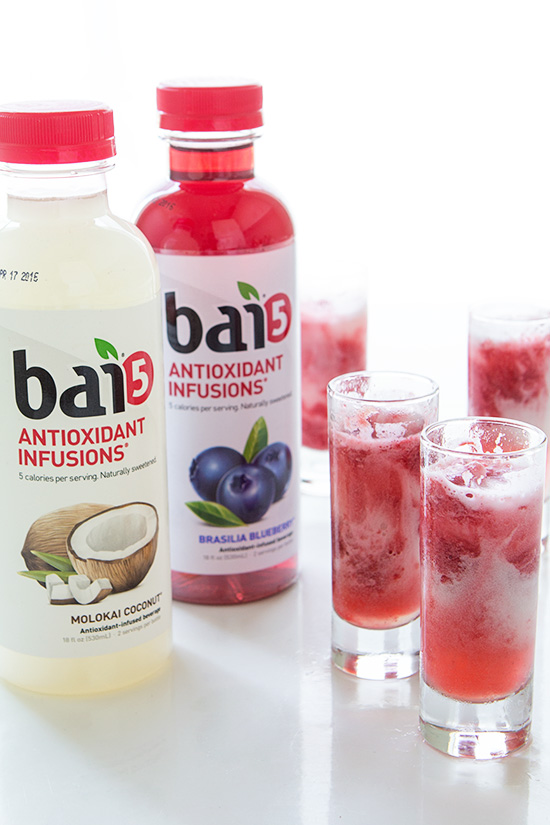 Yes, I'm counting the days until the kids are out of school—eleven days, friends. Eleven. Then we will be sleeping in, hitting the water and homework free. Who's excited?
And since it's the last summer before my oldest boy goes to high school, I'm going to make sure to enjoy every bit of it. Even when we are all heavy with summer sweat, lazy from the unbearable heat and the worse of it, the dreaded "summer boredom" whining. This summer, the plan is to stay well-armed with all kinds of cool treats and sips like these to keep them cooled and energized so the summer boredom never sets in.
I figure if they stay cooled and refreshed, they are bound to have the energy to find something to do.. That "something" is going to be a sanity saver , so here you go—sorbet floats to keep every cool. You are welcome.
Yield: Serves 4
Sorbet Floats
Ingredients
1 14 oz. raspberry sorbet pint
1 14 oz. coconut sorbet pint
2 cup seltzer water
1/2 cup Bai5 Brasilia Blueberry
1/2 cup Bai5 Molokai Coconut
Instructions
Stir together 1 cup of seltzer water with Bai5 Brasilia Blueberry; set aside. Stir together the remaining 1 cup of seltzer water with Bai5 Molokai Coconut; set aside.
Place a small scoop of raspberry sorbet into a glass and layer with a scoop of coconut sorbet half way up the glass. Pour some of the Bai5 mixture (either the Brasilia Blueberry or Molokai Coconut) on top. Layer one more time with both sorbets and finish the top with a small pour with one of the mixtures. Repeat until all glasses are full.