This is what you do when the Easter bunny leaves you too much candy–you stuff it into pudding pops like these. Of course any add-ins will work, but I thought Snickers and brownies was a perfect pairing. It did not disappoint based on the pudding covered face of my toddler, and even more so, when he insisted on a second one and I said no.
Keep in mind I make his pudding pops in ice cube trays for portion control. Can you imagine giving him a regular size pudding pop like the ones in the photos and then telling him he can only eat half of it? Or worse yet it, taking it away from him?
Yeah, I don't want to go there either.  That is exactly why I make 2×2 inch cubes of pudding pops for him. This way he doesn't feel cheated and I don't feel so guilty when I cave to his, "Last one, puh-puh-leeease, Daddy".
I am a pushover.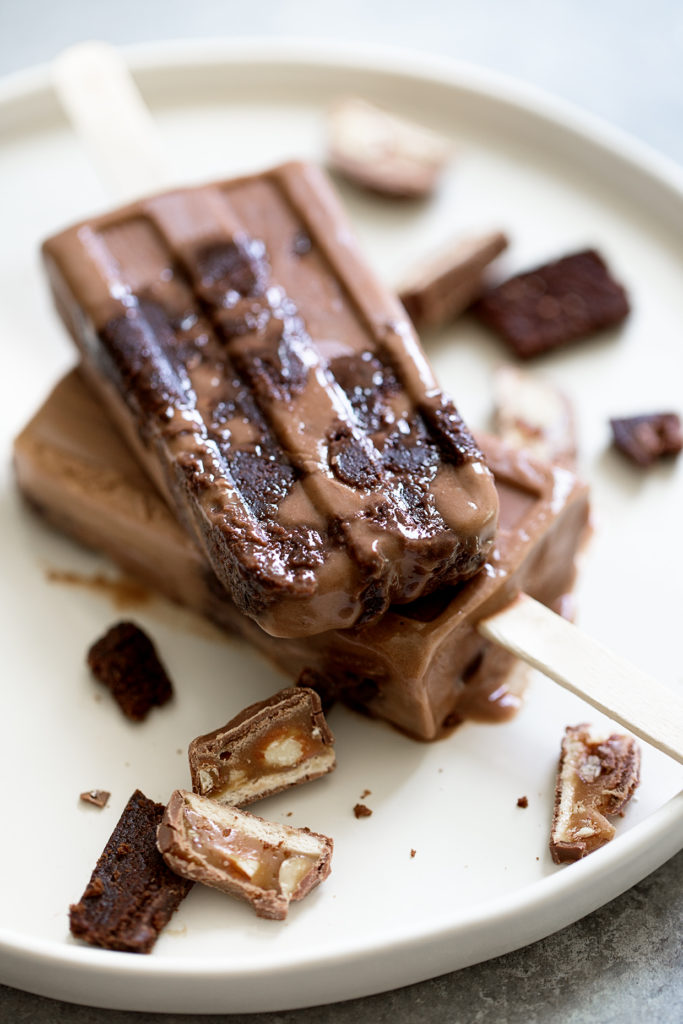 Yield: Makes 10-12 popsicles.
Snickers and Brownie Pudding Pops
Ingredients
1/4 Jell-o Pudding-Instant Chocolate (not the Cook and Serve variety)
3 cups cold milk
2 cups (5 oz.)Snickers, chopped
2 cups (6.5 oz.) chopped Brownies
Instructions
In a large bowl, add instant pudding powder and milk. Whisk to combine. Layer popsicle mold wells with a layer of pudding, Snickers, pudding, brownie and pudding. Repeat until all wells are filled. Place a piece of foil on top and cut a small hole in the center of each well and insert the popsicle stick. Transfer the popsicle mold to the freezer and let set for 6 hours or overnight. *Freezing time will vary according to freezer setting and how full the freezer is.