I don't do dessert often, but when I do, it's definitely going to be one that appeals to kids and adults alike. So when this s'mores tart was done being shot, I could hardly plate it fast enough for everyone.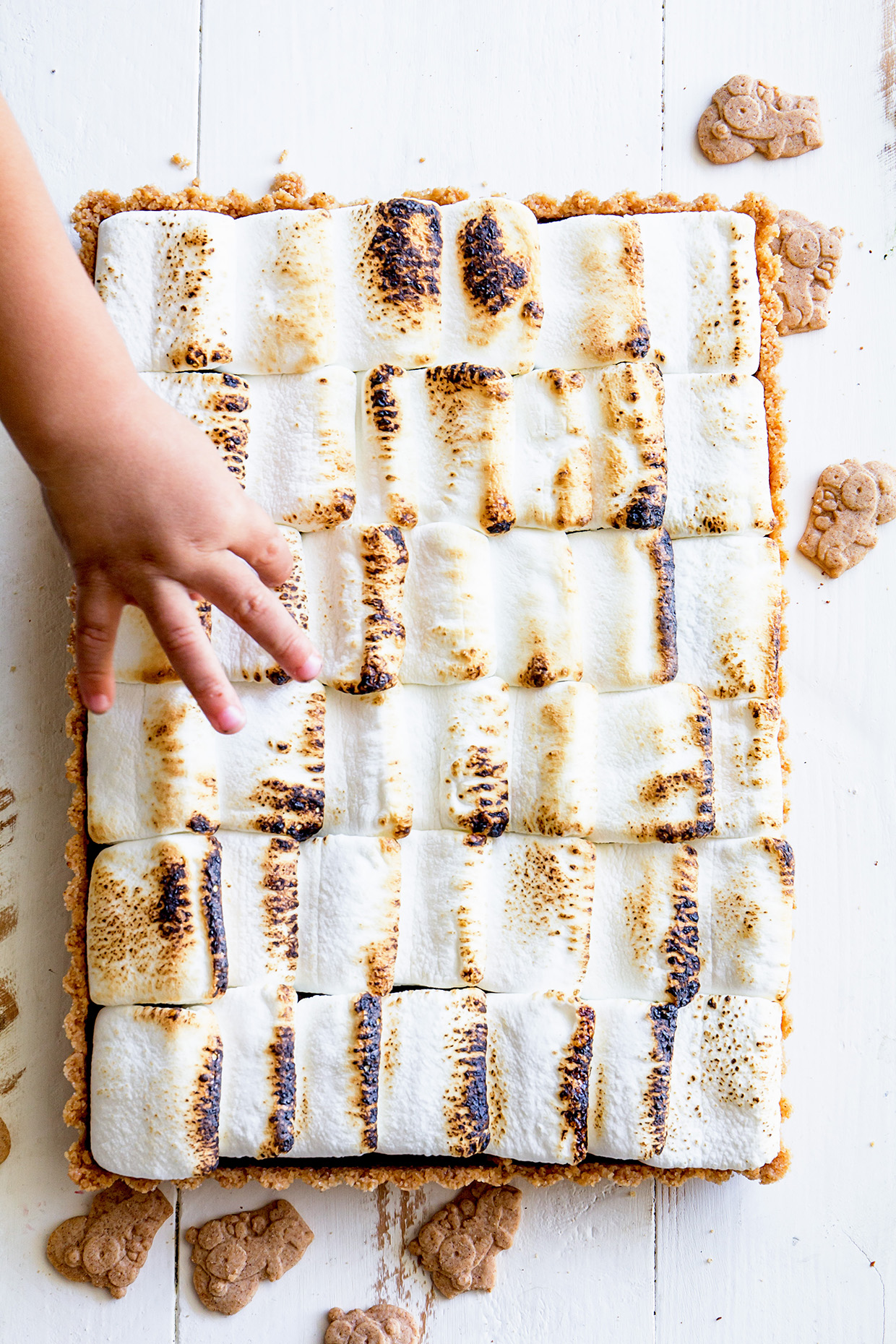 What should have been a few shot shoot, turned into a much longer session because not only was the baby squealing, screaming and trying to tear at the marshmallows, but he wanted to eat the Skeeter Nut Free Cinnamon Graham Crackers on the board.
They are a new favorite of his and Cole's. Thankfully I can feel good about letting the kids indulge because Skeeter Nut Free snacks are made from natural ingredients, whole grains and don't contain any trans fat or high fructose. Along with that, I can actually pack these snacks for the boys since they are nut-free and both the elementary and preschool are nut-free schools.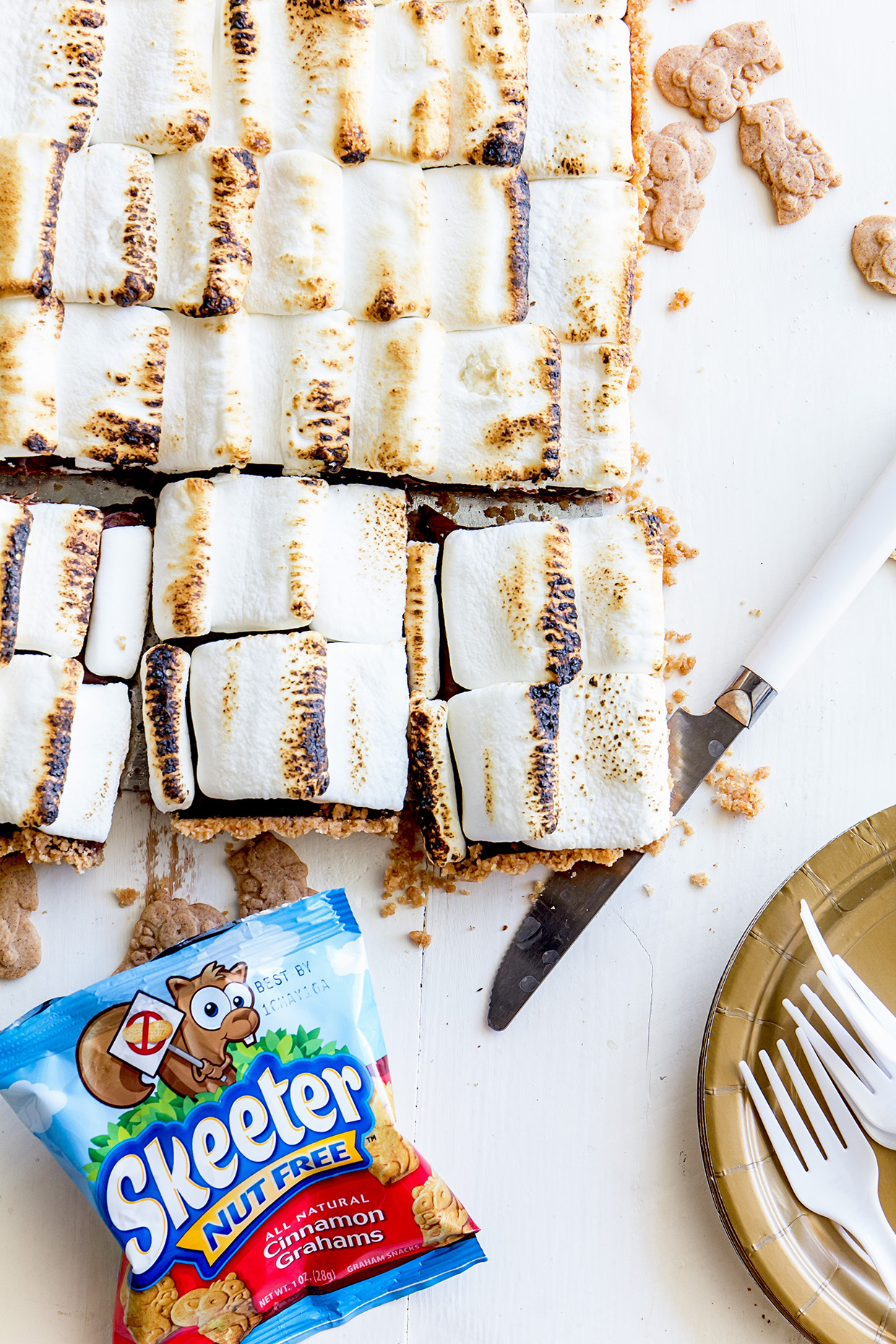 Beyond snacks, I also like to crush the cinnamon graham crackers for making graham cracker crusts in desserts like this killer s'mores tart. The best part of this s'mores tart, next to it being gone seconds, it's one of the easier recipes to make.
Go ahead—bookmark this and make it the next time you need a fast and easy dessert.
*This is a sponsored post in collaboration with Skeeter Nut Free Snacks.


Yield: 6-8 servings
S'mores Tart
Ingredients
Crust
6 oz. Skeeter Nut Free Cinnamon Graham Cracker
1/3 cup sugar
8 tablespoons butter, melted
Filling
1 ¼ cup heavy cream
9 oz. chocolate 65% cacao
2 large eggs
2 teaspoons vanilla extract
1 teaspoons kosher salt
Topping
8 oz. marshmallows
Instructions
Preparation: Heat oven to 350 degrees F. Lightly cover a 9-inch removable-bottom tart pan with non-stick spray.
To make crust: Place graham crackers and sugar in food processor bowl fitted with a blade and pulse to a crumb. Add butter, pulse to combine. Press crumb into tart pan. Bake at 350 degrees F until crust is slightly golden, about 15 minutes. Remove from oven, transfer to a wire rack and cool completely. In the mean time make filling.
To make filling: Place the heavy cream in a medium sauce pot over medium low heat and cook until it simmers around the edges (small bubbles will appear). Remove pot from heat; add chocolate, set aside for 5 minutes then stir until smooth. Add salt, stir to combine. In a second bowl beat together eggs and vanilla extract until blended. Add gradually add chocolate mixture into egg mixture, while whisking continuously. Whisk until well blended. Pour filling into crust. Bake at 325 degrees F until filling just slightly jiggles when pan is tapped, about 15 to 20 minutes.
Topping: Remove from oven, top with marshmallows and brulee with a kitchen torch or place under a broiler set to high for 1-2 minutes to toast marshmallows. (If you use the latter method, keep a watchful eye as the marshmallows go from toasted to burnt in a matter of seconds.)