Created with De Cecco
Some days when we are running around between school and baseball, I just don't have those few extra minutes or extra hands to make dinner. To avoid feeding the family takeout, I rely on my slow cooker to do all the heavy lifting.
Given that, I have a handful of fall-back recipes that never fail me. Recipes like this slow-cooker spaghetti. It's incredibly easy to make, to the point that I can't help but smile when my kids tell me it's a top ten favorite.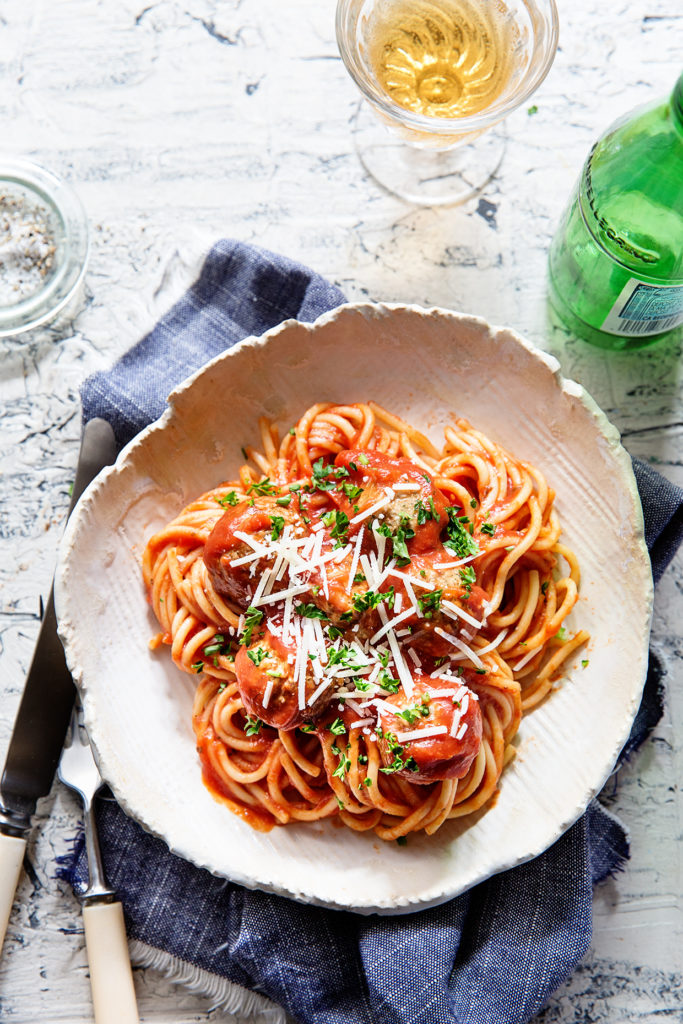 I know. . . .??? But kid palates are easy to please, so here's the key to making this an adult favorite: get the best ingredients for this incredibly easy dish. Start with premium Italian pasta like De Cecco pasta because unlike most mainstream pastas on the shelf, their pasta is made with the best coarse durum semolina, not flour. That ensures the pasta in this dish will stay nice and firm, rather than soft and mushy. Along with that, it just tastes better. For the sauce use a homemade or a high quality ready-made sauce like Rao's. Throw on some fresh basil and parmesan right before serving and . . . ta-da, family favorite with no stirring and no straining involved.
Disclosure: This post is brought to you in partnership with De Cecco. Thanks for supporting the companies that make our work possible. As always, all opinions are my own.


Yield: Serves 8
Slow Cooker Spaghetti and Meatbals
Ingredients
1 lb. De Cecco Spaghetti
1 tablespoon olive oil
1 (24 oz) jar spaghetti sauce
4 cups chicken broth
32 oz. fully-cooked frozen meatballs
¼ fresh chopped basil
½ cup fresh finely grated parmesan
Instructions
In slow cooker mix together, spaghetti sauce and chicken broth. Rub the pasta with olive oil. Place pasta in slow cooker, making sure to submerge it in the liquids. Layer with meatballs. Place lid on top and cook on low for 6 hours. Optional: Serve with basil and parmesan.