When the boys are around and the TV is on, it's baseball, basketball or Spongebob. And while I am a big fan of all 3 (yes, ALL 3), I need a little more mental stimulation occasionally. Sorry boys. In that rare instance where I have some kid-free time and actually get to sit on the couch by myself or with Naomi to watch TV, I am almost always disappointed with what's on. So inevitably, I end up putting on a classic movie, like an old western, or a sitcom, such as Seinfeld, my all time favorite show. And both never fail to entertain me. Even when I know the entire script by memory, which annoys the heck out of Naomi.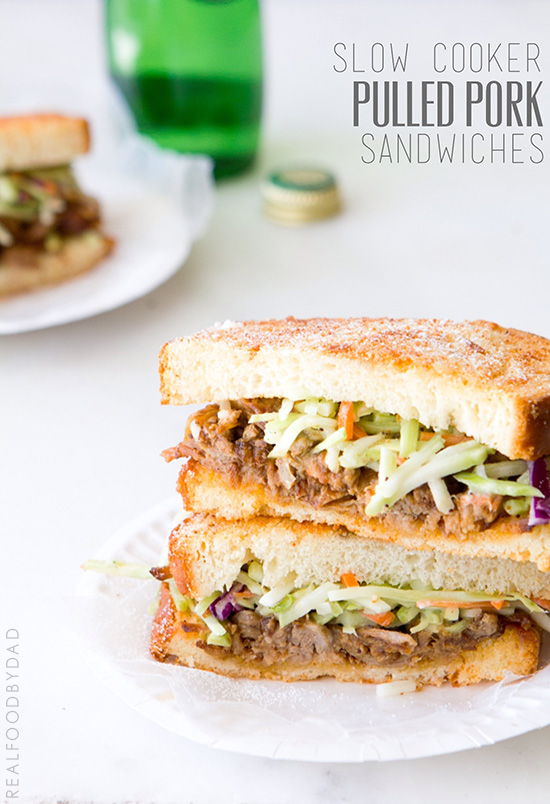 When it comes to food, I similarly find that sometimes, a return to a classic brings me the same type of joy and contentment. In this instance, it worked with this Slow Cooker Pulled Pork. Yeah, everyone says their pulled pork recipe is the best, but I'm not sure if I'm quite ready or skilled enough to make that claim. But what I can say is that this one is a little bit sweet, a little bit smokey and where it differs from all others lies in the bread. Take it from me, skip the usual sandwich bun and use a sweet sliced bread, grill it with some Parmesan cheese on the outside to give it a slightly salty taste, then finish it off with a dusting of powdered sugar. And that's what sets this apart from all others.
And let me tell you, in addition to the awesome flavors in the pork and bread, this is one seriously easy weeknight meal and a sure crowd pleaser. When you've got a crazy busy schedule like we do, time-savers like this are a must. You just need to spend a few minutes prepping the pork and rub, toss them in the slow cooker, then go on with your busy day while this baby simmers in the slow cooker all day long. And what's better than coming home to a sweet smell that permeates the house after a long day? Not much. Other than a big, warm, loving hug from your wife and kids and a kiss on the baby's cheek.
Slow Cooker Pulled Pork Sandwiches
By Matt Robinson Published: June 17, 2014
When the boys are around and the TV is on, it's baseball, basketball or Spongebob. And while I am a big fan of all 3 (yes, ALL 3), I …
Ingredients
Instructions
Place the garlic and chicken stock in the slow cooker. Combine the sugar, chili powder, salt, cumin, and paprika in a small bowl.. Pat the pork dry with paper towels. Rub the spice mixture all over the pork and place the meat in slow cooker. Cover and cook until the pork is fork tender, about 6 to 8 hours on high or 8 to 10 hours on low. Turn off the slow cooker and remove the pork to a cutting board. Skim and drain the liquid; set aside. Using 2 forks, shred the meat into bite-sized pieces. Pour reserved liquid on top shredded meat.

Spread mayonnaise on the outside of both slices of bread. Sprinkle and press grated parmesan onto mayonnaise Place assembled sandwich in pan and cook until golden brown, about 3-5 minutes. Dust finished sandwich with powdered sugar.

**NOTES** (1) This recipe is adapted from Chow.com